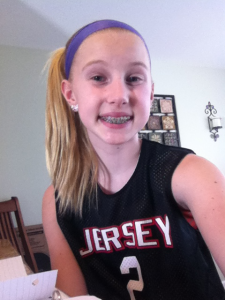 "Your development begins when you get out of your comfort zone" No quote can be more true. I have often said to players, the only way to get better is to get out your environment. A good friend of my called me last week, he asked me about the girls he trains and my thoughts. I told him I felt the girls where stuck in their environment and playing weekend AAU games weather they play well or not was not a measuring stick of there development. I told him his players needed to get in front of different types of talent. Quick players, strong players, fast players, slow but smart players, physical players …they needed to see different players of different talent levels and skill sets. But most importantly, they needed the pressure of eyes on them, knowing people where watching them while forming opinions. One player that doesn't need to be told this is a SHORE ADOPTED and a future D1 LOCK  player .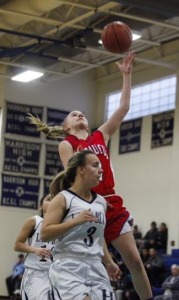 Lindsey Mack just finished off a monster freshman season. She played for #12 ranked Secaucus High School. A team that finished the year with a 27-1 record. When she hit 2 late threes in a row in the Hudson County Championship game. Some called them the biggest shots of the year. The shots helped SECAUCUS WIN ITS FIRST COUNTY TITLE. Seniors  Andie Lennon, Julia McClure, Kendall Caruso and Kristina Ulrich all had been chasing that elusive title for the school. McClure who signed with Wagner, Lennon one of the best point guards in the state will play at D2 Caldwell and Ulrich all became big sisters to Lindsey Mack and helped her  grow as a player. They also made her adjustment to high school a walk in the park.  Lindsey had 10 double figure scoring games, while averaging 7.2 points and 3 assists. She was named 2nd TEAM ALL LEAGUE. It was banner year for Secaucus High School and Lindsey Mack enjoyed every second of it along the way. But the Shore Adopted Mack long before she arrived at Secaucus got out of comfort zone and was prepared and expected to be part of a dream season.
Two years ago a skinny, blond headed kid with braces showed up at NBS with a 6'5″ dad.  She was shy and didn't say a whole lot. But it didn't take long for her to catch my attention. She was left handed with a sweet stoke for such a young player. She had perfect form and played HARD AS IN REAL HARD. She showed up week after week and never seemed to miss a weekend. Finally after a few weeks we talked and I found out she drove over 3 hours every Saturday and Sunday to attend NBS. I was impressed with her dedication. Her father said "as long as she wants to come I WILL MAKE THE TRIP"  She continues to make the trip, after NBS I often say to her ' I can't wait to make my 5 min dive home" …SHE SMILES!
I have always been impressed with the commitment of Lindsey Mack. You can coach her hard and she responds. I've hear all the excuses over the years from kids who have attended NBS and in many cases disappear. They talk about lack of reps or travel problems, I just smile and say I understand.  But I know the real reason some decide to skip….THEY ARE ON FRONT STREET.  Lindsey Mack can walk the walk and talk the talk. When I told you last year she was one of the best incoming freshman I didn't say possible…I Said ONE OF THE BEST ( https://nothingbutskills.com/most-improved-player/ ).  Many ego's get bruised at NBS from kids  not playing well to being told you are in a top group. Lindsey has had to deal with all of this and has never said one word. It's  why she will one day be a Shore ADOPTED D1 player …this is a fact! She has something all great player have, a furious appetite for improvement and a COMPETITIVE NATURE.
This spring at NBS I could not believe the growth of Lindsey Mack. In 6 months she had grown 2 inches and put on weight. I was shocked and it seemed everyday she showed up at at NBS, she got bigger. There is no question she is still growing and is going to be a BIG GUARD one day. This spring NBS had 28 Division One players in the gym ( coaches full NBS Cheat Sheet on Monday), the number should be 29 because Mack is a D1 lock and proved it this spring. This spring I decided to match up Lindsey with players who either were moving on to D1 next year or had a D1 offer on the table each week. I felt she had the confidence and strength this spring. One night after NBS I made two calls. The first to a college coach and said you better start working this kid NOW because Lindsey Mack is going to be heavily recruited. The 2nd phone call was to Lindsey Mack, telling her I COULDN'T believe she just dominated players who were on there way to D1 next year.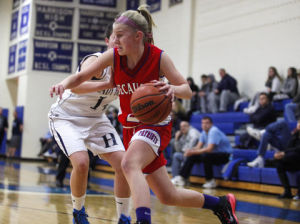 Last year Lindsey Mack told me she wanted to be shore adopted like Danielle Padovano of Fordham University. You know a player who gets out of their comfort zone and seeks competition like  that which exist in the Shore Conference. I told her she is already shore adopted and that one day she will give me a hat…LINDSEY MACK was not just one of the best freshman in the state, but she is a kid making all the right decisions. I you are a college coach and are lucky enough to have her attend your ELITE CAMP…you be wise to do a GREAT RECRUITING JOB NOW! Because Lindsey Mack is that  player who will put you in your CONFORT ZONE, knowing you have a winner who can meet any challenge.
* Lindsey Mack plays for the CAVERLY COACHES CHOICE LIGHTING. I will spotlight this team before July*
IT'S PROM TIME … These young ladies got the look!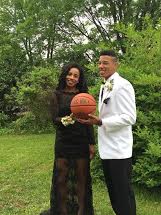 JANAE MAYFIELD…BEAUTIFUL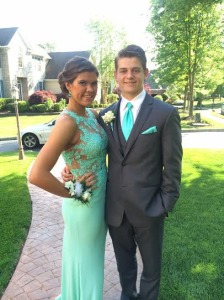 WOW..STEPHAINE KARCZ!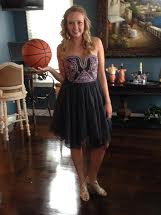 SAM SABINO LOOKING PERFECT!