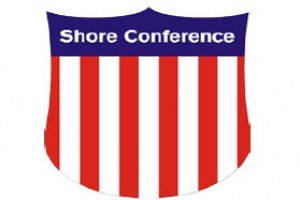 There is a good chance we will see one or two D1 more shore verbal commitments this week. The recruiting time table has changed so much in the last 5 years. The NCAA has made it very difficult for kids and coaches to get to know each; the process now works at warp speed. Many kids give verbal commitments in their sophomore and junior year. Some out of fear that a school will move on to another player. Some players are worried about injury or other issues that pop up. COLLEGE Coaches now offer kids well before there senior year. College coaches know that if that wait till a player is a senior to offer a scholarship, the highly recruited player feels slighted.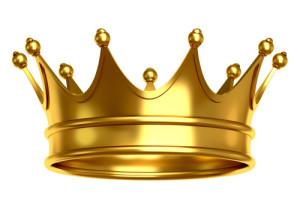 Evaluation is now king in recruiting. One of the luxuries I have that college coaches don't, is that I see the kids over long periods of time in the gym vs other D1 players. College Coaches see snap shots, because every coach knows that AAU is nothing like college. While high school resembles college, the talent level can't be compared to AAU or college. I thought it was very interesting that many coaches asked me not to take the Skill session out of the Academic Elite. Head Coach Bryan Whitten of Mt St. Mary's thinks the Skill session allows coaches to see what players pick up drills and learn to adapt. He is 100% right, I get to see these strengths and weakness at NBS because we rarely if ever play 5/5. College coaches don't know these answers in most cases until that player is already wearing a uniform. The July period has just ended and everyone coaches and players must evaluate where they stand and what really matters to them. It not easy for College coaches and players to figure it all out. A mistake can be devastating and in some cases ruin a players career.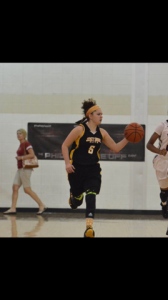 I have found the recruiting process of Kelly Crouch to be very interesting. Kelly Crouch plays for St. Johns Vianney and it is a classic case of a kid playing out of position in high School, but taking full advantage of the AAU setting. But it is also a case of….is it really true a bird in the hand is worth two  in the bush? Kelly Crouch had 5 D1 scholarships offers on the table for over a year. She did not take one of the offers, this is not the first time I have seen a kid do this…My daughter did not have a scholarship until February of her senior year. Why? She did not have an interest in attending the schools that showed interest or that offered her. She was playing a form of Russian roulette and risking not getting a scholarship. I was a D1 coach for 25 years and know the process in and out. Kelly Crouch was now facing the same problem my daughter did…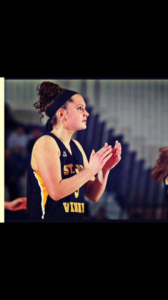 Kelly Crouch has been a gym rat all her life. She is the best available true point guard in the state of New Jersey. Shore Media, state press and some people have been surprised that she has played so well at the point during the Maroon and White team camp. Its because media and most fans don't follow AAU. Kelly Crouch plays the point in the summer against some of the best competition available, competition way more advanced than in a high school setting and this is when she is at her best. The Lancers are loaded and have one the best guards in the state in there lineup. There are times when Kelly Crouch moves to the point but that is rare when Kelly Campbell is on the floor. I believe Coach Karpell is smart enough to realize that Kelly Crouch is the type of kid who is willing to make the sacrifice for the team and move to the shooting guard spot. She is a unselfish young lady.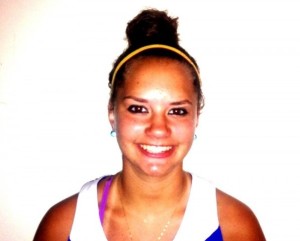 Their is no question SJV does not lose a beat when Kelly Crouch moves to the point. She is the best post feeder in the state and that is not a topic for conversation. She is the best in the state at pick and roll, that too is not up for conversation. Thanks to Don Hampton who's daughter played at West Virginia. She also is the best coming off screens and knocking down the three behind the screen. Now why do I tell you all this? Because of EVERY SINGLE GAURD PLAYING IN THE SHORE… Her game transfers to the college game by FAR THE BEST. You see the college game and the high school game are different worlds.

I remember when I told people, Megan Mcginness and Arron Zimmerman would be the best college players coming out of their senior class, many chuckled. They didn't win awards and were not always the best player on there high school teams. I was right, not because I am smarter than anyone else. It's because of two things…one I was a college coach and understand what level a player can excel at and two I understand that it not's what you do in high school… but how you do it, that is far more important in evaluating a player.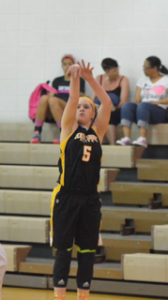 What works in high school, may not work in college. Let me give you some examples…A post player who cannot score with multiple bigs on the floor is going to have a rough time in college. A guard who falls down in the lane and walks to the foul line in high school is going to have a hard time scoring in college. A shooting guard who can't use use stagger screens, pin downs, zip screens or ball side stagger screens is going to have a rough time in college. You see these things don't matter in high school; but do not in college. I tell college coaches this all the time about St. Rose. Recruit any kid in that program who can shoot…why? Joe Whalen is a master at using shooters. Kat Phipps came off every type screen known to man kind last year…this is why she is 100% ready for the college game. KELLY CROUCH has a next level game right now. In fact along with Andrews of Long Branch, she may have the most ready college game of any senior in the Shore.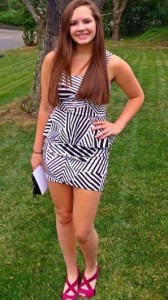 Now that brings me back to another topic regarding Kelly Crouch. This spring and summer those colleges that offered Kelly Crouch called and told her that she needed to make a decision soon or they would be forced to move in another direction. Now folks sometime this phone call is a way of pressuring a kid and sometimes its very real. Folks there are two types of recruiting… one when a college really wants you and one where they use a player as back up. When they want you, as in the case of Kelly Crouch for example; they talk scholarship all the time. The carrot and the deal breaker.
But college coaches also know that parents and players are often afraid to ask if a school is offering a scholarship…it becomes that big elephant in the room.  If the player is not the schools #1 choice the topic of scholarship is avoided like the plague. In Kelly Crouch's case, she was on both side of this, the school she wanted was not moving quick enough and the 5 schools who offered were asking for that commitment. In the end Kelly Crouch did what very few kids do… she choose to wait and find the school she truly wanted to attend…it's risky because who is to say another 5 schools will come along. But Kelly said to me "I just can't pick a school because they were giving me a scholarship, it really worked out best for me and those schools in the end"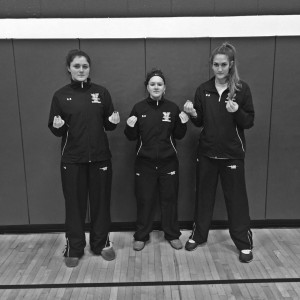 It's interesting because I spoke to the coaches of these schools. They said something I thought was very interesting. They all wanted Kelly in the worst way…. but they all had to make a call on how realistic of a chance they had of getting a verbal commitment from Kelly Crouch. I don't like to mention schools that are recruiting a kid. But for this one time case I will break my own rule, because I think it's important for people to understand and learn how difficult the recruiting process can become.  Lynn Mulligan of Rider and Kelly Crouch developed such a beautiful relationship. I can't began to tell you how many times Kelly said these words "If Rider wasn't so close and Lynn Mulligan was at another school that is where I'd be"
Recruiting can be brutal on a kid and a coaching staff. Kelly Crouch loved Lynn Mulligan and her staff, they had developed a close friendship. Folks recruiting is a tough business because there is more than just a sport and education involved here….There is a emotional connection between these coaches and young ladies who are becoming woman. The many personal hand written letters and long conservation, help built up relationships that sometimes don't work out for either party and in the end it can be painful for both.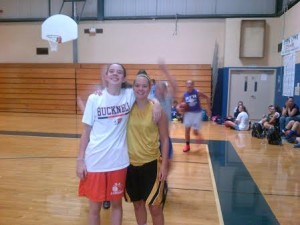 OFF THE COURT SHE IS ALL SMILES!
For Kelly Crouch getting a D1 scholarship is not an issue. Because finding guards like Kelly is not easy for college coaches. This is why she already has picked up two more D1 offers. Now it's not to say she will pick either school. I think Kelly is looking for the right place for a lot of reasons. First I think she feels, she has made enough sacrifices for her high school and wants to play her natural position year round. She may not choose either school because I believe having a relationship with her college coach is very important, she wants and needs that connection. …But what I do know is this!  Kelly is going to choose a school based on basketball, friendships, education and that emotional connection. The school that gets Kelly Crouch, will understand that just because a player doesn't smile on the court….doesn't mean their angry. They will understand that it's that intensity on her face that makes her special…but they will also understand off the court…she is one of the most likable and best teammates a player could ask for and thats.. A GOOD THING.

NBS CAMP IS TOMORROW...SPOTS STILL OPEN LOOKING FORWARD TO A GREAT WEEK!