100% COMMITTED to LaSalle University. Thank you to everyone who has helped me along the way. Go Explorers! 💙💛 @CoachTinyGreen @LaSalle_WBB @JaRich13 @GreggLerner @CoachDay80 @ExplorerCoachMT pic.twitter.com/DJMXu4eCCu

— Kayla Richardson (@krichardson2223) August 1, 2019
A few years ago I told people Mountain McGillivray was the best recruiter I know. Then Quinnipiac went to back to back sweet 16's. So Mountain McGillivray was rewarded with his own program. He became the Head Coach at Lasalle University of the Atlantic 10 Conference. Mountain's ability to evaluate talent is what separates him from most coaches. So I was not surprised when he got a verbal commitment from the player, right now, I believe is the best player in the Shore 2020 class…KAYLA RICHARDSON who gave Lasalle University of PA that verbal commitment last night.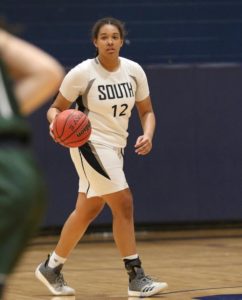 I have known Kayla Richardson since 4th grade. She has been to my home many nights. We have had lunch and dinner at my home. Kayla Richardson, knows my daughter better than any kid in my program. There created a real bond before my daughter became a college coach. I have watched Kayla Richardson go from a insecure girl to a mature young lady. I have watched her go from a really good player to a great player. I have witnessed it up close and personal. I have been right in the middle of it all. I have seen the ups and downs. You see Kayla Richardson, has had to always live with people expecting more of her. She was always the biggest kid. So she never got the pass of being a young kid who was learning the ropes. That's because everyone always thought she was older than her age. She could never just be a good basketball player because everyone expected so much more from her because of her size. Kayla Richardson never got to be the cute little girl playing basketball. Nope, she could never do enough. It's been that way for so long…she almost expects those around her to not appreciate her. It's why her going to play at Lasalle University is so impressive. There is a case to be made of all the kids who have ever played in the shore. Kayla Richardson has done more by herself than any other kid in recent years.
When Kayla Richardson decided to attend Middletown South High School. So much was expected of her. The team had just lost the best player in the schools history, Stephanie Karcz. She was expected to make up for the lost of the superstar. But once again there was no pleasing everyone. Kayla Richardson, was 1st team All Freshman. Yet it was not enough. She was suppose to do so much more, despite Middletown South playing the best schedule in the schools history. Kayla Richardson has never been embraced by the Shore elite. She never got the hype that other players received. Nobody ever talked about how she was a gym rat. Nobody every talked about the most skilled and versatile player in the shore. The passing, ball handling, shooting and post skills. Nobody seemed to really appreciate what she doing or accomplishing. In fact it seems at times she was forgotten. I believe secretly that's exactly what she and her mom JEN wanted.  Because Kayla Richardson needed to breath. She needed to be in a place where she could just be herself. She needed to be some place where faking, smiling and pretending were not as important as her performance. It's why  Kayla Richardson left the Shore to go play with NJ PANTHERS.
KAYLA's mother, JEN has been her biggest supporter and advocate. She is also her daughter's protector. It was she that decided her daughter needed a fresh breath of air. It was she that trusted John Griffin to guide her daughter. It's where her daughter found a home in the cut throat word of AAU. It was with the Panthers that Kayla Richardson found trust and true friends. She loves her Panther teammates and she becomes the 3rd player on the team to commit to a Division 1 school. The Panthers gave Kayla, what she had been searching for. Talented, drama free teammates. She found the Panthers were just like her, players who love the game and just want to get better. She didn't have to worry about what other thoughts or said. She just had to play basketball.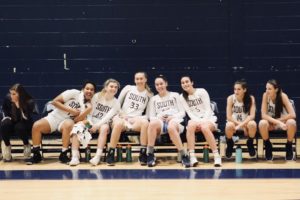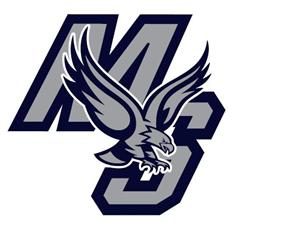 Last season Middletown South had a season to remember. There seniors went out with a bang, giving  coach Tom Brennan  his 400th career victory and winning the NJSIAA Central Jersey, Group 4 championship game on the same night. It was a night to remember for many reasons. Not because Kayla Richardson, had maybe the most clutch big game performance in the school's history. She had 23 points all in the 2nd half, she made two free throws late to tie the game. Then had maybe the 2nd biggest block shot in the schools history. I say 2nd because the week before that, her block shot against Toms River North saved the season. But it was what happened after the season that made Kayla Richardson different. It was her growth as a player.
When Kayla attended NBS in the spring, I knew she was different, person, player, leader and was on a different level. I noticed right away she was becoming an elite defender. She was becoming a lock down defender. Yet got zero credit and frankly she didn't seem to care. In the past I know she didn't like that players, she knew where not as productive as her got more love from the media and college coaches. Now it was clear she didn't care. She didn't need others approval. I also noticed she was becoming not a good shooter but a great shooter. I noticed her body had did a 100% change. Her fitness level was becoming elite as her entire game. But more than all of that, Kayla Richardson was becoming a leader. She was bringing teammates to the gym for after school shooting. She told them to attend NBS and spoke to them about working hard. It was then I was sold on Kayla Richardson…not being one of the best players in the 2020 class….but the best player in the class.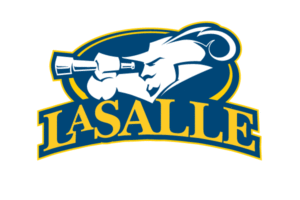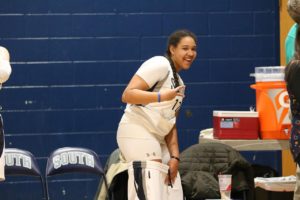 When Mountain MacGillivray, asked Kayla Richardson to attend his elite camp. I thought it would be a match made in heaven. I knew Kayla Richardson was feeling the heat from other D1 schools. I know they wanted her services. I know most thought they had a chance to steal a great player. But when Mountain called me after his elite camp and said "I am going to offer Kayla Richardson". I knew it was a wrap because as I told you Mountain is the best recruiter I know on the east coast. He also recruits like an asst coach still. He told me he couldn't believe how talented Kayla Richardson was.  He also did something I believe Kayla Richardson, has been waiting for all her athletic life. . He told to her take her time in making her decision. It may have been the first time in her athletic life somebody was not rushing Kayla Richardson. It was may be the first time, somebody said, what can I do for you?  It's may be why the most IMPROVED PLAYER IN THE STATE IS GOING TO LASALLE.
MY THOUGHTS ON KAYLA RICHARDSON'S VERBAL
To say me and Kayla Richardson have had a up and down relationship would be the biggest understatement of the year. I've been hard and harsh to her at times. We have stopped speaking at times. But there is a reason for that. I believe Kayla Richardson is like all great players. They challenge their coaches for truth. I believe Kayla Richardson wanted the same standard applied to her to be applied to others. Kayla Richardson has more pride maybe than any kid I have ever coached. She also is the most misunderstood kid I have ever coached. You see the one thing about Kayla Richardson is this…SHE CANNOT BE A PHONY.  She simply is in capable of playing along to get along. It's is something that is going to be asset in college.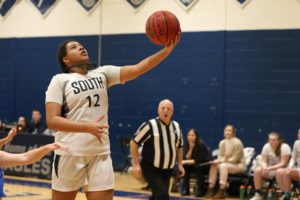 Jen Richardson, has had a tough job. It's not easy when you daughter is always the biggest kid. She knows what it like to have a ten year old expected to act like she's 16 years old. She knows what its like when your bi-racial child is not in the so called in group. She knows what its like when a child is not supported the same way other kids are. But somehow, she gotten threw all this. So how she has risen above it all. It's funny but Jen Richardson has helped her daughter make every right move a kid can make going to threw this process of basketball.
Good morning mom and dad…your baby just did it! Lasalle and the Atlantic 10…..yes hard work does get rewarded pic.twitter.com/kGYbZp4t3M
— ellonya Tiny Green (@CoachTinyGreen) August 2, 2019

I can tell you Kayla Richardson is blessed. She is blessed because her father JOE, loves and supports her in everything she does. I know when its time for her to go to Florida  to visit her dad. Her eyes like up like a candle. I remember the time, her father showed up at a NBS session. She was just in 6th grade. To this day, I never seen a kid play so hard with a bigger smile on her face.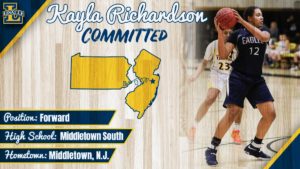 This is big for me today. This is big because Mountain MacGillivray is good man. Somebody I trust with all my heart. Chris Day his asst coach, is my friend. Both are people who love kids. Kayla Richardson despite our ups and downs…have one thing in common…WE LOVE EACH OTHER ……we both have been waiting for this day…and now it has come…GOD BLESS YOU AND YOUR FAMILY!