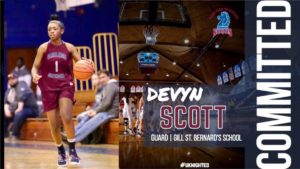 When new Fairleigh Dickinson University Coach Angelika Szumilo, was hired I called to congratulate her. I asked her how can I help her with recruiting? She told me "Tiny my first recruiting class has to be talented players who are good kids". We talked for a hour that day. She talked how important culture was to her program. She talked about kids who work hard and are committed and willing to make real sacrifice's  for the program. It's for this reason more than anything else that DEVYN SCOTT OF GILL ST. BERNARD'S  gave FAIRLEIGH DICKINSON UNIVERSITY  a verbal commitment. 
Three years ago I watched the TEAM MILLER  2020 team play the 2021 Shoreshots. It was high level game. But the best player on the floor that day was easily Devyn Scott of Gill Bernard. I was shocked how hard she played. I was shocked how she dominated the game with her effort alone and unselfish play. I had never seen a kid do so many things that did not show up in the box score. Her list of intangibles was off the charts. She made so many extra passes for baskets it blew me away. She seemed to get every loose ball. But more impressive was her lock down defense. She did not take a bad shot the entire time I watched the weekend. Her basketball IQ is beyond special. I loved that when her team needed a basket, she was there to get them one. How good was Devyn Scott you ask? While the next day I called her  then high school coach Aaron Gratch, who is currently a  asst coach at NJIT. I asked him about Devyn Scott, I told him,  I could not believe how talented she was. Then Arron Gratch said to me "Tiny she is one of the best kids I have ever been around". He also went on to explain she was also one of the best students he had ever coached. He then told me that Devyn Scott is maybe the most unselfish kid he has ever seen ….PERIOD! It was then, I knew that Devyn Scott was special. But in a lot of ways under the radar.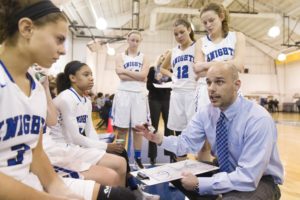 My daughter was an asst. Coach at Colgate before moving to Fordham this spring. She called me one day and asked me if I knew a kid name Devyn Scott? I said yes and then said take her and take her now. She explained Devyn was an elite student and was the type of student that fits Colgate. I explained to my daughter that Devyn Scott was a classic STUDENT ATHLETE. She excelled on and off the court. So when FDU asst. coach Megan Cunningham and Head Coach Ang Szumilo, asked me about Devyn Scott, I explained she was everything they were looking for when starting a new program. I told them Devyn, would be the biggest steal in the NEC conference. I told them Devyn's impact will be felt on and off the court. She is the ultimate teammate and winner. Devyn is a kid that see's things though, its why when Aaron Gratch left Gil Bernard for college, she stayed. While others headed out the door. Devyn, thought about her teammates and school. You see nobody would have blamed her for leaving.  Aaron Gratch was the reason she was attending Gill Bernard in the first place. It was Gratch who was building a state power and she was going to be a big part of it. But Devyn is a finisher as I told you on and off the court. Her staying at Gill Bernard is just more proof of this.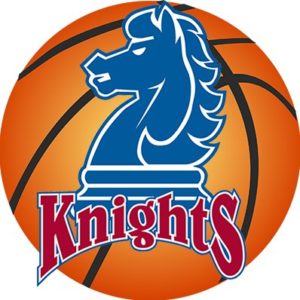 So when Coach Ang, texted to tell she was going to offer Devyn Scott. I told her, I hope she would be able to get her. When I heard, FDU had got a commitment from Devyn Scott I was happy because I know how important that first recruiting class can be to a new coach. I asked Ang, what she liked most about Devyn and she said "her character and willingness to do the tough things" You see Devyn Scott mother drops her off at a bus every morning. Then Devyn starts a two hour bus ride one way to Gil St. Bernard everyday from New York. No kid does this unless they really want to do great things. Ang talked about how kids can never be to unselfish off the court. She mentioned how Devyn Scott is only concerned about winning. She knows that something her program needs. There is real value in players who put winning above all else. That's why Devyn Scott is so special.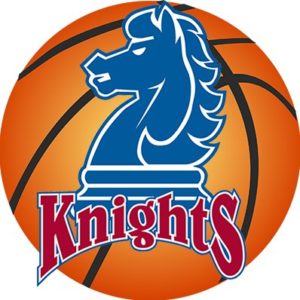 Devyn has been blessed because her mother Juanita works in the court system. She knows how a kid can lose there way or get lost. Her father is a retired NYPD and there is not much he has not seen. So it's clear why they have tired to give Devyn the best. It's why she makes that long trip to school everyday. She does it because her parents understand her future lays in education. Devyn's younger sister has the perfect role model. She now knows for a fact, education and sport do work. But you must make the sacrifices and not lose track of what matters. Devyn's parents, never let her forget for a second what matters….and now there have made their daughters dreams come true.
MY THOUGHTS ON DEVYN SCOTT'S VERBAL
I have meet some impressive kids and parents over the years. I can tell you the Scott family goes to the top of the list. Devyn's mom Juanita is one of the kindest nicest parents I have ever met. She is so grateful for any words mentioned about her daughter. I have never meet anyone who has used the words thank you so much…for so little being done. She is a parent who gets it. She is that African American female parent, who told her kid she could have it all. DEVYN SCOTT GOAL IS TO GRADUATE FROM COLLEGE AND ATTEND MEDICAL SCHOOL..
I meet Devyn's dad Darryl for the first time at Academic Elite. It was clear right away where that quite confidence comes from. There is one word to describe him…Gentleman! He and his wife have done, what so many other parents hope to do. Raise a daughter to do the right thing, make real COMMITMENTS  and to believe in something… It's a great day for the Scott family….CONGRATS TO DEVYN SCOTT AND FDU….
NBS POCONO'S WEEKEND….THIS WEEKEND….LOOK FOR INVITATIONS!