Kayla Richardson broke her finger just before the live period started last weekend. It was a tough break for Kayla Richardson. It was a tough break because right now I believe she is the best 2020 player in the shore conference. Now that may surprise some people and some people may disagree. That's perfectly fine because there are some really talented seniors in the shore conference. But right now Kayla Richardson is playing at a level that is very hard to believe at times.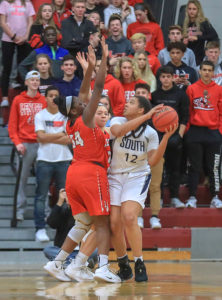 I have known Kayla Richardson since 5th grade. She has been to my home and we have spent long hours together. We have also had our disagreements over the years. She has a great deal of pride and more importantly a strong will. It was this will that has taken her game to a level, everyone knew she was capable of getting too. Kayla Richardson has tapped deep into her talent. She is finally squeezing every drop of talent out of her body and folks that's a massive amount of talent. I always believed that Richardson was one of the most talented players I had seen over the years. She has this big body, big hands, quick feet and skills sets that defied logic. I and everyone else was waiting for her to put it all together.

We had seen the flashes over the years. It's why while everyone was so excited about how she finished her junior year. I took a wait and see approach, yes this flash was longer and more sustained than in the past. Her last 10 games of the season, she was as good as any player in the shore.  She did things few in the shore did all year down the stretch. She 21  point and 7 rebounds vs Top 10 RFH….then she ran off back to back double/doubles with 21 points and 10  followed by 21 and 13 in back to back games. But I was the game against Marlboro where she single handily put Middletown South on her back. The 23 point 11 rebound, and 5 assists game was breath talking by all. Nobody had a run like this last year in the shore. She was dominate in every phase of the game. It why she has received the D1 offers why many believe more is to come.
My doubts about Kayla Richardson was simple, was she going to grow up as player and teammate. I wanted to see her do more than just train and work hard. She has always been of hardest workers I've known. Nobody could ever question her work ethic but  they could question where it was getting her. I wanted to see the 3 point shot become elite. I wanted her show she was not a good baller but one of the best regardless of size. I wanted to see not just make the crowd pleasing pass, but the one only coaches could appreciate. Finally I wanted Kayla to show that she cared for her teammates. I needed to see these things and more. She needed to do things if she was ever going to be one of the best players not just in the shore, but in the state as well. I am glad to tell anyone that is listening, this is exactly what Kayla Richardson has done. She has taken full ownership of every aspect of her game on and off the court. It's why right now nobody may be better in the Shore.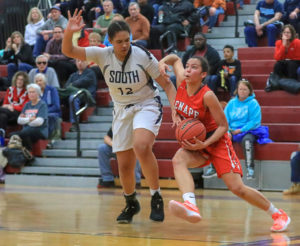 This spring I have watched Kayla Richardson prove something to me. She has proved what we saw at the end of the season was real. But she also has proved she has another level of basketball. First start with her body, she has changed her body 100%. She has lost weight, without losing strength. She has gotten quicker but has maintained her physical style of play. She developed her jump shot that right now,  when she misses you are surprised. The 20 three's she shoots in one typical drill….17 is her number  to match daily…no problem she can do that with her eyes closed. Her shooting ability right now compares to just about every knock out shooter in the shore. But it's her movement, her ability to slip pass bigger or smaller opponents that makes your jaw drop. She's almost impossible to guard off the dribble.  She rips rebounds off the boards and pushes the ball. She is not a big player pretending to be  a point guard. Kayla Richardson is the ultimate point forward because her vision is off the charts. Right now NOBODY has the total package she is working with. She is no longer a chameleon, because now she gives you that same dominating performance each day.
I'm  sorry Kayla Richardson broke her finger this weekend. Because coaches missed seeing the most complete player in the shore these days for my money. They missed seeing a kid that drives her younger teammates to workouts after school. Takes them to the gym and encourages them to shoot. She tires to motivate her seniors moving on to college to get in the gym to be ready for college. Kayla Richardson tired to play with one hand, not for herself but for her teammates this past weekend. Coaches missed a kid who has become a true leader. Kayla Richardson right now is doing it all….BETTER THAN ANYONE I KNOW THESE DAYS…..SHE IS THAT GOOD RIGHT NOW!
*** CORE SKILLS TRAINING STARTS TONIGHT AT HOOP GROUP( 732 87 3196 OR HOOPGROUP.COM)
SUMMER DATES ..EARLY BIRD SAVING TAKING PLACE..