If you wanted mold a YOUNG player into a BCS player. You would need a few things to start with and a player with the right commitment. That player would no doubt need some natural gifts right out the gate. Because at the end of the day all great players must start with some god given physical gifts. It could be size, strength, talent, speed or quickness. But even the player with all those natural gifts must have a work ethic.  That rare player that can combine the two are hard to find these days. … KATIE RICE IS  OF RBC IS ONE OF THOSE RARE PLAYERS…
THE GYM RAT
When you talk about what MAKES  a great player… I say  First and most importantly all the great talents are GYM RATS. Gym rats love the game and they love the smell of the gym. They feel like the gym is their home. They never worry about who is in the gym. They have no agenda other than playing the game every chance they get. Gym Rats just love basketball…it's in their DNA…you never have to ask where they are! This is why Katie Rice has separated herself from so many talented players. Katie Rice is the kid who is in the gym every day. She is the kid that has team practice at night… but yet is in the gym doing a two hour ball handling session before that practice. It's the reason why her handle has improved maybe more than ANY KID I HAVE SEEN IN YEARS IN SUCH A SHORT PERIOD OF TIME.
Her change of pace, change of direction, and change of speed right now look like something out of an AND 1 MIX TAPE…it's RARE if ever you see a 6ft guard this young with this type of handle..it's real next level stuff and it's all a tribute to her insane appetite to improve. While so many kids talk about getting better and adding things to their game…few do! It's Katie Rice that shoots with Shooting Guru MARY BETH CHAMBERS for 1 hour and it's Katie Rice who shows up at college workouts and grinds with D1 players. It's Katie Rice that does a post player work out with the BEST YOUNG POST PLAYERS IN NEW JERSEY EVERY WEEK… You see it takes real commitment to be one of the best and Katie Rice's commitment is 2nd to NO ONE!
RAW TALENT-
Ball Handling is getting DEADLY @coachtinygreen skills camp!

THIS WHAT A 6 FT STUD LOOKS LIKE HANDLING THE BALL
It would be nice if every player was blessed with the same talents, but the fact of the matter is they're not. There are some kids who are 6 foot guards with length, quickness and vision. These players have a higher upside than others and if they have the other intangibles then the sky is the limit for them. In the case of Katie Rice, God has blessed her with a BCS body to go along with this insane work ethic. Katie Rice is 6ft and still growing physically. Here strength and speed for someone her age is unmatched. I know of no player with her combination of size and versatility in the sophomore class across the state. Her size and strength alone allow her to be the best rebounding guard we have seen in years. It's that size and strength that allowed her to guard centers this year. It's that size and strength that shock you when you see her workout against current D1 post players and guards in the gym . She is a freak in terms of somebody so lean, strong, and young. But you must know how to use such size and Katie Rice knows how to use her RAW TALENTS.  Her ability to penetrate and kick the ball is 2nd to no one in the shore…FOR ANY GRADE. She has the ability to throw over smaller guards and beat bigger players off the dribble…KATIE RICE PROVES THAT SIZE DOES MATTER
MENTAL TOUGHNESS-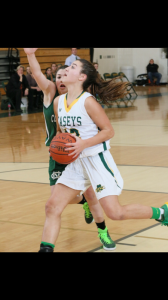 This is the area I believe is the hardest for any player of any ability to master. It's that ability to bounce back when things go bad. When Katie Rice had surgery to repair her PCL, it appeared she may lose her freshman season. But Katie Rice is no ordinary kid folks and the thought of missing her freshman year was not even a possibility. Katie Rice was the kid who lived in physically therapy. She was the kid who sat in the gym in a chair dribbling a basketball when she couldn't play. She was the kid who did stationary shooting, when the doctors said no movement. She was the kid who when she was cleared you had to tell , "SIT  YOUR BUTT DOWN"…only to find out when you turned your back to see she has jumped back in a drill. Katie Rice folks is not the kid who feels sorry for herself..she is the kid who asks "WHAT DO I NEED TO DO NEXT" and then she goes and does it. Like become one of the few freshman starters in RBC history. It's why she was named to the ALL FRESHMAN TEAM.  It's why she will be one of the most recruited players in the state one day. Her ability to over come all forms of adversity is priceless…it's why you can coach her hard and she responds to anything thrown in her direction. But here is a really scary thought…WHAT WOULD SHE LOOK LIKE IF SHE HAD THE YEAR AND HALF SHE LOST BACK?…FOLKS WE HAVE NOT EVEN SEEN A FRACTION OF WHAT SHE WILL BE ONE DAY….
THE SPOTLIGHT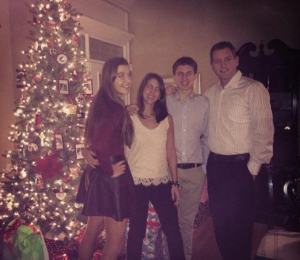 The spotlight has been known to crush many great athletes . It's that spotlight that brings to light a player's weaknesses, while baring their soul and then broadcasting it to the world. But its rare for that hot spotlight to shine on a 14 year old girl. Katie Rice saw what it was like to have someone you love kicked around. She knows what pain is really all about when it's played out in the national media.  She knows what it's like to have your entire family in the spotlight, weather they choose to be or not. She knows what it's like to have people be critical of you that don't even know you. She also knows that the spotlight can be cruel and mean spirited. She knows adults can be jealous and petty all because of a name. KATIE RICE HAS HAD TO GROW UP FASTER THAN ANY KID SHOULD BE ASKED TO...But the great ones shine in the spotlight. The great ones become bigger than the light…because they know darkness is never a place they want to be at or deserve to be at….KATIE RICE has no problem with the spotlight. Like all the great ones the light only makes her look better….and right now she is looking like A BRIGHT STAR
THE TOTAL PACKAGE-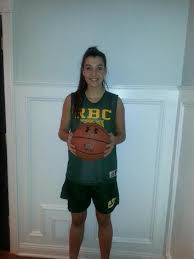 Let me say this, come Sunday college coaches you will get to see THE TOTAL package in action. You will be amazed at the ball handling skills, the passing, the defense, the versatility and most of all the toughness. You will see the package all coaches dream about. That rare blend of talent and work ethic coming together.  But don't focus on those things. You will watch her for two seconds and those things will be a given. But what is not a given is that she's a kid that everyone likes and wants to play with. If you know anything about the shore, you know it's the land of the sharks and this is rare when people like and support a talented player.  She is a leader, a real teammate, a real student athlete whose GPA is off the charts IN ALL HONOR CLASSES.. like her game. Katie Rice is someone who knows what it's like to have things taken away from you; that you cherish.  Like your privacy, family happiness, and even the sport you love…TALENT, CHARACTER, AND COMMITMENT ARE UNBEATABLE WHEN IT COMES TOGETHER…KATIE RICE HAS ALL THIS AND SOOOO MUCH MORE…it's the reason one day she will able to choose her college of choice….because she is THAT GOOD!
 http://exoduswildcats.com/roster/katie-rice/
COACHES KATIE RICE'S JULY SCHEDULE..ENJOY THE SHOW!
EXODUS MASONIOUS WILDCATS…#20
DATE– JULY 6TH
SITE– SUPER SHOWCASE, ORLANDO, FLA 
WHERE– WIDE WORLD SPORTS COMPLEX
GAME TIMES-
 GAME 1-10:40AM- HP FIELD HOUSE  #4 VS BOO WILLIAMS
GAME #2- 5.20PM-HP FIELD HOUSE #3 TENN LADY TROTTERS
JULY 7TH-
GAME #3– 9.30 AM- HP FIELD HOUSE #3 VS JACKSONVILLE LADY RAMS
POINT GUARD SCHOOL STARTS MONDAY AT HOOP GROUP IN NEPTUNE….KATIE RICE YOU CAN'T BE IN TWO PLACES AT ONCE…LOL!