Today I want to take a little mini detour and give everyone who at times has been overlooked a thought. So often kids will produce and perform at a high level, yet a blind eye is turned to that kid. The reason this happens in most cases is due to lack of information and exposure. In some cases the kid will give up and accept their fate. I have seen this story play out so much in recent years that it has almost become funny. But the story of Jasmine Sina must have a lot of Division 1 coaches questioning how they got it so wrong and re-evaluating how they recruit; because Sina is developing into a full blown star at Binghamton University and I'm so happy to be to say…. I told you so AGAIN!

Sina is proving a lot of people wrong
Jasmine Sina is currently a freshman at Binghamton University, but she is no ordinary freshman. She has dad to fight and claw to wear a Binghamton U uniform. Her story begins with powerhouse Gil St. Bernard, where she got top flight coaching, played against the best competition and got tons of exposure. She is a coach's daughter, who father and brother were superstar players, she outplayed some of the best players in the state and her team won a lot of big games. So it was strange when no Division one schools came calling. It was strange that somebody who was an A+ student was not more in demand. The first time I saw Jasmine Sina play I called her a "Division one lock"… folks without being a jerk… I am wrong once in the blue moon when it comes to this stuff. So when I spoke her father he told me she still had not received an offer last march, I was shocked. How could so many D1 schools miss the boat on such a visible kid (name, school, and great coach).
When kids are overlooked so often they spend all their energy trying to catch the eye of coaches, regardless of how often you tell the to live in the gym and rest will take care of itself. That's a tough assignment for young kids and their parents, they want a sure thing, and the problem is that's impossible until you sign the letter. The only thing you can be sure on is your work ethic and talent level. These kids spend too much time trying to play in front of only coaches. Jasmine Sina was not like that; she spent her energy and time on getting better and being ready. She had no AAU team at one point and simply was more concern with her development… she honestly believed her talent would win out… and BU is very happy that she knew her value and that so many other schools were not paying attention… Binghamton caught others sleeping at the wheel and now those schools are paying the price, while Binghamton is ding the HAPPY DANCE.
Jasmine Sina and Gil St. Bernards won everything!
To say Jasmine Sina is lighting it up and making people pay for not recruiting her… would be the understatement of the year. So far Jasmine Sina has been named the American East Women's basketball Rookie of the Week, she dropped 20 against nationally ranked St. Johns on ESPN 3, she's eighth in the American East Scoring (14.2 ppg), and first in 3-point field goals made (3.5) per game. Folks Jasmine Sina is not playing like one of the best freshman in the American East, she's playing like one of the best players in the American East. There is a number of asst. coaches sitting in the office with a little egg on their face… its not a science folks an some mistakes hurt a little more than others.
Last year I watched Jasmine Sina play against St. Rose in the state tournament. St. Rose made a living shutting down great guards last year. SJV, Rumson, and Franklin high schools were all loaded with star D1 guards and they will tell you, playing against St. Rose last year was not fun. So when Jasmine Sina went off and kept Gil St. Bernard in the game with shooting and sick passing skills, I WAS SOLD. This young lady had done it against the best. But it still was not enough in some folks eyes…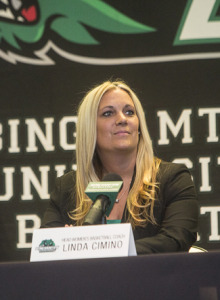 Linda Cimino knows Talent when she see's it
Sometimes timing is what you may need to be successful.   Jasmine Sina had such timing last spring when Linda Cimino became the head coach at Binghamton. She had scholarships available and more importantly she knows how tot evaluate talent. This is the woman who offered Jess Louro and may have signed her if powerhouse Middle Tennessee didn't step up late and steal her. Remember it was Binghamton right under the noses of other schools that almost stole Louro. While others came in late, Coach Cimino was there way ahead of everyone else. She has trust in her own eyes and that's why I know Binghamton, will be a real player for years to come in the American East. Jasmine Sina will play a big part of this success for year s to came and I get to sit around and say "I TOLD YOU SO" because don't be surprised if one day you walk in to the Binghamton Arena and see the name JASMINE SINA HANGING FROM THE RAFTERS!
COOL RANDOM STUFF FROM THE HOLIDAYS!
People you not going to believe the pipes on this future Shore star Lola Mullaney….
Folks this is the Mansonius Family Thanksgiving...there family is so big they rent a HALL…The podium is there for each member to speak to the family and give thanks….LOVE IT!
Check out former Unanimous First Team All Shore Players (Hoop Group and Asbury Park Press) Kasey "the package" Chambers and  Ellen Daugherty home for the HOLIDAYS!…There not bad students either…Chambers attends U-PENN and Daugherty attends WEST POINT PREP!