Last summer I watched Jen Louro play at the NBS camp and if the truth were told, I was disappointed. I felt the pace of the game was too much for her during the week. I thought it was maybe a result of playing AAU with kids her own age and ability. I thought maybe it was due to not playing against top-level competition on a regular bias. I thought it was the result of too much personal training and not enough group training. I told her sister, Hoop Group player of the year, Jess, that Jen did not play well. I called her father and told him my concerns. Neither said a word and just said she needed to get better. What they didn't tell me was that Jen Louro had been injured and had not touched a basketball in over a month. Maybe this is why Jen Louro has a chance to be special one day, because the Louro family doesn't believe in excuses…just results!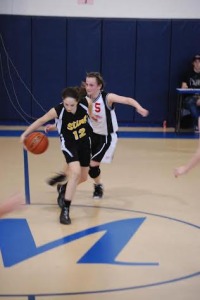 Jen Louro is blowing up
Jess Louro called me up one Sunday morning a few weeks after NBS CAMP and asked if I would work out her and her sister. I laughed because I thought she was joking… She was not! So I drove down to Hoop Group and had one of the most intense workouts I have had this fall. Miss Louro was on a mission this day. She made every shot and played at a pace that can only be described as a fever pitch. The Louro I am talking bout was not the one going to national powerhouse Middle Tennessee State. I am talking about Jess Louro's younger sister Jen. I believe Jen was sending me a message that day. She wanted me to know that she could play with anyone. After the workout, I said Jen "you were great today" she said "I was hurt the last time you saw me and I didn't want to make excuses" Think this kid gets it folks?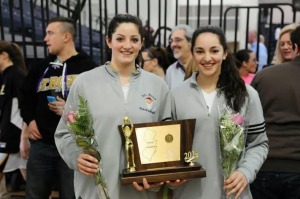 Jen's big sister Jess was the Hoop Group Player of the  Year
Two weeks ago at Boot Camp Jen Louro put on a show as college coaches watched on streaming video. On this day there was nothing Jen Louro didn't do as she banged out shot after shot and made mad dashes to the rim. But her passing and court vision was off the charts as well. This is why college coaches were so excited and behaving like they found a new star. Every player and coach in the gym that day was shocked at the performance of Jen Louro. I often tell young players go where the competition lives. I tell them your reputation is given to you but your game is earned. The only way to know your game is real is to do it against talented competition. I have seen many young players get exposed this fall or sadly duck competition. In the case of Jen Louro no such thing has happened. This young lady has played against the best and has shown she is ready to be a break out player. She has been a gym rat all fall. When a player walks into the NBS gym they know a reputation can be made or exposed. Jen Louro has shown she can play with the big girls. But if there was any doubt that disappeared at the Boot Camp, as some believe that Jen Louro was the best player in the gym of 30 D1 players. College coaches who watched the streaming video and saw Jen may have been surprised but if you know Jen Louro or her family they wouldn't be…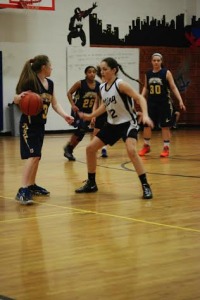 Jen doesn't look like this anymore folks!
Jen Louro plays for a coach that knows how to teach offense in Joe Whalen. No coach I have seen in high school knows how to position and use his or her kids on offense like Joe Whalen. It s no surprise that Kat Phipps and Jess Louro have become two of the best offensive players in New Jersey. Joe Whalen knows how to coach talented players and set them loose without losing control of his team. This is good news for Jen Louro and St. Rose this year. Jen Louro will start this year for the Top Ten St. Rose team. She will give them a player who will make plays against the best competition. She will give them one of the best athletes in the shore conference. When you see how strong and fit Jen Louro is; it's hard to believe she is only a sophomore. To think a kid could make such a jump, as a player, in most cases would be shocking. That is until you realize what Joe Whalen did with her older sister, turning her into the best player in the shore last year. So maybe we should not be surprised with what's happening with the younger Louro, because as crazy as this may sound…she just may be better that her big sister one day… I KNOW THOSE ARE STRONG WORDS…BUT VERY TRUE!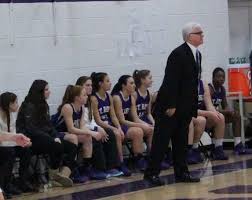 NOBODY TEACHES OFFENSE LIKE JOE WHALEN
This season you will get a chance to see a very special young lady in action. Please don't act surprised, because this young lady has paid her dues and most importantly has not been afraid to challenge herself as she got out of her comfort zone all fall. She made a commitment to improve and she understood that with disappointment comes success. Now here is a little advice to my college friends, there is another stud in the Louro household and her name is JEN!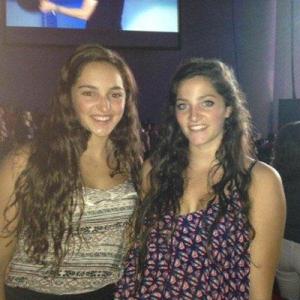 There is another future star in the Louro household
CHECK THIS OUT: Jess Louro's  future home…

THIS IS WHAT BIG TIME WOMEN'S BASKETBALL LOOKS LIKE