Glen Jansen became the 4th coach in Colts Neck short history to win a sectional title last year. Colts Neck High School has only been around since 1999 and has already won a Shore Conference Title and appeared in a TOC. John Truhan was brains behind the SCT and TOC titles and he happens to Glen Jansen's best friend in coaching both are from Toms River. So it only seems right Glen Jensen, is now the care taker of the Colts Neck program.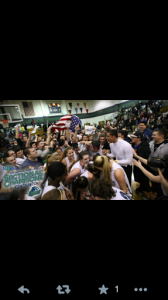 COLTS NECK WON ITS 4TH STATE TITLE LAST YEAR!
Glen Jansen has been a teacher at Colts Neck for 14 years; he was also the boy's asst basketball coach for 14 years. His mentors Lou Piccola and Steve Jannarone took a flyer on him and hired him as the freshman head coach, right out of college. He had no experience other than he loved basketball.  But during those years he had the pleasure of coaching such superstar players like ALL AMERICAN MITCHELL KATES OF MIT AND STEVE SPINELLA WHO WENT TO SOUTH CAROLINA.  During his time he learned about chemistry and sticking together. Coach Piccola showed him the best way to build chemistry is to bring freshman in as a group and keep them together. But he did not have such luxuries when he became the head coach at Colts Neck. When he took over at Colts Neck, they had just lost their best player in Rachel Krauss and were coming off a 12-13 record. He returned a bunch of role players and talented Seton Hall bound guard Katie Healy. But he also picked up a few talented freshmen such as Sam Roth. He had a rotation of 7 players and most people thought the good ole days at Colts Neck were a thing of the past. But while most people including myself were paying attention to other shore going on, the Colts Neck program was doing big things….yet NEVER RECEIVED THEIR DUE.
Last year Colts Neck went 19-10 and WON THE CENTRAL JERSEY GROUP 4 title on their home court in front of a packed house. They defeated Hunterdon Central in grand fashion 41-28 and joined fellow conference member Middletown South by winning a state title. For a team could go from 12-13 to 19-10 with a state title with a first year coach is unheard. You would think Glen Jensen would be a leading candidate for Coach of the Year. Colts Neck has been battling this lack of respect since John Truhan left the school and his SCT champions behind….But Glen Jansen has something brewing now!
  Coach Jansen won a state title in his first year!
I sat one evening taking in a few fall games at the Hoop Group this fall when something caught my eye. A group of girls were playing so hard; this was not Manasquan, RFH or SJV. The girls shared the ball like you never see in a fall league game. The shot selection and team play was something you also never see in a fall league game. I was totally caught off guard by the display of team basketball. I later asked Coach Jensen about this and he said "we don't care who gets credit or shots the kids just want to win". This was 100% true based on what I saw.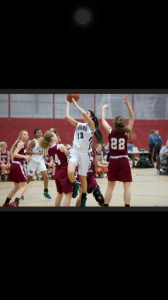 Noelle Frost is a born leader
I may never have watched this Colts Neck this fall if not for the leadership of Noelle Frost. It was Frost who convinced Coach Jansen to put the team in the fall league. Like all coaches Glen Jensen was more interesting in skill work than games. But Frost told her coach he had lost 4 seniors and the team needed to build chemistry and get to know each other better. So she didn't just invite varsity players. She invited everyone who wanted to play that wasn't playing a fall sport. I happen to watch Noelle Frost play a number of times this fall. After one game I couldn't contain myself and introduced myself to her after a game. I told her I was embarrassed that I did not know who she was, because this young lady can play with ANYONE.  It was she who led her state champion team in three point shooting pct last season. When watching her play I thought she was all around player. But Coach Jansen he told me " I told her to work on becoming a complete player and that's what she has done"  Nicole has a big decision to make, because she is a big time student and a great player, so where to attend college won't be easy. But after watching this fall I know where ever she goes, she will have a positive impact on the school and the program. This kid is special and it's amazing we are just acknowledging her…such a lack of respect!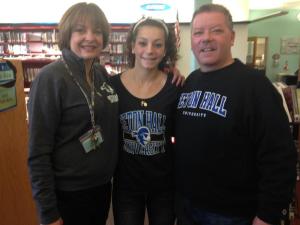 Colts Neck has one of the Shore's Best Players in Steon Hall bound Katie Healy
Glen Jansen knows his program is not loaded with superstar players. Not one of his seniors from last year's state champion is playing college….think this guy can coach folks?  He doesn't have All Shore Players up and down his roster. But he does have a star in Katie Healy who will attend future Top 20 program Seton Hall. Healy is a total gym rat that he says "is the most unselfish kid he has ever been around" Healy doesn't care about awards or recognition; she cares only about her teammates. This fall Healy took a different approach toward training which may benefit her and her teammates. Healy didn't play in the fall and hired a personal trainer to get stronger and work on her skills sets. Then she trained up north away from the shore to see new talent and a different area of the state. It has appeared to have worked, because word is Katie Healy looks like a beast! The Colts Neck team may have indirectly benefited from Katie not playing this fall because all the players had to take responsibility for the ball. Everyone gained confidence and they all know now, they don't have to depend solely on Katie Healy. The Colts Neck team learned that it doesn't matter who is on the court as long as you play together!
When you see kids like Amanda Hunt who was hurt most of last season step up and make big shots in the clutch to win games, you know Colts Neck is a well-rounded team. Amanda Hunt in one game stepped to the line to win a game with no time. But what I saw more importantly was an insane about of confidence. You can tell this young lady is going to have a great season. She has length and a toughness about her that makes you believe in her ability. You see these Colts Neck just seems to have these type kids in there program right now.
Sam Roth folks I have seen play this fall and trust me the role player from a year ago is going to play a big part in Colts Neck season. She most likely will have a chance to be in the starting lineup. She has developed a knack for scoring and let's not forget she scored the first basket in the Glen Jansen era…so that alone makes her special. Sam has the potential to be a very special player in the Shore. Colts Neck fans are in for a real surprise this year. But a bigger surprise just may be the most underrated freshman in the Shore…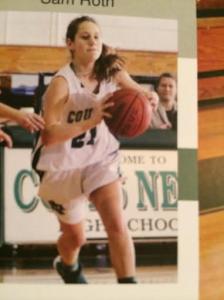 Folks Cara Volpe is going to be a star one day. She is tough as nails (seems that keeps coming up) and is afraid of no one. She doesn't care who or what you are…Cara just competes and I'm here to tell you watch out. The lefty can finish around the basketball or beat you off the dribble. Her quickness to the ball is rare in young players because she is not afraid of contact. Coach Jansen thinks she is going to be one of the great ones….and I agree!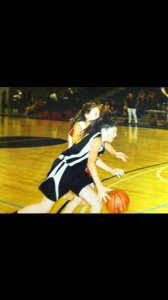 CaraVolpe is going to be speical
Glen Jansen has a program made up of kids like Molly Jackson a three sport athlete who gets in the gym every chance she gets. If the volleyball team has a day off Jackson is in the gym with her teammates, he doesn't have to beg. Elsie Brown plays for the Philly Belles one the best basketball programs in America, but finds a way to be loyal to her Colts Neck team. These kids are all buying into EACH OTHER and so cool to see!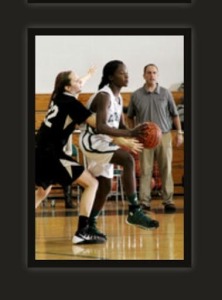 Colts Neck will be in B NORTH with RBC and Neptune, two powerhouse programs.  They will play in the WOBM with Manasquan, Middletown South, RBC and Coach Jansen's good friend JT and his Central team. The Colts Neck team is running from no one in an effort to finally get its due! It not often State Champions are not showered with love as in the case of Colts Neck.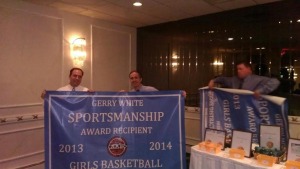 Glen Jansen has something pretty special going on at Colts Neck. He has good kids and maybe that why his team won the sportsmanship award last year for Monmouth County.  I have a good feeling for this crew and if the fall is any indication of what's to come….I SAY THE RESPECT THEY DESERVE WILL FINALLY COME TO THE COLTS NECK KIDS!…..This is one team I will be rooting for!