Ivy League…Are You Ready?❤️💙 #COMMITTED @PennWBB @tonyleeone @MikeFlynn826 @klhoops @CoachTinyGreen @CoachBeauchemin pic.twitter.com/NfCeQ8VOYL

— Kemari Reynolds ✨ (@ayee_itskemari) July 18, 2019
Today is more different than Any verbal commitment in all my years watching Shore basketball. It's different because of what it can mean to so many other kids. It's different because the star of the day is not just the player. Today is different for me because I have never seen it before.  Yesterday the former HOOP GROUP FRESHMAN  of  The Year gave a verbal commitment to one of the best schools in America…KERMARI REYNOLDS announced she will attend the University of Pennsylvania of the Ivy League.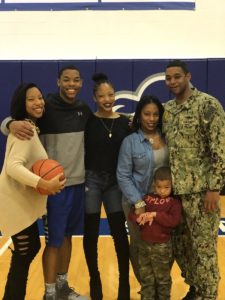 When mega talented young African American players are discovered to be special talents. They are told they can be great one day. So great they can play at a U Conn, Louisville or a Baylor. What they are rarely told is that they also can one day attend a Yale, Harvard and yes even the  U OF PENN. So often they are not told they can also attend a great basketball school but a great academic institution as well. KERMARI Reynolds has beat the stereo type. She didn't need to be told that she was more than a basketball player by others. Her mother TEEKEMIA REYNOLDS had told her long ago, she was more than Basketball player. She made sure her daughter knew she could have it all. She taught KERMARI,  she didn't have to give back anything education wise to play big time college basketball. Now Teekemia Reynolds, can be the example for every African American mother with a talented daughter. Today she can be a reminder to black parents everywhere…your child is  bigger than a basketball.
I will have much to say about this today pic.twitter.com/Bnpy2hUnR5

— ellonya Tiny Green (@CoachTinyGreen) July 19, 2019
Everyone assumed that KERMARI REYNOLDS was going to attend a Power 5 school. But nobody assumed she would attend a Ivy League school. Nobody thought she would value her long term future ahead of basketball.  Kermari values her education more than anything else. She just happens to be one of the best players in New Jersey. She is confident in her own skin, it's why she could turn her back on big name schools. It's why her life will never the same after yesterday . She is  now is part a small Fraternity of strong young  black women, young black female basketball players getting a IVY LEAGUE EDUCATION. These are the ultimate ALPHA FEMALES….and Kermari just joined the club today. Now other young African American females will know, they too don't have to just a basketball player. Your  identity does not have to stem from being a basketball player… KERMERI REYNOLDS proved you can have it all.

Nobody made more sacrifices for her teammates. Nobody gave up more of there game…Karmeri Reynolds the ultimate teammate and leader…now a SCT CHAMPION pic.twitter.com/oHeSuCp3V8

— ellonya Tiny Green (@CoachTinyGreen) February 24, 2019
Kermari Reynolds is a star, she has won just about everything there is to win as a player. She was the Hoopgroup Freshman of the year. She has won a back to back WOBM titles.  She has won state titles and helped Manchester win its first ever SCT TITLE. She more than anyone is responsible for MANCHESTER'S amazing run the past three years. She has had to change her game and make more personal sacrifices than any star in SHORE HISTORY. She has gone from a scoring point guard, to sharing those duties with mega star Destiny Adams. Then last year she became a full time play maker to make room for Leilani Correa. She made those sacrifices for her team. She never fought the changes, instead she embraced them. She gave up the spotlight and didn't ask for credit. Because without Kermari Reynolds Manchester never reaches the heights they have over the last 3 years…Kermari Reynolds is a true star. But if Kermari is a star… then her mother is a SUPERSTAR.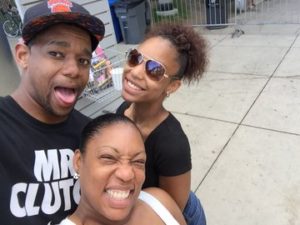 I met Teekemia Reynolds when her daughter showed up at Core Skills training. They had just moved to New Jersey. I was shocked that first day, because her daughter tore everyone apart that Saturday 4 years ago. But it was Kemari's leadership which blew me away. She took over the entire building that day. She cheered, rooted and imposed her will on everyone. More than anything else Kermari held everyone in that gym accountable. Her leadership skills were intoxicating and seducing.  She gets that from her mother. Her mother is SUPERWOMAN and a anchor. I knew this the first day, I spoke to her. She told me her husband was in the military and she was raising her kids along in New Jersey. She was hoping to join her husband in North Carolina if he got transferred east. In the meantime she had to take care of her babies. Her son Shavar and Kemari other children. She is  a warm loving and firm mother to her kids. It was clear there was nothing she wouldn't do for her kids. She made sure they were a tight family that stayed together as one. She also made sure her kids stayed the course and worked hard regardless of obstacles that may come….and there were a lot.
love u always bro❤️❤️ https://t.co/TBuL4pA5i8

— Kemari Reynolds ✨ (@ayee_itskemari) February 5, 2019
Being a black mom raising a family while your husband is in the military, is not a easy job. But when you face so many road blocks as Teekemia Reynolds has, you can only wonder how she has led her children to such heights. She has given them a work ethic and toughness that has prepared them for anything and anything has been exactly what they've been though. It's why when the family decided to stay in New Jersey because her husband didn't transfer east. Some how super women keep her family together. When her son didn't get a scholarship out of high school, she found a prep school for him to attend. She sent him to Perhaps the biggest task master in the state. After prep school her son attended Seton Hall as a walk on. But he worked so hard and was so talented it could not be  ignored. When you make game winning shots and have your family behind you, it's hard to fail. So Seton Hall had not choice but to put him on scholarship. He has helped Seton Hall become a Top 20 program and many believe a final four team next year. Shavar, can give all credit to his mother because she was his biggest fan.
When Kermari Reynolds tore her ACL as a Sophomore. Teekemia Reynolds knew her daughter needed her more than any time in her life. It's why she made sure she had the best doctors and watched her like a hawk. I spoke to her during this tough time. She had no doubt that her daughter would be fine. She knew her daughter better than anyone. But Teekemia Reynolds dad passed away even Teekemia was tested. I saw her and gave her a big hug . She said she was fine. I called Kermari, she said her mother was going though a time. But she reminded me, they were a family and would get though it all….it's why TEEKEMIA REYNOLD'S parents are looking down her today. They must be SMILING  and saying our grand children are beast on the court…but our daughter is a BEAST OF A BEAST, DAUGHTER, WIFE AND MOTHER!…..Teekemia  Reynolds is the biggest superstar of all today. She has given families everywhere hope and more importantly a road map on how to raise special children.
love u always bro❤️❤️ https://t.co/TBuL4pA5i8

— Kemari Reynolds ✨ (@ayee_itskemari) February 5, 2019
Mike McLaughlin is a friend of mind, he is a real friend. Our relationship is one of the best I have with just about any coach. I have never meet a more honest and caring person for kids during the recruiting process. He told me "I hope we can get Kermari because this could change her life" He was right about that but Kermari is about to change a lot of lives at U Penn and outside of U PENN as well.  KARMERI REYNOLDS, will not just become a great basketball player. She will become a true ambassador and role model. She will do things that few have done at U PENN. My only wish for Coach McLaughlin, is that somebody one day will show the same love for his kids, that he has shown for Kermari Reynolds and so many other kids.
Last week Kermari Reynold called to tell me a secret. She wanted to let me, she going to verbal to U PENN. We and her mom talked for 30 minutes. After I sat outside with a cocktail and my wife asked "what's up with stupid grin". I told her I have been waiting so long for this day. It was hard to keep Kemari's secret. I wanted to scream from the mountain tops. A black kid choosing and being able to attend a Ivy League school. A kid understanding the value of such a prestigious education.  I was happy it was with Mike McLaughlin, my friend who helped get academic Elite get started.  I know today people everywhere are surprised by Kermari Reynolds decision. But kids and mothers every where now know, God is Good...so very good… congrats to KARMERI RYNOLDS AND HER FAMILY!!

Tiny Green
GET SIGNED UP NOW…DON'T WAIT!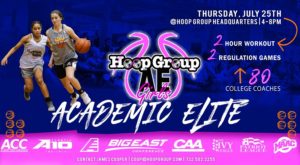 . .