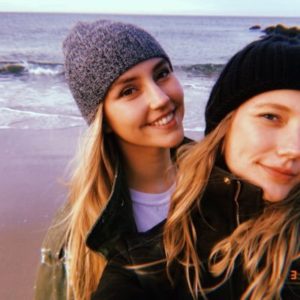 Just about every kid who picks up a basketball for the first time. Does so out of joy and fun. The first time a kid picks up a basketball, it's innocent. They play because their friends play. They play because after games they get a pizza and a coke. They play because all kids love making a basket in front of there parents. Nothing makes a kid smile more than the approval of their parents and peers. You see when a kid first starts playing basketball, they don't do it for a scholarship. They don't do it to read their name in the paper or have somebody tweet about them. These things don't matter at that age, being part of something fun is all  they care about. Courtney Dobrzynski was that kid. She was the kid who loved the game. She also is that brave kid. That kid who found the strength to be honest with herself and those around him.
Hbd to my 3rd favorite Roth #holytrinity @sam_rothh pic.twitter.com/igk327GCjC

— Courtney Dobrzynski (@courtneydoby4) April 30, 2017
I have known Courtney Dobrzynski since she was in 4th grade. We spend hours and hours together training. I loved when she came to camp in the summer. She was funny and beyond witty for her age. She and I would tell jokes to each other. She could take it as well as give it. To say she was fun to be around would be a understatement. She also was a talented basketball player at a early age. You didn't have to be a rocket scientist to know she was going to be speical. You didn't have to be Phil Jackson to know she was going to be a D1 player. She had everything a player needed to be successful. So went to play at SJV. She played varsity all 4 years and won a SCT and TOC title along the way.  She started for SJV as sophomore and did all the dirty work for SJV. She was that kid who made the extra pass, rebounded the ball, never made mistakes and always played with a edge. It was a good time for  Courtney and her family. But then in her junior year. Coach Karpell made the decision to bring her off the bench. She was hurt by the decision, sometimes coaches have to make tough decisions. Courtney didn't understand it. She had made so many sacrifices for the team along the way. She felt, she not only should she start but also play more minutes. In her senior year she moved back into the starting lineup. But something was missing. Maybe the hurt from her junior year still in her heart. That fall she signed a letter to play at Hartford University. I thought was a match made in heaven. It could have been and maybe it should have been… but it didn't work out the way anyone thought it would and that's because Courtney Dobrzynski could not be a phony.
This picture made MY DAY….WHO NEEDS TINY GREEN….THANKS LADIES U ARE SO DEDICATED pic.twitter.com/4x8oie5XUT

— ellonya Tiny Green (@CoachTinyGreen) May 22, 2017
I spoke a lot to Courtney Dobrzynski her senior year of high school. I spoke to her dad a lot as well. When I tell you Mark Dobrzynski is one of the nicest, kindness people I have ever met, it's not an exaggeration. I can tell you countless stories of his support for kids who are less fortunate. So it had to hurt he couldn't help his own daughter her senior year. I saw a change in both during Courtney's senior year of high school. Gone was the smile on Courtney's face. Her father was disappointed in how thing were playing out for his daughter. It was a difficult time for Courtney. But she loved her teammates and her school. Plus she had the U of Hartford down the road. She could see hope to regain the love she had lost. After her senior year, nobody worked the way Courtney Dobrzynski did that spring before moving to college. I felt like she was working to hard at some points. I saw a smile return to her face, so I thought she would be just fine at Hartford.
HAPPY STRONG LIFE…I LOVE YOU SOOOO …MUCH…YOUR SOOO BRAVE AND BEAUTIFUL pic.twitter.com/RCp94dyKU2

— ellonya Tiny Green (@CoachTinyGreen) January 1, 2019
Courtney Dobrzynski, arrival to Hartford was not what she expected. The asst. coach who recruited has resigned. Then it became clear to Courtney Dobrzynski that she  wanted a new path. No longer did she want to get up early in the mornings for workouts. She no longer wanted to spend all day just playing basketball. Courtney Dobrzynski wanted to enjoy her college experience. She was tired of basketball being a job. But unlike so many other kids. Courtney Dobrzynski did something so many other kids wish they could do. She gave up basketball. She played 10 games at Hartford. Then she gave up a S300,ooo thousand free dollar education. She did not want to do, what so many others have done and  are doing today….I LIKE TO CALL IT DOING TIME. These are the players who no longer enjoy going to practice, traveling to games, missing holidays with family. But continue to be unhappy and just live for the day when basketball ends. They rather be unhappy than give the scholarship back. These players are afraid to tell family and friends how unhappy they are. They scared people with call them quitters. There worried what others will think and say about their decision…..COURTNEY DOBRZYNSKI  has always been stronger than most kids. Even as a youngster she was always brave. She was always that kid not afraid, and its the reason she walked away from it all. 
Can you find one of the GREATEST KIDS IN SHORE HISTORY? Courtney Dobrzynski with her hands up? I did… pic.twitter.com/Iptdj0G3cU

— ellonya Tiny Green (@CoachTinyGreen) October 26, 2018
WORDS OF WIDSON FROM COURTNEY DOBRZYNSKI
Courtney Dobrzynski, started to reflex on her decision to attend Hartford. She said, "I've known for a very long time that education is the most important thing in her life and that Hartford was just not giving me the opportunity to excel after college. Applying to medical or graduate school from Hartford vs Penn state is a no brainer. The education at PSU is 100x better and much more challenging. Most of these girls realize that they're not going to get drafted into the WNBA after college and they need to get a job after graduating. I'm fortunate enough that my grandparents pay for my tuition now and that I will be able to become successful after college with a great degree. I'm so grateful for my parents and family supporting me through this process. Some of these parents are so blinded by the word "scholarship" that they forget about their kid's happiness and mental health. I even had one mother at hoop group tell me if I were her daughter I'd be sleeping on the streets if I gave up a full scholarship. You only have the chance to go to college once and then you go on working for the rest of your life, so why be miserable during the 4 years that are supposed to be the greatest years of your life. I dread coming home to NJ from Penn State now; I never want to leave my new home. It's upsetting that I missed an entire semester there. I wish I would've been honest with myself, to begin with".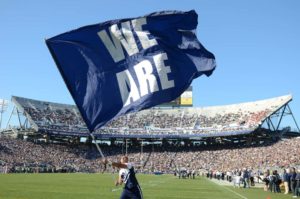 "To all the young girls that continue to play just so that they can pay for their tuition and make their parents happy: take a step back and ask yourself if this is what makes you happy. I had to ask myself if I wanted to be a happy, normal college student or if I wanted to continue to wake up at 4 or 5 a.m. to go condition.  It took me so long to realize that basketball was the major aspect of my life that I didn't enjoy anymore. Transferring to Penn State was the best decision of my life and I've honestly never felt the happiness I do today. Every person who goes to college should enjoy every minute of it". Courtney Dobrzynski,
 So Courtney decided to join her brother at Penn State University. She left Hartford after a semester. She knew that she wasn't going to play in the WNBA and she realized that her education was more important.  It was now that it had hit her. She knew she had made a big mistake. She had seem too many kids pick suspect academic school just to play basketball.  She wanted more from her college experience that just basketball. She had a 4.0 at Hartford and wanted to go to medical school. She wanted to watch big time football. She wanted to experience Greek life. She wanted to make friends outside of basketball… she wanted to be happy again. Last summer Courtney stop by to see me. We laughed and she told me how happy she was at Penn State. She told me she didn't miss basketball one bit because she was enjoying life. I asked her how her dad took the decision. She said he was her biggest supporter, so I called Mark and indeed he was happy. He talked how proud he was that Courtney made such a difficult decision. It was clear he and his daughter had found something special with their new life without basketball dominating every minute.
Whenever she stops by…its a great day pic.twitter.com/XM8B25CiWQ

— ellonya Tiny Green (@CoachTinyGreen) May 9, 2019
Courtney came home for the Holidays this year. So she stopped by to say hello. So we took pictures and laughed so hard. It was like Courtney was in 4th grade again. Seeing her smile was so wonderful. I asked her what she was planning that day. She laughed and said she and friends where going to a party. Then she stopped and paused for a second and said. "tiny I just realized if I was at Hartford right now. If I was there, I'd  be getting ready for a game right now and not going to a party. They play today at 4pm"…we laughed so hard it brought tears to my eyes. There was that wonderful sense of humor and the jokes all back again…it so beautiful to see Courtney Dobrzynski living the good life…I'm so proud of her. 
Is butter a carb? #HappyHallowen pic.twitter.com/qkfmyoXe40

— Courtney Dobrzynski (@courtneydoby4) October 31, 2017
"There are close to 800 kids in the transfer portal right now. Many of these kids are unhappy. Many have lost a desire to play a sport. Many want to move on to other things in their life. Courtney Dobrzynski was brave enough to make a tough decision. Thank god she did. I only hope she can serve as a role model for those kids who wish to be as brave as her…but can't find the words or strength…To those kids I say…."

LET COURTNEY DOBRZYNSKI BE YOUR GUILDING LIGHT AND STRENGHT