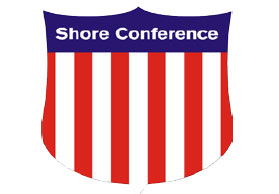 There was more of a buzz at the Hoop Group fall league than I have ever seen. Now we all know you can't take fall league basketball results too serious, but don't tell that to anyone that was in the gym last night.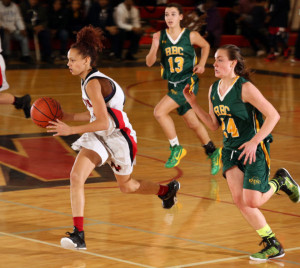 Just call her "Miss Unstoppable" Dezzy Allen
On paper Rumson would appear to be the favorite against Neptune in just about any setting. Pre- season or regular season. Last night Neptune showed that it's not about what's on paper but rather what on the court. Neptune plays as hard as any team I know and their pursuit to the ball is simply amazing. In a game that saw Dezzy Allen, make it very clear to everyone that she is the most un-guardable player in the shore. Neptune showed they have a lot weapons. Dezzy Allen people is something we have NEVER SEEN. Her explosiveness and never give up attitude is really what separates her from everyone else maybe in the state. If she is not a BCS player, then nobody is and as far as who the best junior in the state is… right now its Dezzy Allen; don't even argue with me. Also don't sleep on Brianna Love folks, she is the real and I mean the real deal. She was sensational all evening as were almost all the of the Neptune players. They all can make shots and they share the ball naturally. It's the reason for the most part after the first half Rumson never got much closer than 8 points in the game.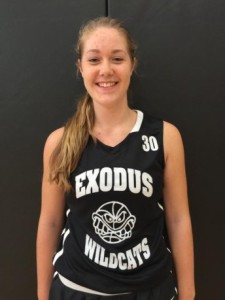 RFH HAS A MAJOR OFFENSIVE WEAPON IN FOOS!
The good news for RFH was that Christina Antonakakis tired to match Dezzy Allen in the first half with some breath taking passers and shooting, to help keep RFH close for a half. No two players are going to benefit more from Antonakakis's arrival than Katie Foos, who again had 3 three's and Syd Sabino who also had 3 with almost all coming from dimes dropped by the "Magic Women" Antonakakis.  Both players may help solve RFH's major issue of shooting the ball in recent years. While RFH is not a naturally gifted passing team and still miss shooters, I believe they have a chance for some real chemistry…YOU CAN TELL THEY LIKE EACH OTHER. Rumson played without  Holy Cross bound Nicole Morris and it showed  at times yesterday. Nicole Morris is the one player RFH simply cannot replace. They will look much different once the season starts with her in the lineup. But last night's RFH/Neptune game was fun to watch and one thing is clear both these teams have a chance to be special.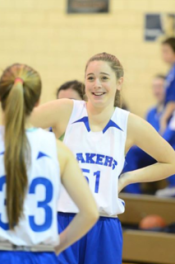 There is a reason Faith Masonious is smilin…SHE IS GOOD AS IN REAL GOOD!
The Manasquan and Notre Dame game was a war last night. Notre Dame jumped out to an 11 point lead to start the 2nd  half and hung on for dear life. Notre Dame folks is not only physically bigger than Manasquan but they can match them talent wise as well. They have two  D1 players up front in Sam Widmann (Cornell U) and Nnekka Ezeigho (Robert Morris) who both would battle for FIRST TEAM ALL SHORE SPOTS. They have great young babies and with Eve Crawford and Mariam Crawford transferred in; they are a real threat  to anyone in the state. They would be a Top 3 team in the shore conference.
Manasquan no question was caught off guard by the speed, athleticism, strength and shooting ability of Notre Dame. Manasquan did come back and had a chance to tie or win the game and missed a shot. Faith Masonious was unreal in almost every area of the game last night. I was really shocked to see her defend both in the paint and on the wings. Masonious is going to be a real issue for everyone from Day 1. Now Dara Mabrey's IQ is just off the charts. While she said she didn't think she shot the ball that well last night…. OMG her ability to make the right play and effect the game in so many ways is something special. She is going to be All SHORE. Stella Clark, well I just got tired just from watching her play. The girl never slows down and plays sooo hard. Notre Dame being in the league is great because it gives them a chance to show they can play with the big girls and allows shore teams to see there are GOOD TEAMS OUTSIDE THE SHORE.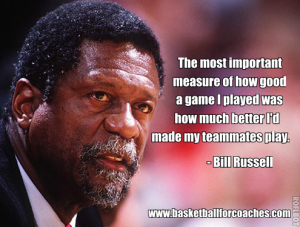 MOLLY COLLINS CLEARLY BELIEVES THIS!
Watching RBC AND DONAVAN CATHOLIC is like watching a whose who of baby superstars. I mean both these teams have really special young talent. But watching Molly Collins last night reminded me her game is college ready right now. This young lady runs pick and roll better than anyone. But what makes her special is that she can shoot behind screens with range…I mean serious range, no young point guard I know has her college type range and ability to score in the paint over big with every type of shot you can think of…floaters, pull ups…quick changes to the rim and tear drops. Nobody is even in the same world as her right now.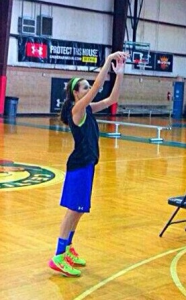 HAYLEY MOORE DID MORE THAN SHOOT LAST NIGHT… WAS ALL OVER THE GYM
RBC has some new faces that I am telling you are going to have a impact and give them a even deeper bench, starting with Freshman Eliza Srinivasan. This young lady is going to be a factor at some point…I LOVE HER GAME. Maureen Coakley needs to start getting some credit folks, the kid gets it done every night. Hayley Moore was ALL OVER THE PLACE, like a bat out of hell yesterday…talk about going all out! While RBC has little size, at one point having no player bigger the 5'7″ on the floor.  My guess is that  RBC could make a real run at everyone and no question is a TOP 10 team in the state and that's without TIA Montagne who is expected back! ..oh yeah RBC WON WITH JOE MONTANO WATCHING FROM THE SIDELINES!
Finally is anyone paying attention to what Manchester is doing this fall? These young ladies took out Central yesterday and are unbeaten in the fall league. They are floating under the radar and winning games. Manchester could be setting up for a great season.
All in all it was some type of energy in the gym last night. The talent is do deep it's insane and fun to see. Now it must be stated that some teams are really playing to win as in not subbing very much, while others are playing their entire roster. But nobody can question the intensity and effort of all the kids….it's just AWESOME.
UPDATES-
If you are in the current NBS session you have a spot reserved in THE PRE-SEASON PREP until Oct 24th if you choose to use it. The same goes for those on the waiting list…
CORE SKILLS PRE- SEASON PREP STARTS NEXT TUESDAY…POINT GUARD SCHOOL STARTS ON MONDAY…and finally the SHOOTING PROGRAM STARTS WEDNESDAY FOR HIGH SCHOOL PLAYERS…ALL AT HOOP GROUP