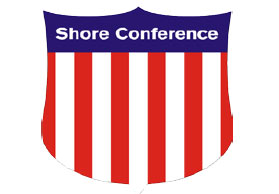 This past weekend we had a basketball uprising. There were so many exciting and more importantly impact games you couldn't count them all. There were big time matchups in the Shore and of course huge showcases. But you would be wise not to start making too many predictions about the future…but things are starting to come into focus.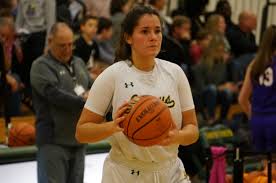 The week started out with RBC picking up were there left off the previous week. RBC shocked powerhouse ROLAND PARK with an overwhelming performance. Then on Friday they took on the #1 team in the state St. Rose. Then did the exact same thing to them, what they did to Roland Park…shoot them out of the gym. In what was a total team effort direct beautifully by SOPHIA SABINO. Ally Carman has established herself as a real presence in the post. Justine Pissott is starting to look like an All Shore 1st Team member. Fab Eggenschwiler and Antonia Panayides were lights out. But it was the RBC bench led by Shae Sabino, Nicole Stanford and baby stud Casey Prior that broke St. Rose will early and often. Shae Sabino is clearly the front runner for MOST IMPROVED PLAYER and Casey Prior is on the FRESHMAN OF THE YEAR short list. Right now nobody has two better wins than RBC. They also may be the team to beat cone SCT.
While everyone was locked into RBC and St Rose. There was another game going on. Newly minted Top 20 RBR took on Colts Neck. Camryn Foltz did what she has done to everyone this year…she lit RBR up. Foltz had 21 points and was dynamic. If not for Chloe Teter's Electric 23 points and go ahead bucket with a minute left... Colts Neck would be the team ranked this week. By the way right now Camryn Foltz gets my vote for Player of The Year. She has willed Colts Neck this season. John Truhan and RBC are still looking for a signature win. It could come on Friday vs SJV.
Moving over to Philly, we saw our first big time showcase, The Blue Star Invitational.This was truly a big girl event. We had nationally ranked teams vs a number of Shore and Jersey teams. Manchester played St Francis Academy of Maryland who is nationally ranked. Manchester put up a good fight in the first quarter. But then trailed by double digits most of the game. The caught a big beak when St Francis All American Angel Reese picked up a second Technical foul and was ejected. Manchester took advantage of this and cut the lead to 10 in the 4th quarter. Then with under a minute Kermari Reynolds buried a three to cut it to 6 points. But it was too little too late. It was a solid showing for Manchester in its first test. Reynolds is beginning to play like herself and Tweety Jones and Angelica Velez are beginning to look like real impact players.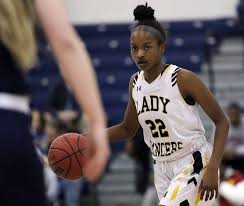 SJV PULLED OFF THE BIGGEST WIN OF TBE WEEK. The took down the #12 team in the country, RIVERSIDE Baptist of MD. It is the biggest win in 4 years for Lancers who are no strangers to knocking off Nationally Ranked teams, it has been done on numerous occasions in the Karpell era. Madison St. Rose continues her break out season with 17 points. This was truly a team win as 7 players scored in the 40-38 defensive battle. Last year so much was expected of SJV with a senior dominated team. While many believed SJV would need to rebuild this year. But at SJV they don't rebuild they reload. This group is deep, talented and a tight knit group.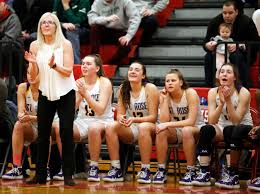 St. Rose played their 5th game in 7 days. They returned home from Florida, Wednesday, they had a light practice Thursday and lost to RBC Friday . Then had a film session Saturday and drove to Philly Sunday. They lost to Sidwell Friends Academy and was never in the game. It's clear St.Rose is a tired team. They have a short bench to boot. What's worse is this group my be fighting this Florida trip for weeks because there is no break in the schedule. The good news is Brynn Farrell is still the best player in the Shore Conference and plays for St. Rose.
SO WHERE DOES ALL THIS LEAVE US?
The Ranking will be clearly shaken up. My guess is 1. SJV…2. RBC… 3. MANCHESTER… 4. ST.ROSE. Trenton Catholic had a nightmare showing so clearly they will take a big drop. But St.Rose got drilled by RBC. So if you want to prevent a All Shore Top 4… ST. Thomas Aquinas is an option. The problem is you then drop St. Rose and Trenton Catholic to #5 and #6. That is going to be a very hard sell. But it would keep things interesting and cause much fun debate.
New Jersey schools are at a serious disadvantage in Showcases early in the season. Many of these teams out of state have played 11-12 games. New Jersey teams in most cases have played 4 games.
There are things getting missed in a big way. TOMS RIVER NORTH has been a major surprise at 4-1 and plays Jackson Memorial on January 21. The winner will be in the divers seat in A SOUTH. A win would most likely get JACKSON MEMORIAL back into the Top 10. They played and lost to PAUL Vl and that has to be considered a quality opponent. Paul Vl is considered a Top South Jersey team.
WHAT DO I SEE?
RBC is the most complete team. They are also the best offensive team. But more than anything Sophia Sabino has been Brilliant and Fab Eggenschwiler outstanding. But rebounding remains a serious issue vs the Top teams
SJV I think is the best team right now. But a real concern has to be where do they go for scoring when Katie Hill and Madison St. Rose are not on the floor. 40 points in most games will not get it done…their role players EMMA BRUEN and Ashley O'Connor have been nothing short of Sensational. While Megan Calahan is making a statement as the best young big forward in the Shore.
Manchester is the most interesting team in the Shore right now. Destiny Adams is proving to be more of handful than a year ago. But Truthfully they have too many holes right now. They do not have a consistent second scorer and outside shooting is a major issue. Manchester is relying on offensive rebounding and steals to score. That style will not work vs Top teams as they found out last night. But Tweety Jones has stepped up big. Kemari Reynolds is starting to resemble the player we saw two years ago. But what should worry Manchester's opponents is this… have you noticed in each game Angelica Velez and Gabby Ross are getting more time and becoming more productive? These two along with Amaya Bray could make Manchester the most dangerous team in the Shore Conference.
St Rose is clearly at the crossroads. The makeup of the team and the culture, could make this team explode, if they're not careful. St. Rose played their best half of basketball in Florida. I believe if they scheduled differently we'd be talking about how they're unbeatable. They made the same scheduling mistake last year vs Rutgers Prep. But still went on to win a State title. Now the question is can they put the last 7 days behind them? If they do it could lead to a massive run to the end of the season. I still say they are the team to beat!
RFH somehow may find themselves in the Top 10 this week, after a thrilling road win over Manasquan. Paige Slaven has elevated her teammates and Cortland McBarron looks like a ALL SHORE lock. But it's Lucy Adams that has made RFH so dangerous. She is having a dream senior year. The RFH babies Julia Shanes and Julia Corsentino been wonderful. Question now is can they play with grown ups… starting Tuesday vs. RBC.
RBR has has been a nice story. But now if they want to get to the next level. They need a quality win. They have been hanging on to the RBC win last year, as a rallying cry. But it's time for a new tune and new big win. SJV on Friday would fit the bill. Chloe Teter and Crystian Taylor are no surprise. But Amelia Mendolla has been lights out. Caitlyn Decker at times has been RBR's best player. RBR being ranked is a great story but a quality win would be a bigger story.
Manchester and St Rose both get transfers Eligible in two weeks. Mary Donnely Instantly moves MANASQUAN up in the rankings. Manasquan has done a great job while waiting on Donnely. She and Georgia Heine will form one of best young front courts in the state. Niasya Ervin is Desperately needed by Saint Rose. She will give a little bit of everything and will instantly move into the rotation
Colts Neck will get a boost in their lineup soon as Julianna Gibson will return. She will give them some more size, rebounding and scoring.
So who is going to be Player Of The Year in A SOUTH? Kristina Johnson or Kristina Donza? When these two meet, that matchup is going to put one of them in the drivers seat.
Finally anyone paying attention to Neptune. They quietly are putting together a nice start the season after a bumpy start. They lost to Colts Neck and everyone was shocked…but they are 4-1 and guess what…Colts Neck is pretty darn good!