Last night was a evening of accomplishments. George Sourlis and Grace Stant are now tied to the hip and Katelyn Kuster scored her 1000th point cementing her legacy in Central Regional girls Basketball history.
Last night Rumson-Fair heaven played a game that everyone knew what the outcome would be before it started. Even though the outcome was expected, it was night for celebrating more than just a victory, history was made last night. Coach George Sourlis became the winningest Coach in Shore history boys or girls. It was only fitting that this same night one of his best players, Grace Stant, would score her 1000th point the same evening. They both got to their milestones because of performance rather than longevity.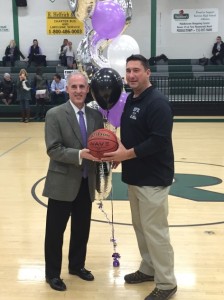 NOBODY HAS WON MORE
MY MOST READ BLOG  http://hoopgroup.com/coach-profile/sourlis-opening-page/
When you realize that George Sourlis has become the winningest coach in RFH history in just 29 years it really amazing. He won his 626 game last night, that's about 22 wins a season. George Sourlis has built a program based on performance and commitment to defense. While in recent years the RFH talent has improved, during most of his career George Sourlis has been David vs Goliath. His teams have dominated Group 2 so much, that his teams where held to a standard that no other Group 2 school could even think about reaching. He was asked to beat more talented and bigger schools over the years.  George Sourlis will now forever be known as not only the winningest coaches in girls shore history but the winningest EVER! I think its safe to say in my lifetime that record will not be broken as he will continue to add to that record over the next how many years he coaches.
Grace Stant scored her 1000th point yesterday and its a lot more amazing than anyone realizes. First, Grace Stant only played a handful of games her freshman year, due to injury. She really got to 1000 points in 3 years, now many girls have gotten to a grand in three years, so what's the big deal? George Sourlis has never been about stats…therefore his players have never ever been allowed to pad their stats. Go look at box scores over the years and you will notice girls racking up huge numbers in blow out wins. Grace has never been given that luxury in her 3 years. Another aspect is Rumson's style of play, it no secret RFH has always been a defense team first and foremost. RFH scores mostly in the 40's and 50's on a good night. RFH was never a run and gun team. They value you the ball and play as a team. No more player being more important that other. Coach Sourlis didn't run play after play for Grace Stant. Finally and this is so big most can't begin to understand…Grace Stant never played with a Star senior who could allow her to sneak up on opponents and be the 2nd or 3rd option. Grace Stant has always been the opponents number one target to stop. She has never had the luxury and being under the radar.  Now some might say hold up Tiny, Grace has always played on a team with at least 4 or 5 division 1 players on it.  This is a good point but the fact remains that the best player on the other team is always the target even if they have other great players around them.  Having a lot of great players around you also presents an "obstacle" when trying to get 1000 points because you can't take bad shots.  When your the star and no else is around and you take bad shots you're given some lee way; that can't happened when good players are around you because you look selfish. Grace achieved her goal by playing the right way within a team's system, the most rewarding way in my opinion.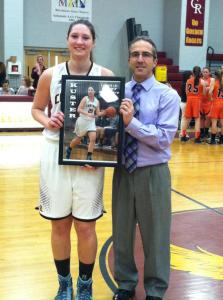 Kuster with her biggest supporter Coach JT ( https://nothingbutskills.com/from-out-of-the-darkness-and-into-the-light-katelyn-kuster/)
Katelyn Kuster got her 1000th point yesterday and she did it in grand style. She had 41 points, including 9 three's. Head Coach John Truhan calls her "the greatest player in Central history". He could be right and she has done it under the radar for the past 4 years now. She blew up this summer and Mt St. Mary's of Maryland signed her to a Division 1 scholarship. But what's interesting is that she has gone right back into the shadows this year. I can't think of anyone mentioning her name for All Shore or any other award this year. She is in the Top Ten in scoring and it's an after thought. Kuster has been asked to carry a team this year. She is one the most talented Shore players in the past 4 years and most people don't even know the school she plays at, but that all changed last night. Every time someone walks into Central Regional's gym they will see  the name Katelyn Kuster hanging on the wall. She has been a special player and an even better person. 1000 points is a number I believe she be celebrating again in 4 years at Mt. St. Mary's….she is that good!
UPDATE…CORE SKILLS TRAINING STARTS THIS THURSDAY AND SATURDAY… http://hoopgroup.com/headquarters/weekly-instruction-programs/