Two weeks ago, I put out my ALL SHORE LIST and today the ASBURY PRESS did the same. Both lists were loaded with mega talent and with girls who had made major impacts on their teams. No question making ALL SHORE carries a lot of weight and has a history that other counties all conference teams can't match . Nothing is bigger than what All Shore translates into the future, in most cases… a college career; 11 of the 15 players on the APP ALL SHORE TEAMS have committed or received a D1 offer. Gallagher, Beriont and Fallon have accepted full rides in other sports. No question Beriont and Fallon could have played D1 hoops if they choose too, WHICH MEANS, 13 of THE 15 All SHORE PLAYERS WERE DIVISION ONE PLAYERS. Now you see the weight All Shore carries because that list does not include the 9 players who have already committed or have received Division one offers. Making ALL SHORE certainly tells a story, but it doesn't tell the entire story by a long shot. Because sometimes there is a player who never fully gets their due and this year, there was no bigger example of this than EVA HART of MANASQUAN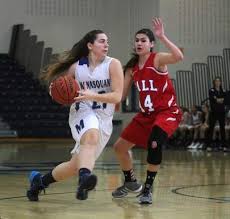 UNDER-APPRECIATED EVA HART
In high school basketball, stats rule the day and always will, because parents, coaches and media folks by nature are Box Score Junkies. While coaches tell kids to play the right way and be good teammates, in most cases they only acknowledge or talk about their leading scorers. Parents want their kids to be on winning teams but yet encourage their kids to shoot …shoot …shoot and get points first. The media, very rarely gives any attention to anything but points. They can't be at every game, so it's only natural to ask who had the most points. But often box scores don't tell the entire story. They tell you very little about what a player does in the locker room and it will never tell you what it does for the heartbeat of a team. Hall of Famer and former Knick great Willis Reed once told me  "Hustle is a talent" not everyone has it. Well if that's true, then Eva Hart has the most talent in the Shore Conference.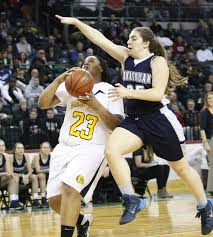 EVA HART PLAYED WITH HER HEART AND SOUL
Eva Hart has the perfect name, because her heart is what makes her special. It's her heart that makes her run over to a teammate and pick them up off the ground. It's her heart that makes her step in for a charge, when an opponent is driving full speed down the lane. She knows these are the things that bring a team together and makes them care for each other.  But what makes her heart bigger than most is this…EVA HART has watched everyone dance in the spotlight, she has seen the post season awards given out; she has seen the articles written about teammates and others. She has seen the college coaches hand out scholarships…ALL TO OTHERS! But somehow she has not let it sour her.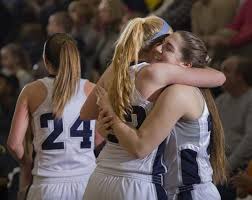 EVA HART HAS ALWAYS BEEN A TEAMMATE FIRST
During the early part of the Manasquan season she was the vocal and emotional leader of Manasquan.  Don't forget she was at Manasquan when things where not so pretty and not a lot of fun. This was during a time when many were fleeing the program. She too could have packed her bags and said deuces! Instead she stayed and listened to how the program was going to sink in the gutter, she heard the chatter that she and her remaining teammates where going to get kicked around in the shore. But there is something in this kids DNA that's so different than a lot of kids. Eva Hart has this raw toughness and thick skin you just don't see in kids these days. Its strange I feel it every time I am around her, its something I can't explain, but its strong and its there. It reminds me of Dave Vanterpool who I coached and who later went on to play in the NBA for the Washington Wizards. He never got a lot of credit as a player but he had this way about himself.  Like EVA, he never let what others thought about him matter and more importantly, like Eva Hart. those around him knew this. Hart rallied her teammates last year and they won 20 games and finished in the Top 10 and along the way Lisa Kukoda won the APP Coach of the Year. It seems everyone has been winning awards at Manasquan the past two years except Eva Hart. Manasquan has not gone into the gutter. In fact, its the new place to be for young talented girls and if not for kids like Eva Hart, we could be talking about something very different today.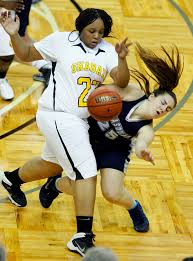 EVA HART DID THE DIRTY WORK ALL YEAR 
When Marina Mabrey joined the team in the middle of the season, no player could have been affected negatively more than Eva Hart. Her team entrusted her with the ball all season, she was the person when things got rough they could count on. But Marina Mabrey is a once in a lifetime player, and a coach would have to have their brain examined not to want the ball in her hands. Also when a player like Marina shows up attention and recognition doesn't come easy, because the big things often matter way more than the little things and Mabrey does BIG THINGS. So how did Hart accept this? With open arms and a full heart. She went about being Eva Hart, making the extra pass, running down so many loose balls it's insane and playing all out every night. She did the dirty work KNOWING IT WOULD NOT BE ACKNOWLEDGED; it was she who encouraged her teammates in the group 2 semifinal to "get the ball to Marina". You see Eva Hart is all about one thing…WINNING.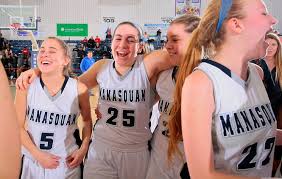 FOR EVA HART ITS BEEN WORTH THE RIDE
Now all the awards are being giving out, it's that time when coaches and players get to take a bow and grab the headlines for a job well done. In Eva Hart's case, her credit will come quietly most likely behind closed doors with no fanfare; most likely it will be a simple thank you from those who have understood, what she has meant to the program and how in a lot of ways she helped save a program that had lost its way. Her real friends and family know the sacrifices she has made the past 4 years. They know the ride at Manasquan has not always been a smooth one the past 4 years. But they also know she gave her heart and soul to her teammates and school every night.  They also know that with lack of appreciation often comes a inner satisfaction no award can ever give you…that thing called pride and knowing you did your best to help your teammates WIN!  Eva Hart walks away with  a REWARD which is far better than any Award.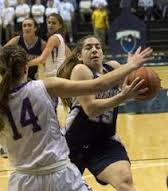 CHARACTER AND COURAGE TRUMP ANY AWARD
I don't know what lies ahead for Eva Hart in the basketball world.  I just wish I got to know her better that past 4 years.  I  know any school she attends will know right off the bat; there is not one role she will not play in order to win. They will know Eva Hart is somebody you want to be in a foxhole with, because she will fight to the bitter end.  They will know, giving up, is something she simply cannot relate too or understand.  Awards are nice and are great to show your kids and they make for get stories in later years. But being able to tell kids, I knew a player who didn't make All Shore or win any awards, but rather was a winner and a good teammate, which probably means more at the end of the day. Because her team's success is visible everywhere and it didn't matter who or what others thought…. Because its banners which hangs in gyms not awards.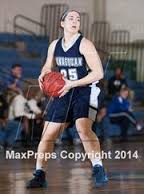 EVA HART GOT THE REWARD ALL PARENTS WISH FOR THEIR KIDS
I believe character and courage stills mean more than a stat sheet or award. Character and courage never grown old  like awards ….. Eva whose  last name really should be spelled "HEART" has both and those are the real awards that matter most.