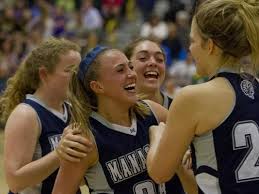 "Courtney Hagaman is the best player on the Court" Quote last night by Division  1 Head Coach.
Manasquan has advanced to the Shore Final to defend their SCT TITLE. They would not be in this position if not for Courtney Hagaman. Last year Hagaman made all the right plays for Manasquan and last night her 14 points helped Mansquan move on to this years final. Hagaman is becoming for the 2nd year in a row a sort of SCT folk hero.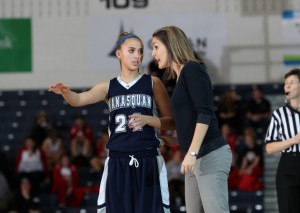 "Hagaman is the player of the game right now" D1 Head Coach
Hagaman may have been the best player in the SCT last year. You would never know it based how offend you hear her name, when discussing Manasquan. She is a player who does what her team needs. You can't really put her in a box. She is a first class defender, she can put the ball on the floor and of course she can shoot the ball as she proved again last night. But it never seems to be enough to gain the reconightion she deserves and has earned. Last night again she proved that her biggest moments happen in the biggest games. It also becoming clear that Courtney Hagaman can not only play against the best but is one of the best.
"Hagaman is starting to get real interesting" D1 asst Coach
Courtney Hagaman has dreams of playing at the highest level of college basketball. No question it's nice to here kind words from college coaches. But she is still waiting on the phone call to come that will fulfill her dream. She has done everything a kid can do in high school. She has won Championships and has had big games against the best competition on the biggest stages. She plays with the best high school player on planet earth. She understands that the attention will never focus on her, but when called upon to step up and help her teammates, she has delivered just about every time and last night no different. She is a major reason why people are still talking about Manasquan this morning. She will be ready on Friday and she knows her name will not be the topic of conversation. But that's the way it's been regardless of how special she has been, so she is used to it. What is she is not use to is GIVING UP ON HER DREAMS….I see them all folks and have ZERO DOUBTS about her ability(coaches do I NEED TO GIVE YOU MY TRACK RECORD ON SUCH MATTERS?) and I have a funny feeling that dream is getting closer and closer to coming true.
SCT –
ST. ROSE'S  win over Middletown gets them in the SCT for the 3rd time in 4 years. Middletown has nothing to be ashamed of folks. But no question Tom Brennan has to wonder what could have been if he had Jill Favery.
Jen Louro is becoming a star right front of us all folks. The younger sister of Jess had 17 points last night. Before she is done Jen Louro could be the best two WAY wing player in the shore if this keeps up..
Kat Phipps scored her 1500 point last night and more importantly is playing in her 3rd SCT final. She helped St. Rose win it all as a Freshman and last year was part of the team that lost to Manasquan.
Jess Louro had another double/double and its not even a story. That's a real backhand compliment for last years Hoop Group  Player of The Year.
Kelly Campbell has 26 points last night and finished off what was a monster Shore season. Folks Campbell followed up her monster Summer with a monster season. She most likely can't win  the player of the year, after losing last night. But will be one of the leading candidates next year. No kid has ever worked so hard and dedicated herself to becoming a better player….SJV IS NOT DONE BY A LONG SHOT PEOPLE! THE TOC IS REAL
SHOCKING UPSET-
While all eyes were on the SCT…Marlboro High School continues there amazing season. They knocked off RBC last night 30-28….Marlboro folks is going to finish the year most likely in the Top 10….who saw that coming? Now get this both Freehold Twp and Marlboro are going to finish ahead of RBC in the polls…who could have ever thought that?
LUCIANA THOMAS  had 17 points and 13 rebounds against Freehold Twp last week…folks anymore questions about this kid has been answered in a big way
TOP 8TH GRADERS COMING UP LATER TODAY…..
THE ACADEMIC ELITE WILL BE ON MARCH 27TH….YOU CAN SIGN UP ON LINE…TAKING THE FIRST 96 PLAYERS…THE EVENT WILL BE…. STREAMED LIVE TO D1 COACHES(NO CHARGE)….AAU COACHES PLEASE MAKE SURE ALL YOUR KIDS AND UNSIGNED SENIORS ATTEND