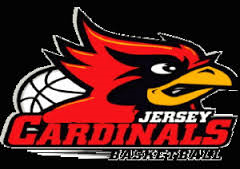 I love going to the CENTRAL JERSEY CARDINAL TIP OFF EVERY YEAR. It is always a great event, because everyone seems to have a great time. The games are ALWAYS good and I get to see some talented players that maybe I don't know about. This year was not different and Kristen Somogyi's event is becoming one of the best ways for teams to get ready before the April recruiting period.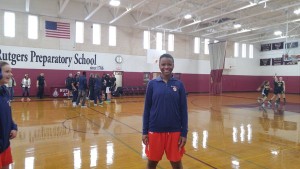 ERIC PORTER…has a chance to be a superstar!
I found out a few new things this weekend about a few talented players and teams. First I have to start with two players and both are both out of the Shore-shots program. Erica Porter and Alyssa Schriver. Both of these players are special talents, who college coaches will beg for their services. Erica Porter is a 6ft post player with size, athleticism, strength and quickness that I have never seen in all my years. That leaping ability and sear size of Porter makes her the most unique young post player in New Jersey. Now I am not calling her Kylee Watson by any stretch. But I believe she has a chance one day to play at the highest level of basketball. Her jumping ability and insane quickness are just something you rarely see in a player so young. It really comes down to her work ethic and desire to work.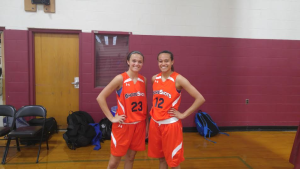 Dynamic duo Hayley Moore/ Aylssa Schriver
Now I have known, about Alyssa Schriver, since she showed up at NBS camp last summer. But folks this young lady out of Pa is something special. There is no question she ranks as one of the best young point guards I know. Her quickness and speed are something nobody was prepared for this weekend. But what's make her so special; is that she is never out of control. Then throw in an ability to find shooters and not turn the ball over and you have a super guard. College coaches are going to drool watching,  her and Hayley Moore this summer. When you combine Moore's shooting ability, along with her improved defense with Schriver's you have something out of this world. This is a real case to be made this is the best young backcourt in Central Jersey.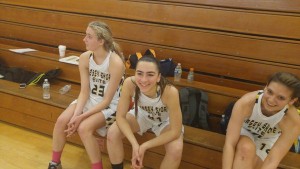 There was no question who had a break out weekend…Andree(middle)
No player this weekend surprised me like Bridget Andree who plays for the Jersey Shore Elite Black. The sophomore from Trinity Hall was just sensational. It was more about her effort, basketball IQ and competitive nature, than anything else. Andree is long, quick, smart and please listen to this…amazingly active. I felt as if she was involved in every play when she was on the floor. I think this young lady is going to be a serious force before her playing days at Trinity Hall are done. She also did something else I liked on Saturday, she passed the ball and made mega good decisions. How a kid like this could be so under the radar is pretty amazing. This young lady has one of the brightest futures in the shore.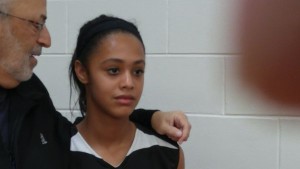 CHANCE…Has a big future!
In the younger groups there were a few things that jumper off the page. First there is no question Sophia Sabino a 7th grader will one day be one of the best players in all of New Jersey. While her older sisters are both D1 players, there are not on the same planet as Sophia. Sabino's court vision is just off the charts and her ability to get by opponents and make plays are something you do not teach. But Sabino was not alone, because Chance Cagliari was very impressive. The 7th grader is a gifted athletic player with a winning smile and game folks. She is part of the STING program that has a bevy of young talent.  Speaking of the 7th grade Sting team, major props goes to its Coach, Rob Hill. His team moved the ball, played team defense and you can tell there is some teaching going on with this group of young kids. Personally I wish we had move of this going on with our young players.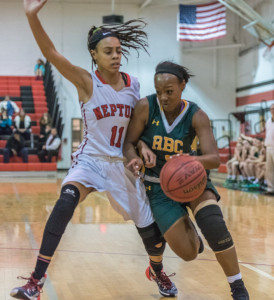 TIA IS FULLY BACK!
The most impressive team by a long shot had to be the IEXCEL coached by Walter Welsh. Folks make no mistake Walter Welsh is a master teacher and a next level coach right now. This man hold kids accountable but has that balance of hugging and disciple all great coaches have. IEXCEL had so many talented players it would take forever to list. But I will tell you what I was happy to see…. Tia Montange looks the best she has, since coming off ACL surgery. Tia Montange is a future D1 player that many coaches I am sure have forgotten about. No worries she will jolt their memories this summer. IEXCEL is just beastly in terms of talent AND COACHING…. There were the class of the Tournament.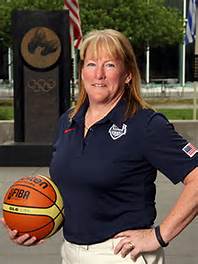 KLINGLER…8th grade team pulled up the upset!
 Finally I would like to say that Mary Klingler and her 8th grade team is a going to be a fun group. I enjoyed watching her crew knock off the powerhouse Shore-shots. Molly Lynch who use to play for the Shore-shots reunited with her old teammates and you know what… it was awesome. Why? Because once friends always friends and that was the coolest thing of the day for me to see…WAY TO GO MOLLY!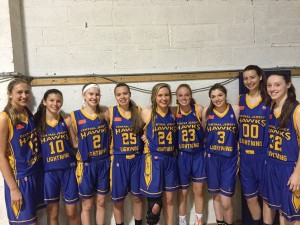 CAVERLY LIGHTING ARE STACKED!
While there was a ton of action this weekend, it was great to see the Caverly Hawks/Lighting, go 4-0 this weekend out in Pa. This group is loaded and I believe they are going to have a lot of weekend's like this past weekend.
TOMORROW- COYLE CARDINALS SPOTLIGHT.
The Hoop Group TRAINING STARTS…HERE IS THE LINEUP