This time of year is very hard on talented grammar school players.  Most play grammar school basketball and that takes up a great deal of their time. While it may not provide the competition that some talented kids are looking for, it does provide something much more important. It teaches kids to work with other kids. It teaches players especially the mega talented kids patience and understanding.  But more than anything else grammar school basketball allows young people to learn how too communicate with a different group of kids, many who will be playing organized basketball for the last time, but may go on to be some of their best friends throughout their life.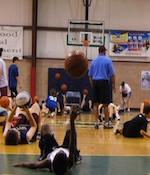 CORE SKILLS OFF TO GREAT START
The landscape of basketball has changed in the last ten years. Now players like Faith Masonius are household names to high school and college coaches long before they play there first game. This weekend Core Skills Training kicked off at Hoop Group. I believe its the best training venue in New Jersey for grammar schools kids to work on their games. For 7th and 8th graders it's an important time. It's a time when kids establish reputations, like a Justin Pissot who attends both Core Skill sessions.  Her reputation for working hard will stick with her throughout her basketball career much like a Kelly Campbell or a Kelly Crouch has today. Some kids gets reputations for being quality kids or leaders. It's at events like Core Skills you learn the meat and potatoes about what a kid is all about….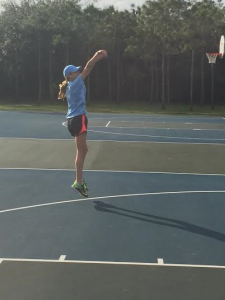 Foltz …ALWAYS SHOWS UP…D1 LOCK!
The hardest thing for 7th and 8th graders to do in my opinion is not training, but rather SHOW UP EVERYDAY. If you check the facts all the great ones seemed to show up everyday over the years.  They are many reasons why kids don't always show up. Like parents working and not able to get their son or daughter a ride to the gym. Sometimes it could be a party, remember parties at this age mean a lot. Sometimes kids play two sports and have split time between sports. Some skip to watch a sister or a brother play a game. Some what to visit a college and experience a college game. Sometimes the academics and the sport are just too much to manage at one time. All good reasons to miss training and working on ones game, but at the end of the day, each player is held accountable down the road…and speaking from experience some kids figure it out and some don't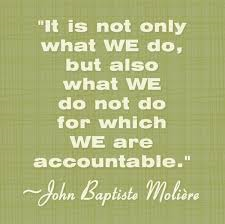 One kid who would not fall into this category for example would be Cameron Foltz. Make no mistake this young lady folks is going to have a major impact whatever high school she attends. College coaches you can start the process of recruiting her RIGHT NOW! Why? Because she has established a reputation of always showing up, meaning she will get better every year …she is EXCUSE FREE IN HER TRAINING. Her appetite for improvement is unique.  Young players like Foltz are almost impossible to find these days…TALENTED PLAYERS WITH A WORK ETHIC, GREAT ATTITUDE AND ACCOUNTABLITY!
WHAT DID I LEARN IN WEEK ONE
So what did I learn from one day of Core Skills? There are a lot of kids that I am seeing for the first time and we need to let them find their comfort zone. But here is what is clear, there is a lot of size in the 8th grade class. There are two future BCS players at Core Skills and a ridiculous 7th grade class (2021). I will start this week with some names I am very familiar with this winter.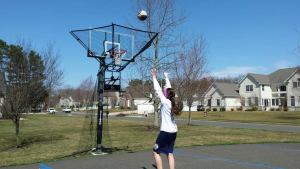 There is no question in my mind that 6th grader Justine Pissot will one day wear a BCS uniform if is she chooses too . To play at that level you must have size and talent. This young lady has both and most importantly can handle being coached hard. This a player that one day will leave her mark on the shore….but remember she is only in 6th grade and keeping a level head will be mission #1
2021 CLASS THOUGHTS
This group on Saturday was so thick and deep it would take a week to list them all. So I will start slowly and feature a few each week….folks the list of players is going to be deep as the weeks roll on.  COACHES THIS IS A SPECIAL GROUP you be wise to keep a pen handy each week (follow me on twitter). For the record there are some mega talented kids who are not in the session, as well as some kids who I can assure you, that I don't know about…THE 2021 CLASS IS A BEASTLY.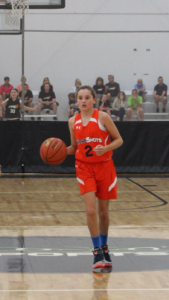 Sophia Sabino 
She is going to be on every college coaches wish list one day. But for now she will be on every high school coaches wish list. She is the younger sister of D1 players Sid (Wagner College) and Sam (UNH). But folks no disrespect to her talented old sisters…but this my friends is is a total different animal. Sophia will one day be on of the best players in all of New Jersey this is fact.  This 7th grader is that rare talent with a mega basketball IQ and serious game from A-Z… coaches get in line because it going to be a very long line before she is done one day.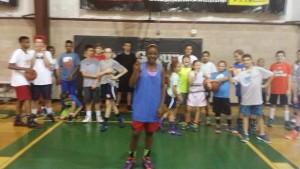 Jasmine Boyd
Did not attend Core Skills this weekend but its very hard not to include her in the list of Top 7th graders in the state folks. She is a gym rat and more importantly a sponge. Boyd is what I call a work horse who right now has the ability to compete against high school players, how do I know this? She did it all winter against elite D1 players in high school right now…coaches she is a future D1 lock. Her strength and speed for her age is impressive, but its her mental toughness that I love the most.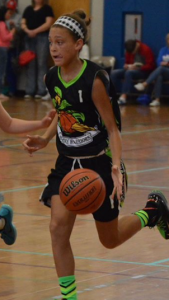 Destiny Adams
Folks you can stop right here, when you talk about raw talent, athleticism and length, look no further…this my friends is the REAL DEAL. This  young lady showed up at Core Skills and introduced herself to the basketball world with a loud bang. Coaches pay close attention, this is going to a household name one day. This 7th grader is special and her confidence is off the charts. She has one purpose; she wants to be the best player in New Jersey one day…She is a future D1 lock player, and you better start now getting to know her.
CLASS OF 2020  THOUGHTS
Remember this was the opening weekend of Core Skills, many kids will need to get comfortable before they start to shine. I more than anyone know the importance of building name recognition and kids working hard. So I will focus on the kids I have known who were at Core Skills with great potential.  Now this years 8th grade class has work to do and in ten weeks we will have better feel for this group. I will start with a few kids everyone should know.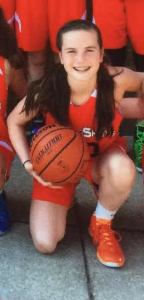 Molly Lynch
Showed up at Core Skills and had a nice first day. Lynch looked Sharpe with her ball handling and as always looked great on the defensive side of the ball. Molly Lynch is a improving three point shooter and that with her natural ability makes her a dangerous and special player.  Lynch is a major pick up for St. Rose. She is the perfect under study to Markham and has D1 talent written all over her. This is a young lady that will be future impact player in the Shore. She had a big opening day…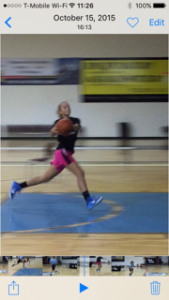 Fabienne Eggenschwiler
One of the fastest developing 8th graders I know right now. She is becoming a deep shooting threat and more importantly a very effective scorer off the dribble. She reminds me of Grace Fallon of RBC fame. A lefty who has D1 talent and whatever high school gets the call is going to be very happy with the 5'11" swing guard. Fab is a terrific passer who has great vision and size to see over the top of defensives. Here is a little advice for her…buy some sunglasses your going to need them….because her future looks very bright.
A flat out beast folks and her ability to score make her a valuable asset to whatever high school lands the talented 8th grader. There is no question she will be a leading candidate for freshman of the year next year; if all goes well this winter and spring. She is one of the most reliable young players in the state in terms of SHOWING UP AND ADDRESSING WEAKNESS.  She will be a factor from Day one of her high school career, before she moves on to the D1 level ….College coaches understand she is a Nicole Morris type player….meaning a steal for academic schools one day…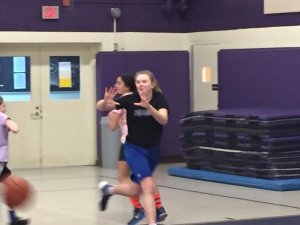 Caitlin Wingertzahn
Without a doubt Wingertzahn, was the most interesting player of the day. She is long and tall at 6'0″. But folks the young lady has great hands, plays hard and I believe has a chance down the road to be  star. This young lady has not shown the tip of the iceberg of what she is going to be. This is a classic case of a quite kid who everyone except yours truly is not paying attention. Coaches here is your bone of the week! Caitlin Wingertzahn is a player your going to what to know… because she will be under the radar all spring. Her personality makes a total program type kid. People this is my sleeper player of the weekend. I believe she has a big future. Why people? She has things that you can't teach and once her skills set improve, her confidence grows and she realizes she could be one of the best post players in the shore….WATCH OUT!
To sign up or find out more information about Core Skills…go to http://hoopgroup.com/headquarters/weekly-instruction-programs/core-skills-training/