Gil Bernard is going to have there 1st open gym on September 12. . And if your a college coach and even more importantly a D1 basketball coach, you better make Reservations ASAP. Because Coach Gnapp has something special brewing. That's because there is a real case to be made his open gym just may hold more value rhan any other team in the entire state of New Jersey. Now why would I said such a thing?
If the term size matters, is truth. then the truth of the matter is GIL BERNARD has it. They also have three Division one guards and one of the best freshman in the state. They also may have the best keep secert to roll into New Jersey in 15 years. GIL BERNARD'S OPEN GYM IS MUST SEE 💪🏀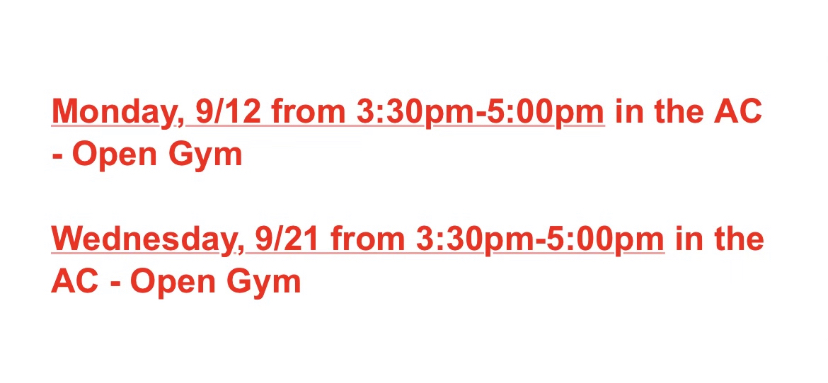 I simply could bot take my eyes off her this summer. That's because the quickness is so next level. Her handle his Electrifying. Her ability to dance by quickness or pressure is special. She has excellent feet which makes her excellent on defense. in the open floor she can not only find teammates she can make all the right decisions. She has excellent size for a combo and clearly will be a excellent shooter. Not only is she a D1 talent, I say this season she is going to be a nightmare with the post players she has to work with after spending the summer under the watchful eyes of Ellen MASONIOUS and her RISE team . She is just floating under the radar with so much raw D1 ability and talent.
.
This is old school coning right at you. She brings toughness, a winning competitive nature and most importantly a whole lot of game. She can score in so many way. She has a mid rang game, the long ball game, bully ball and gets to the rim or foul line. She has that old school in the park game. She will beat you up on defense. Bump you, hold you, grab you, foul you .. in other word take you to school. The right school, the snatch your heart out your chest school. The handle is just everything coaches dream about… no bullshit just effectiveness. She is athletic, mentally tough and has a body coaches dream about for these guards. Once she learns to play a little faster… LORD HAVE MERCY ON FOLKS! I have no idea who is recruiting her… but if your a D1 school it better be you.
The name Pissott ring a bell? Well guess what she has the same work ethic and I believe will have the same growth as a player. Nobody with this size and length should have her skills, toughness, IQ and offensive package. Here is what she can do right now PASS, RUN, SHOOT, REBOUND, SHOOT WITH RANGE, POST UP( she has every move in tbe book)and then she handles the ball. That's because her college position might be the 3 spot. She is the rare tall player who is a gym rat. She is worker with talent. A player with size who would be great even without size. She will fight opponents in the post or go meet them at the line. Her foot work in a word is spectacular. She learns, absorb and adapts on the spot(rare stuff)in the flow of the game. She has D1 offers on the table right now. Before her playing days are done… here is a little fact… I predict she will be the best forward in the state of New Jersey…let that sink in.
Game recognize game and BROOKE'S game looks very filmilar. To say I'm a fan is a major under statement. She is a serious problem on the baseline. She is the rare player that plays in small spaces and can score or keep balls alive. Her quickness and effort are real gifts. She is athletic, active and is in motion constantly. Her upside is big and if the development continues, she has a big future. A Division One future in fact. She can handle the ball and get to her spots on the floor. She is unselfish and fills lane with gusto. This was one of my favorite players and biggest sleeper this summer because she has a warrior mentality. Last year she had a serious dominant breakout season season, scoring just under 300 points and a thrilling 175 + rebounds. Coaches they call that "getting it done". She has D1 offers and more are coming; that you can bank on. She is worth the open gym ride….GREAT KID TO BOOT 💪🏀
She has a real upside. She has real size and strength. SHE already throws a college type outlet pass. Last season she had some big moments scoring as a baby. In fact just under 200 points and averaged over 1 block shot a ga e… . She is a excellent rebounder. There is no question D1's will need to take a serious look at this young lady.
I told you this open gym is full of surprises. She is no stranger to SHORE ballers. That's because she showed up at NBS CAMP two years ago and went right to work with her basketball IQ. Coaches this young lady understands where the ball has to go and when. She understands clock and situation. Her handle can be rock solid with no frills but if you want to a little magic to get the crowd dancing in there seats, she can bring the flare. She is deadly behind the three point line and your worst nightmare trying to stop in transition. She has international competition under her belt as she won GOLD at the Maccabi games this summer. This young lady checks all boxes and some coach is going to be awful glad they got to the GIL BERNARD OPEN GYM…
Lets start with the insane fit, powerful body. Then let's move to the 6'10" inch wing span. Now let's talk about the quickness and athleticism. Not enough, how about a big that hustles and chase every rebound… she runs the floor has wonderful hands and has only been playing two years….recruiters start your engine. The new bigger, better stronger ERIKA PORTER?
She spent the summer winning GOLD for the Filipino national team. She is one of the best freshman in the state. The lefty is shifty and explosive. Her handle is a weapon and she uses it well. Her ability to get by defenders is nothing short of elite. Her pull ups off the bounce are a thing of beauty. She is the ultimate scoring point guard. Her passing and decison making skills are getting better daily. This future D1 Guard is a talented defender who is must see and must recruit

This young player has a strong powerful body has skills on top of skills. She also has the ability to post up or knock down jumpers. She passes the ball like a point guard and her handle will shock you. She has a very high IQ and plays the game way beyond her years. How good is Stella you ask? She is without question one of tbe best young swing forwards in New Jersey. She has a real competitive nature and is vastly underrated defender. She understands how to use her body and D1 coaches will understand she is the real deal after open gym. ANOTHER future GIL BERNARD D1 player