Today we spotlight the deepest and most talented AAU organization in Central Jersey TOP TO BOTTOM….THE CENTRAL JERSEY CARDINALS.  They have stud players in almost every age group. The coaching TOP TO BOTTOM is some of the best period, regardless if we are talking High School or AAU. They fear nobody and always seek out the best competition. Kirsten Somogyi has put together the holy grail of AAU girls' basketball, and has few if any competitors when it comes to talent, coaches and the number of quality teams.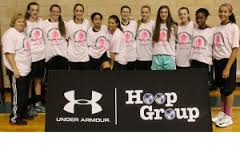 http://centraljerseycardinals.ieasysite.com/
CJ CARDINALS…
KRISTEN SOMOGYI– She is the states All Time Leading Scorer and former player at Rutgers, so she has been on the biggest stages. She knows what REAL talent looks like and she knows great talent needs top flight coaching. The teams in every age group play against the best competition and are loaded with future Division one talent. More importantly is that those kids are surrounded by teachers such as Mary Klinger and Shannon Coyle two of the best on the AAU circuit. Somogyi is deeply loyal to her players and coaches and it reflects in recruiting and player development. She is the true brains behind the operation and right now NOBODY IS DOING IT BETTER! Somogyi has not built a team, she has built an entire AAU program for hundreds of kids, both elite and those learning the game …VERY RARE in a time where most teams are only part of Organization in name only.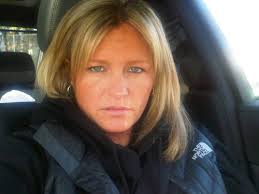 Make no mistake this is the face of New Jersey girls AAU basketball
THE TEAMS– Despite having talent in every age group, today we will focus on 3 teams and I suggest EVERY COLLEGE COACH  get to know their rosters. The Coyle, Klinger and Baffa led Cardinals teams are so loaded with talent, it' almost like someone is playing  some kind of cruel joke on the rest of the state.
CJ CARDINALS COYLE TEAM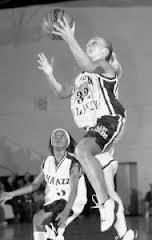 Coyle played at SJV was winning is nothing new
COACH -SHANNON COYLE– The former SJV standout has been part of the Cardinals coaching staff for what seems like forever. She has a firm but soft hand when dealing with her players. No sideline antics and more importantly her teams always play hard and as a team. Her kids develop and take on all challengers regardless of reputation as her teams never duck the elite competition. Last year alone she had 4 players' sign with D1 schools and all had major impacts on their teams. She doesn't get nearly enough credit for her coaching or her ability to relate to players…future college coach one day? I say YES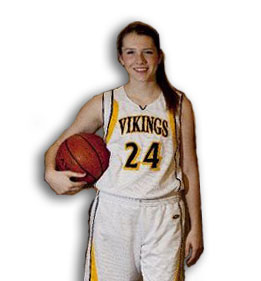 Danielle Padovano is now at Fordham
Former Cardnials in College:  http://centraljerseycardinals.ieasysite.com/?page_id=115
THE ROSTER (you may not know a nicer group of kids)
Vanessa Pinho- Junior-SJV HIGH SCHOOL-5'4"-PG/Shooting Guard-
I have said all along I believe she has a chance to become a D1 player and nothing has changed my mind about this. She is a total team player, who plays as hard as anyone in the shore conference. She will bury open 3's, defend and chase 50/50 balls like her life is on the line. The shorten recruiting days really hurt this young lady because the more you see her the more you love her…possible future D1 guard in time
Emily Uribe-Junior-SJV HIGH SCHOOL-5'6"- Shooting Guard-
3rd Team HOOP GROUP ALL SHORE …Any questions about her ball handling ability has been put to rest, and more than likely she will be the closer for SJV next year. She will play point guard/ shooting guard this summer with the Cardinals. She is clearly more than a shooter. She gets to the foul line as much as ANY shooting guard in the shore. She has shooting range the moment she walks in the door. But what gets over looked is her toughness and ability to rebound for a guard. A program kid with talent, which is rare because this is easily one of the nicest kids I have ever been around…Possible MM/MM+ type player ….Think Hannah Missry of Fordham
Zoe Pero-Junior-SJV HIGH SCHOOL-6'0-SMALL FORWARD/POWER FORWARD
Made the tough transition after sitting out 30 days for SJV and no question this had a major effect on her season as she had to work her way in the SJV rotation and learn the system. No worries here because bank on it, she will be ALL SHORE NEXT YEAR. She will be in great shape come summer after sitting around for much of the season. One of the hardest workers you will ever see, as her effort can never be questioned. Super offense rebounder and runs the floor. She is a great defender because of her physical style of play and rebounds in TRAFFIC.  She will bury 18 footers till the cows come home and is a much underrated ball handler for her size. This college coaches will be the total package in a few years. Reminds me of a young Danielle Padovano…There is no question in my mind she will be a MM+ player one day…anyone want to bet against my track record…exactly!
Gigi Caponegro-Junior – SJV HIGH SCHOOL- 6'2"- Power Forward
Gets little if any credit for what she does for SJV… the new Arron Zimmerman. Gigi Caponergo was 2nd TEAM ALL HOOP GROUP this year and If was a betting man, she will be 1st team next year. She has improved in every area of her game.  Notice the 15 foot baseline jumper she has brought to the table, notice the ability to go out and play small forward or guards. She runs the floor better than ANY big in the shore conference. One of the most athletic posts we have seen in years. Never cry's about not getting the ball just plays hard every night. She already has A-10 offers on the table; thank god college coaches know talent not stats. Seems to be getting better each year…MM+…possible HIGH MAJOR down the road with more development
Courtney Hagaman will join her sister at the D1 ranks one day
Courtney Hagaman-Senior-MANASQUAN HIGH SCHOOL-5'7"- Shooting Guard
She became an official star in the Shore Conference Tournament, when she made the game tying layup to send the SJV game into overtime, then in the Championship played both ends of the floor helping Manasquan to the title.  A 3rd team All HOOP GROUP member, who just happens to be the younger sister of Amanda Hagaman of UMBC and get this…she is still growing like her 6'3" sister and developing late like her sister did. She is one of the best shooters in the shore but her post passing and ability to get out in transition for easy baskets is something you can't teach. The key to Manasquan great season was defense and if you are playing attention, you will know that Hagaman always defends and more importantly helps as well…future Division one player.
Nneka Ezeigbo-Junior-NOTRE DAME HIGH SCHOOL– 6'2"-PF/CENTER
I got a real good LOOK at this young lady in the Hoop Group High School fall league and she is a beast. Athletic strong and competes for every rebound. She is active around the basket and as her offensive skills improve look for her to become a dominant player…Just on size and strength alone I believe she is a Division one player, the real question is what level? HUGE UPSIDE FOR THIS YOUNG LADY!
Samantha Wideman-Junior-NOTRE DAME HIGH SCHOOL– 5'9" –SWING
She was ALL SOUTH JERSEY this past season and a very nice pick up for the Cardinals. I did not get to see much of her in the fall league as I was focused on her teammate. But word is this kid is legit and is blessed with a nice shooting touch and skills sets…I will revisit this young lady, when I get to see her in action more, but I will say this everyone is telling me this kid has talent.
Emily. Calabrese –Sophomore-5'11"-Ramapo High School-Forward
She started as a freshman for ex. FDU Head coach Sandy Gordon at Ramapo High School. The word is that she is a strong rebounder with a great upside. I can tell you this, any kid playing for Sandy Gordon is going to be in great shape, play hard and a total teammate…again I will revisit her the moment I get to see her play…but so far all reviews have been excellent
FINAL THOUGHTS
This team has no less than 6 future D1 players and that alone makes this a much see team. They have shooting guards, post players and sleepers. It doesn't get much better than that, plus they always play the best competition. I still believe you also win with kids who are used to winning and have great character…this team has both
THE MARY  KLINGER CENTRAL JERSEY CARDINALS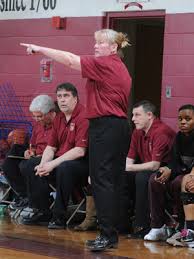 Her college style of play prepares kids
Coach- Mary Klinger– She will coach the U17 national Team again for a 2nd year in a row. Klinger can flat out coach them up. She runs a college style offense, with ball screens and quick hitters. Her teams play fast and defend you into the ground. How good are Klinger's offensive sets? Her quick hitters are the best I have seen at the AAU level, no question her kids are getting an early education, just like I did watching her last summer….Flat out one of the best teachers out there boys or girls! Any young lady who gets a chance to play for this women should feel very, very LUCKY…she's that good
THE ROSTER
This roster is so deep and loaded we would be here forever if I listed everyone…so let me say this to college coaches, you better make time to see this group if you want to gain a edge on the competition early.  Lovin Marsicano who will be attending St. Rose in Belmar will be one of the most recruited kids in New Jersey one day; she is already a 5'11" small forward/shooting guard. Her passing skills make no sense for a player her age. I watched her last week at NBS against 3 players who will be freshman at D1 schools next year and she not only held her own, but made a statement.  Danielle Jordan is a GYM RAT who also will be attending St. Rose and who will be one of the best freshmen in all of New Jersey next year. Jordan is blessed with great size, shooting ability and quickness, this kid's future is off the charts. Alex Scariata is a stud point guard who will play at Rutgers prep next and be an impact from day one.  Lindsey Mack who will attend Secaucus, has already been adopted by the shore community and will be a impact All Freshman player next year. Mack shooting range and rapidly improving ball handing make her another future star on this roster….this entire team is loaded as they have already this spring knocked off older teams on the aau circuit and were not talking about weak teams…
FINAL THOUGHTS– Look this is the home of some of the best young talent in New Jersey and they are coached by giant in the teaching world of our sport. But the two together and you got a really special thing brewing. No question this is a… MUST SEE TEAM THIS SUMMER AND DURING THE APRIL RECRUITING PERIOD…
THE BAFFA CENTRAL JERSEY CARDINALS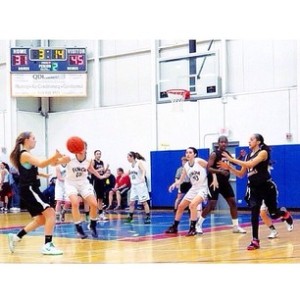 The talented Freshman Dobrzinki had to wait her turn at SJV
Now if you think the Cardinal Program's talent stops after the Klinger and Coyle group you would be wrong…and I mean dead wrong because the Baffa group is loaded with talent…I'm talking D1 talent folks…. this group went 4-0 this weekend at the Blue Chip tourney playing 16s'…Courtney Dobrznski  was one of the best freshman in the Shore but had to sit and watch at SJV this year because they were loaded with upper class-men, no worries because her time is coming. Dobrznski would have been a major factor for almost any other shore team.  She is a big guard at 5'9" and has a great feel for the game, as she see's everything. Leave her open for shots and she will make you pay. By the way did I tell you she is a gym rat and a future lock D1 player.  This team then has a stud and I mean a stud folks in Oliva Dabney, this young lady is a lock D1 shooting guard. Coaches live to have shooters like this on their roster. Like her father she makes opponents pay for sleeping on the job. She has sick range and can put the ball on the floor. This kid has a chance to be really special one day my friends…COLLEGE COACHES THIS IS A TRUE SLEEPER….Alexandra Balsamo would be a much bigger name folks if she did not get hurt late in the season, when Middletown South went on their run. This kid gets better and better. Her upside is something you can't measure due to her work ethic!
FINAL THOUGHTS– This group could easily get over looked if you're not playing attention, I believe that all the kids on this roster have a huge upside and it would be very wise for coaches to do their homework…because this is a true sleeper crew!