Today the spotlight is on one of the most interesting teams on the AAU circuit. They have a former WNBA coach as there head coach; one of the best young post players I have seen in recent years, the best athlete I have ever seen and tons of players with huge upsides. This is not only an interesting group but a talented group as well. The DIPLLO CENTRAL JERSEY HAWKS are making a real case as one of the best young teams in New Jersey.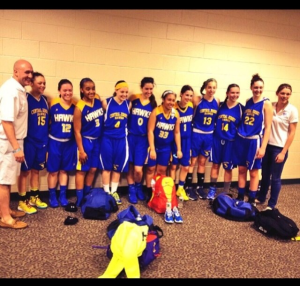 www.monroesportscenter.com/basketball/aau-teams/cj-hawks-g1998.html
THE DIPLLO CENTRAL JERSEY HAWKS
Coach– NICK DIPLLO– I have known Coach Dipllo, since his college days, since I coached him when he was a player at FDU. His coaching background speaks for itself. He has coached at the College level, where at Kean College his teams went 34-19 over a two year period and won the Metro ECAC Title.  Nick Dipllo was also an assistant coach with the WNBA NY Liberty, where they went to the playoffs 3 straight years. He currently represents and trains a number of NBA players, but his passion is clearly his HAWKS. His ability to teach and coach from the bench jumps out at you the moment you watch his teams play. He has built his program from the bottom up with good kids and by not raiding other programs, which is how most great AAU teams are built. Nick Dipllo has DEVELOPED his kids into STAR players and this crew is the perfect example of what I am talking about.
THE ROSTER
( Finished 4-0 and Won 14U division at USJN East Qualifier last weekend)
Jasmin Watson-West Windsor High School 5'6″-Sophomore- First Team All CVC as a FRESHMAN! This Combo guard could be the biggest freshman sleeper in Central Jersey. She is a big time competitor and plays with unreal confidence. The fact that Watson can score in so many different ways separates her from many young players.  Miss Watson honestly believes she can play anywhere in the country and if she continues to develop she could be right one day.  She scored just under 500 points as a freshman at West Windsor North. She was recently was named to the All-Tournament team at USJN. This is a player all coaches will need to know over the next 3 years…a chance to be very special.
Christina DiCindio- West Windsor High School– 6'3" –Sophomore-Let me just say this right away; this is one of the best young post players I have EVER SEEN. Plays hard, has a left handed jump hook, rebounds in traffic, sets MONSTER SCREENS, seeks out competition. This coaches could currently the best young post player I know.  She was All Tournament team at USJN this past weekend, where her team went 4-0 and won the USNJ U14s. She does not just hold her own against older players who will be wearing D1 uniforms next,  but she at times has out played such players…young lady has a zero fear factor. The sky is the limit for this young lady as she is a possible BCS type player one day
Megan Volker-Rumson High School-5'9"-Sophomore-Could be a huge sleeper this spring and summer. Can score in different ways and is as tough of a kid as you'll meet. I love kids that play hard and are willing to give up their body. This young lady is more than willing to do this and she has the athletic ability to go along with her desire. She is big, strong and appears to showed flashes late in high school season. No question playing at RFH will help her in the long run because she could one day be a real defensive stopper…I have a sneaky feeling this young lady has a chance to be very special. The Shore Conference did not get to see much of her last year, but college coaches are going to be very surprised by this young lady. I had a friend of mine who I have a great deal of respect for, tell me "Tiny I really believe she will be a D1 player before she is done" Strong words….
Alex Pendergrass- St. Rose High School- 5'9"- Sophomore-No question this is the best athlete I have ever seen on the girls side. She can grab the rim off one step and is the fastest human being I know…lol. Alex Pendergrass may have the biggest upside of any kid not only in the shore but maybe the state. She is a national ranked high jumper and uses that talent on the court. Once she improves her shooting and ball handling I can't imagine what she'll become. Played last year for the #3 team in the State St. Rose and no question Joe Whalen will turn her loose next season. This is a kid with that wow factor you either have or you don't. Just on athleticism alone a MM
Molly Weiss- Marlboro High School- Sophomore- 5'6" ( still growing)-Heady PG and a leader. Can run a team and no question could be a small college steal one day. But here is something every coach better pay attention to, I believe this young lady is still growing and getting physically stronger, her twin brother is 6'3″ and if those two things come together …watch out! Because her skill sets are already superior. This is a classic example of wait and see, what happens down the road. She is also a major gym rats and has played with and against some of the top players. I have seen her at NBS and never once has she not looked intimidated, something I can't say about some other so called D1 players. I have this real good feeling about this kid! Late Bloomer special
Brianna Love–Neptune High School-5'8″-Sophomore–  Wing player who played varsity minutes at Neptune this year. Needs to develop her shooting but defends slashes and competes as hard as anyone. I will revisit this young lady once I put eyes on her.
Megan Shanosky-RBC-5'10-Sophomore-athletic forward who rebounds and has played in a first class high school program at RBC. Like all young players needs to develop but more importantly needs exposure and playing time…this team will give her both
Casey Filiault- Monroe High School -5'7″ Sophomore-played varsity minutes on a Monroe HS team that won 24 games this year. Can shoot the ball, I hope to see more of her soon
Allyson Lewis-Hightstown High School-5'6″Soph0more– scored just under 250 points at Hightstown HS this year. I will revisit this young lady when I see more of her
Trinity Holmes Notre Dame-5'11" Sophomore – 3/4 player with terrific shooting range and size.  Once again I will revisit her once we put eyes on her but her size no doubt makes her a interesting talent
Alexis Nerestant- Neptune High School-5'5″ Sophomore– Has been battling injuries but when healthy is a very capable point guard who can defend and knock down shots.  This is a young lady who could surprise people.
UP NEXT-
Maldonado  NJ STING
UPDATE…NBS shooting session starts this Friday at 5.00 pm in Spotswood at Immaculate Conception