The Shore Conference Tournament kicks off tonight and everyone starts out undefeated. The regular season is behind each team and now it's win of go home. So what will it take to win the Shore tournament this year? Your team better  have a star who delivers at some point. Your bench players better be ready. You better have shooters that have played in some big spots. You need a closer. The baby factor always is huge. Do you have seniors who have been in the wars? You better have a coach with a track record of winning close games.
There are a lot of STARS in this years SCT. None bigger than Marina Mabrey of Manasquan. If she gets on a roll this thing could be a wrap. But if St. Rose proved anything, it's this…Even Marina at her all-time best is beatable. But having a superstar like Marina Mabrey allows you to stay in games. She creates rotation issues by causing foul trouble. She can also take over a game not only through scoring, but also with her passing and defense. She is the star of stars in this event. The real question is can your star put your team on her back and carry you home?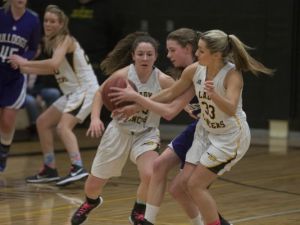 Lebron and Pinho are always ready
Can your team go to its bench and still win? When it comes to using the bench no coach is even close to Dawn Karpell. She creates roles for all 8 of her players. They know they will play in the meat of the game and they never look over their shoulders. Tina Lebron won two of the biggest games of the year for SJV. Vanessa Pinho plays big in big games…as in 11 points against RFH and 12 points vs Top 20 Lodi. Zoe Pero showed why D1 schools are begging for her signature. All are tested and play their roles to a "T" and are ALWAYS READY. The SJV bench is talented, but more importantly it has been used wisely by Dawn Karpell and she is not afraid to use it. Somebody is going to run into foul trouble or an injury. When this happens, your teams bench is either going to shine or be exposed. Has your bench been used in big spots this year? The SCT is not a place to start finding out if they are ready…that ship has sailed!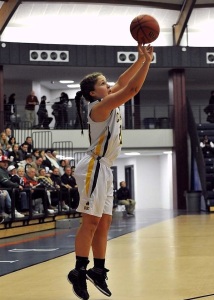 Alex Barazotti can get rolling
Do you have Shooters? Sorry – if you don't have shooters…you are not winning the SCT… nothing is more important in a Tournament. St. Rose has the best shooter in the business these days. Kat Phipps proved shooting can change a game at the drop of a dime. When your team is struggling to get buckets, you better have a shooter that can get you those unscripted points. A great shooter can single handily knock you out of this tournament. There is a flip-side to shooters though. They can also shoot you out of this tournament as well. If there is one thing I am 100% sure of…it's this…Somebody is going to have to knock down a big shot to win the SCT…Do you have a knock it down shooter who has played in the meat of games that matter?
Do you have a closer? Nobody is sailing though the tournament. Last year SJV did not have a closer and it caught up with them in the SCT. This year they have Kelly Campbell and she has been closing the door on everyone. Right now she is the best closer in the business. There is nobody you want stepping to the foul line late in a game with the lead. She also never turns the ball over late in games. The closer also must be a great decision maker. They must know when to pass and when to shoot. Remember your closer is not always your best player. Kelly Crouch and Tina Lebron have both played the role of closer this year. Now here is something everyone forgets…sometimes your closer never gets the chance to close, because in order to close you need to be in the game late with a lead. The SCT is not the place to try and find a closer….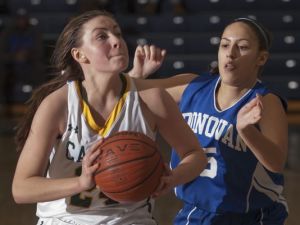 Caverly is a Freshman who has the ball
The baby factor is big and I mean real big this year. Now don't tell me how good your babies played this year. I don't care about their stats. I want to know what your babies did against the real teams. How did they play in your 4 biggest games of the year. Did they see real time in the games that determine your season and seeding. No babies had more responsibility than Makayla Markham of St. Rose and Rose Caverly this year. These two were asked to handle the ball late in real games against real competition. The teams did not have a Marina Mabrey or Grace Stant swinging to the point late in games. These babies have to handle the heat which comes late in games and they will have lots of it in the SCT. Now is your baby a part of the team or are you really counting on them to WIN IT?  If your babies have put up good numbers in blow-outs, but have zero numbers in the big games…don't expect them to all of a sudden blow up in this event. What's the status of your babies? Are they a part of the team or are you counting on them to win it?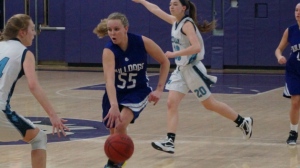 Senior Sabino has been rolling
Seniors win big games and big tournaments. If your team is not loaded with seniors your team's job is a little harder. Your seniors must have been in the wars and not watching for 4 years from the bench. Those seniors must have experienced success in a big spot along the way. Winning a big game or tournament can't be new to them. RFH has lots of seniors and they're good…real good. They also have seniors who have won the big one, as in the Group 2 central title when they were Sophomores. Grace Stant and Sam Sabino have been playing at warp speed the last month of the season. Jess Louro and Kat Phipps( she has won a SCT) have been the best duo in the state. Having battle tested seniors is something that gives you a real edge in these events. Seniors don't panic and they play with a passion when they know the end is in sight.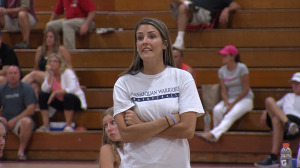 Lisa is at her best late in games
Finally, and folks this is the biggest thing of all..Does your coach have a track record of success in tight games? Joe Whalen has proven that if his teams are in the mix late, he will bring them home. Lisa Kukoda has showed that late in games she is masterful. If your team has not won a few tough games late, the SCT is not the place to start learning how. These games are going to be tight and somebody is going to win it or lose it based on decision making from the sidelines. Your coach better not panic and they better have those new offensive sets, out of bounds plays and new trapping defenses all ready to go for the SCT. Because in the end these games are going to come down to how your coach handles the pressure at the end of the games…they will need to make all the right moves!
The bottom line is that nobody has all the above ingredients going into the SCT. But somebody is going to face every one of these obstacles before a champion is crowned. The team that handles these challenges the best is going to be our winner