I took a little ride Saturday night. Stockton State was playing Montclair University in the NJAC final. That stands for the New Jersey State Athletic Conference. It was a chance to see some former Shore kids in action. Most kids don't know a lot about this conference. It's one of the best D3 conferences in America. The games are intense and the talent runs deep. I had seen  Montclair play NYU in a scrimmage earlier in the season, both teams were nationally ranked. So I thought I had an idea of what to expect…..WRONG!  Nothing could have prepared me for what I was about to see…I saw an atmosphere not just a basketball game.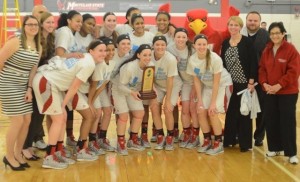 https://www.youtube.com/watch?v=0SXwjqZMYos
 (game highlights)
The band was playing and I mean playing loud. There was not a seat in the house to be found and you could tell the Montclair crowd was not allowing Stockton breathing room. Stockton State and Montclair had both beaten each other on the road. It was clear the Montclair fans did not forget this. No question Stockton State knew they were in the lion's den. The Montclair fans had one game play Saturday…make Stockton life horrible for one evening.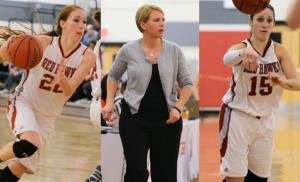 This trio want a national title
Tobie Named NJAC Player of the Year, Harvey Coach of the Year; Aquino Selected to First Team
Montclair is the #7 ranked D3 team in the country. Now this may not seem like much to the average fan, but let me be clear about something. I was a D1 coach for 25 years. I have seen over 100 girls move on from NBS and the Hoop Group to play D1 …The Montclair front line are all D1 type talent. They are athletic and play insanely hard and physical. Montclair on any given night can beat every single team in the NEC. There best player Melissa Tobie is a All Conference player and would be all conference in any conference. She is a special talent. For the record she played like an All American all night. Stockton State folks had zero chance on this night. They have real talent and are super well coached. But the bottom line was this…NO visiting team was winning in that atmosphere. It was loud and I have never seen anything like this….EVERYONE REFUSED TO LEAVE THERE SEAT…EVEN AT HALFTIME. …those FEW who did came bad complaining the snack bar line was too long. I sat in my seat because seats were hard to come by.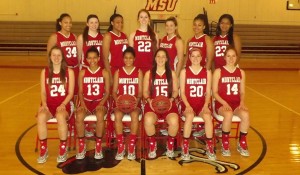 When former Shore Conference and freshman star Katie Sire scored and pushed the Montclair lead to 17 points I new it was a wrap. I took a quick peek over at the Montclair bench and saw Zoe Pero and Rachel Krauss clapping and cheering. Both had made their mark during the game and could sense what was happening.  I couldn't help think how so many kids never experience going to the  NCAA. These 3 were going to their 2nd dance. I also thought how many girls playing D1 never get to experience this type of atmosphere while in college? I doubt many outside the U-conn's and Tennessee's of the world. It made me realize how lucky kids like Jess Louro are to be able to attend schools who PLAY in big time basketball atmosphere's. Montclair took a back seat to nobody on Saturday and their fans should be given a NCAA RING AS WELL…LOL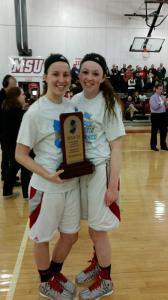 Curtis and Sire are dancing Again
I saw James Young with his spanking new born baby at the game. He no doubt was a proud papa watching his FORMER  kids play. Zoe Curtis and Lauren Bowler both who played for James Young at RBR. Both are important parts of MONTCLAIR U, these days. No question Coach Young was in a tough spot. While happy for Curtis, I'm sure he felt the pain for Bowler the niece of AAU Coach Mary Beth Chambers.
Katie Sire had 9 points and 5 rebounds. It's remarkable to see a freshman play at that level of basketball in that atmosphere on that stage. If ever a kid made a great decision regarding college its this young lady. Proving D1 is not everything…knowing what you want is way more important. I get the feeling Sire is going to be one of the best players in school history before she is done. In case you don't know the history of Montclair basketball. You be wise to look at this. http://www.montclairathletics.com/sports/2012/2/2/WBB_0202120442.aspx?id=35 
Montclair University and Stockton State are places that take there basketball real serious. They both have excellent coaches who demand a great deal from their kids. It clear there is not love lost between the two programs. I think that's the way its suppose to be in college. Play hard and go home, no phony hugs and kisses, just real respect. While Montclair won its third straight NJAC and is on there way to the NCAA, Stockton got an NCAA at large bid today. Their coach Joe Fussner is a cool as they come. I have a feeling his team is going to make a run. His star Sasa Williams is the type of kid that could carry a team.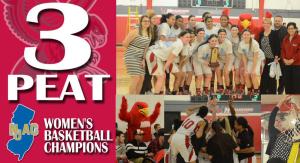 Montclair will not admit it, but anything less than a Final Four will be a disappointment. Head Coach Karin Harvey is a stud and her days are Montclair could be numbered. How she has not hit the D1 jackpot is beyond me. Courtney Cunningham and Brian Sansom are assistant coaches who work like their life is on the line for her. Both are relentless recruiters and show you can steal players if you know which ones to chase.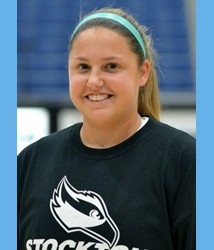 Lauren Bowler is going dancing
Programs like Montclair and Stockton are nice landing spots for the right kids. It certainly not for everyone. These are elite D3 schools, there rosters have D1 talent and the coaches and fans take it very seriously. But if a kid is willing to work or have a dream of playing in college at a high level…look no further!…. by the way I left that game feeling like I had been in a 15 round boxing match, the energy was nuts all night