Times are different, things are not just the same. We are all looking for something uplifting. We all want something to smile about during these difficult times. I am very lucky because I found something that has made me smile. I found something, me and my family can talk about at night over dinner. I have never written about a 6th grader in all my years. But these are different times as I told you. So when you see a 6th grader with a smile and a passion for the game like Addy Nyemchek it send chills up and down your spine. When you see a young person with so much talent and a work ethic to match it. You want to tell the world. Addy reminds me there are still young people who love our game and want to be GREAT…ADDY HAS THE POWER IN HER HANDS FOR GREATNESS. I hope she understands this and protects this gift.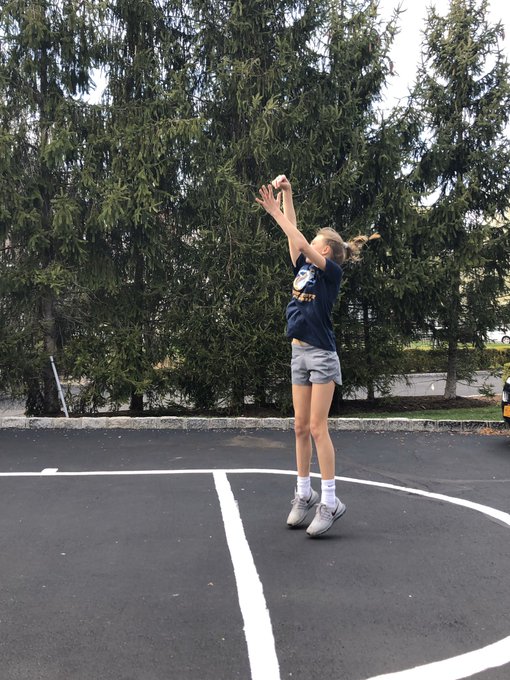 This past January I was sitting in the Hoop Group just relaxing after Core Skills Training. I always sit around after because I like to watch what kids are doing. It's the best way to learn about kids. Kind of a what you do when nobody is watching. Most kids were sitting around, talking and laughing with each other, enjoying each others company. Some kids were on the phone and others eating candy at the snack bar. While they were being kids and enjoying all the trappings that come with youth sports. One kid caught my eye. She was on the court, all alone shooting. Her shooting form was perfect and there was a smile on face that I can't describe. It was this smile that made me approach her and her dad. It was then her dad Brian told me he played at Monmouth when I coached at FDU(meaning he took a L…LOL) and mother Heidi played soccer at Mouthmouth University. Brain told me his daughter's name was Addy and she was a 6th grader and they drove down from Congers, NY to play in the Hoop Group girls winter league. It was clear his daughter had won the gene pool. But there was something in Addy's eyes that day, that goes way beyond the gene pool. That something you can't explain, but if you ever coached, you know exactly what I am talking about. I was impressed and wished both well. I didn't give much more thought about Addy after that day. She appeared to be another talented kid, I really never expected to see again…or at least I thought that.
Virtual training is all the craze these days. It's for those kids trying to stay sharpe. The kids who are trying to get a edge on the competition and get out of their comfort zone. But more than anything it's a way for a kid to continue to play the game they love with a little guidance and support. It's also a way for coaches and trainers to stay sharpe and kept their edge. So when virtual training at hoop group started I was excited. It was a chance to teach and more importantly watch kids grow as players during a tough time. I really didn't know what to expect, I have never done virtual training. I see about 100 kids a week during the training, so trying to keep track of everyone is not easy. But when I saw a skinny kid with blonde hair swinging everywhere with this big smile, I was blown away. When I saw her pace of her play I was shocked. Then while watching her skill sets, I thought how could I miss a kid this skilled and with her work ethic. It was then I was told she was from Nyack, NY (misinformation). I asked somebody what high school she went too and was told she was in 6th grade. I almost thought it was it joke. But Addy "the bad women" Nyemchek is no joke. She is special, somebody who has been given a gift. That gift is a passion and real love for game of basketball. I call her the "the bad women" because whenever you talk to her. She looks at you with those eyes that say. Please tell me want I need to do to get better. Her passion and commitment even on video…MOVES YOU… it impossible not to root for her and fall in love with her passion for the game.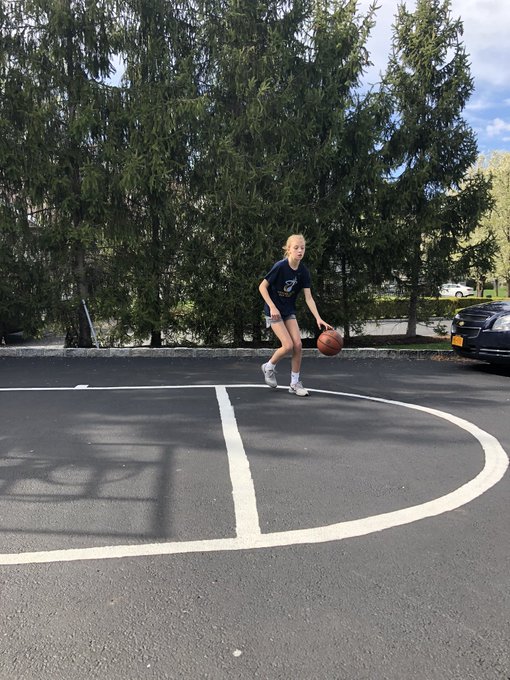 One day while Addy "that bad women" was demonstrating a drill at virtual training. I saw a strange figure walk by and I asked Addy who was that. She said her dad. So I stopped everyone in the training session. I had to know more about this kid. I asked to speak to her dad. I just wanted to let him know how special his daughter was… as if he needed me to tell him that. It was then he reminded me. "Tiny we meet in Januany, I played at Monmouth, you introduced yourself to us a hoop group". It was then it came full circle and I put two and two together. It was then I realized that this was kid who was shooting while everyone else was enjoying themselves, while she was working in the quietest moments that January. I wish I could say I was shocked. But the fact of the matter is; I always notice the kids who are different. I just don't remember their names. Addy is different in that she loves the game more than most, she also is mega talented and has that all important desire to be to be great. So often kids want to be good. But everything about this young lady screams …good is for the ordinary folks… Addy has no interest in ordinary….SHE WANTS GREATNESS.

When you start talking about 6th graders in a lot ways you have jumped the shark. So much can go wrong along the way. But Addy has something few kids can lean on. Two parents who both played D1 sports, who know the pitfalls that await her if she is not focused and not on point. But truth be told these are different times and we all need something to make us smile, pick up our energy level and give us hope. Addy Nyemchek, makes me smile and lets me know kids still want to work hard and grow as players. She smiles and laughs and it makes me smile and laugh. She allows me to sit at the dinner table with my daughter and wife and dream about all she can become. We discuss what her future could look like one day. We talk about about other great players over the years like her. Some like Kelly Campbell of Depaul greatness, who would become one of the best players in the country. We talk about those who were not so lucky and why they didn't fulfill their greatness. Addy has so much in front out her. She has a chance to be be great and I honestly believe that's exactly what will happen.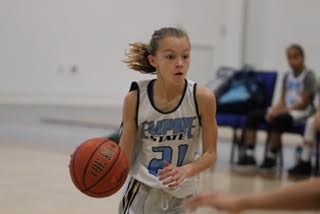 Yes, she is just in 6th grade, but there's something different about her. Something I have rarely seen in kids. I guess you can say, I just have a feeling. A really special feeling about what is going to happen in the future for this young lady. I have seen many great ones at her age. Addy doesn't take a back seat… the talent, IQ, desire and love of the game is all rolled up into one…and that's has to mean something long term…ADDY NYEMCHEK HAS THE POWER TO BECOME WHATEVER SHE WANTS….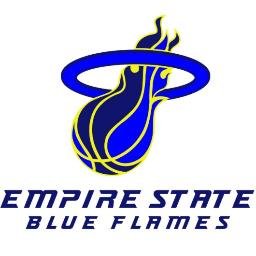 Addy "that bad women" plays for the Empire State Blue Flames. It is rapidly becoming one of the best AAU organizations on the entire East Coast. There track record speaks for itself. College coaches know a kid part of this organization is going to be well coached and will embrace competition. It an organization filling college rosters with players from their elite organization. Jane "the baby face assassination "McCauley came out of this program. They seem to have more kids each year moving on to the highest level of college basketball. It's a program built on player development and long term trust. Just check the track record. They make stars not steal stars from other programs. It's leader Nick Volchok, has built the Roman Empire. He has built his organization from the bottom up beholding to no one except himself and his players. His organization is filled with elite talent in all age groups. It's the main reason why I believe Addy is going to continue to grow. It's why one day she will be special. You see kids with Addy's talent, who love our game… can only do great things…and ADDY NYEMCHEK IS GOING TO DO HISTORIC THINGS… JUST YOU WATCH!