Red Bank Catholic kids are always in high demand. This year no player was more recruited outside of  Kimi Evans than Josie Larkin's in the shore. In the 2018 class, no player has gathered more attention than Rose Caverly. She has proved this year, size indeed matters. All coaches love size and this is why Rose Caverly more than anything else was in demand. It's also the reason for a 2nd year in a row, Vermont University has won, perhaps the biggest recruiting war in the shore if not the state. ROSE CAVERLY GAVE VERMONT A VERBAL COMMITMENT.
I received a text at 11.35 pm on Saturday night. It said  "call me in the morning I have big news" I texted back did you make a verbal? The response was "Yes, please do not say anything I am going to verbal to Vermont". Then Rose Caverly visited Vermont on Sunday and decided that Vermont would be her next home. She then started the process of calling the schools that recruited her. She told me it was hard calling schools, to tell them of her decision to attend Vermont. Some schools like always in recruiting were classy, some were not so happy. It's part of the recruiting process, not everyone is going to be happy in the end. There were two groups of people that were very happy. Rose Caverly, her family, Chris Day and his VERMONT COACHING STAFF.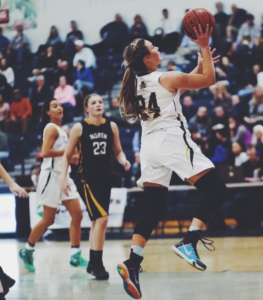 Rose Caverly once asked me why "Joe Montano is so hard on her" I laughed and said "the same reason I am hard on you, because we love you and you can take the heat." She thought about what I said and then said "I got it". This is Rose Caverly in a nut shell. She is a kid who get's it… a little better than most. She is the kid who seems to always want to know a little more and do a little more. She is the gym rat who just can't get in the gym enough. It's reason she is one of the best pure point guards in the state. It because she is a combination of strength, size, IQ and most importantly commitment to excellence. It's why when  her future Vermont coach was watching a smaller guard play recently said "we can recruit her, because Rose can play just about any position for us in a pinch".  This is why Rose Caverly is special, she is that rare point guard with versatility.
Mr. and Mrs. Caverly daughters all played in college. Her Brother Mark is an exceptional student.  Rose's sister Mary Kate is currently a junior at Colby College. She was recently named player of the week and a won  SCT title at RBC.  That RBC team went undefeated and played beautiful as a team. Mary Kate was the brains behind the operation. She very rarely was given the credit for all she brought to the table. Rose Caverly is the same type player as her older sister. The difference is Rose, is the newer  bigger, stronger version of Mary Kate. Rose  studied her sister and learned from her and then followed in her footsteps to RBC.  She picked up her sister's basketball IQ and passion. Rose then took the things you can't teach, like size, sick vision, strength and basketball instincts  and combined it all together with her sisters lessons. She became everything her mother once hoped for, the best lead guard in the state. Rose Caverly is something all coaches dreamed about…the perfect point guard!
When you see Rose Caverly today, understand this was not the same player of 5 years ago. The player you see today, is mega confident with the ball and her leadership skills are off the charts. But it was her total commitment to the game, that got her to the point, where she is today. When you see her doing next level stuff, like burying three point shots behind screens, finding shooters in traffic, rebounding in traffic, then start the fast break, you recognize she is something special. I am not sure if I know a kid that takes defeat harder or loves a challenge more. When she was younger, she always wanted a better match up in one on one drills. She constantly asked me for a stronger opponent…of course I always said "No"…LOL. She always was telling players where to go in during drills. She wanted to be great, from the day I met her. I also told her mother she would be one of the best in New Jersey.
I remember Gail Caverly asking me if I thought her daughter could play D1 basketball. I looked at her in surprise. I just took for granted that she already knew. I took for granted, she knew that Rose was different. I thought she knew Rose was that player, each family, hopes to get one of one day. I told Gail Caverly, that Rose would be one of the most recruited players in the state. I don't think she believed me until the scholarships offers started pouring in last April. It was then Gail Caverly, realized her daughter was special. Rose has played AAU for her mother the last 3 years. It's a team full of D1 players, just like her high school team.  I believe her mom coaches her to  protect her from the sometimes shady AAU culture. But her mother was also smart enough to challenge Rose. She has been in NBS since she could dribble a basketball.  She and her husband have seen me jump on Rose about defense, shooting, passing and anything I could dream up over the years. They have watched this and not once has ever said a word. She has trusted her daughter could take the heat. It's  why when Joe Montano wants to send a message to his team he does so though Rose Caverly.   He knows she has that mental toughness, that all the great ones have.
 Blessed to say that I have verbally committed to play Division 1 basketball at the University of Vermont… Go Catamounts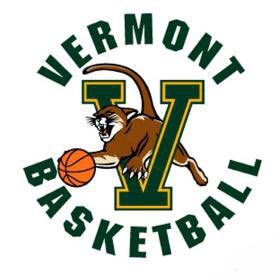 I told Chris Day that Josie Larkin, would take lots of work to land. I told him he would have to beat a lot of schools. Chris Day reminded me, Vermont University was a power just 6 years ago. It was always that mid major the big girls prayed they never see during the season or at NCAA time.  He told me Vermont would be returning to those days. Behind his back I had a nice chuckle. That was until Josie Larkin's decided she would attend Vermont. Then last summer Chris Day told me he would be recruiting Rose Caverly. I explained that it would be a long drawn out war. I told him, like Larkin's she was a Ivy/Patriot type student. Coach Day reminded me of Vermont's academic greatness as well. Then he went out and got a verbal from the player almost everybody wanted most… for the 2nd year in a row. Vermont has closed out one of the most in demand players in New Jersey.
Rose Caverly, is that rare big point guard. Not that shooting guard or wing pretending to be a point guard.  She has every skills set and leadership quality a player needs to be great at the next level. Her ability to allow her coaches to coach her hard and accept positive criticism and ability to adjust makes her different. All of these things add up to one thing…. A little girl making her dreams come true and…. VERMONT UNIVERISTY  CATCHING A VERY BIG FISH BY THE NAME OF ROSE CAVERLY