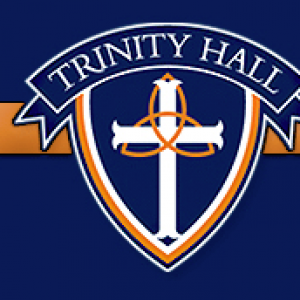 The best backcourt in the country resides in the Shore conference. Madison St. Rose and Zoe Brooks are on a different level than everyone else. So the real question is who is the best backcourt n the Shore after this dynamic duo? That is up to debate but what is not up for debate is that Nina Emnace and Haven Dora are in the conversation and last night Shore Reg found out first hand way.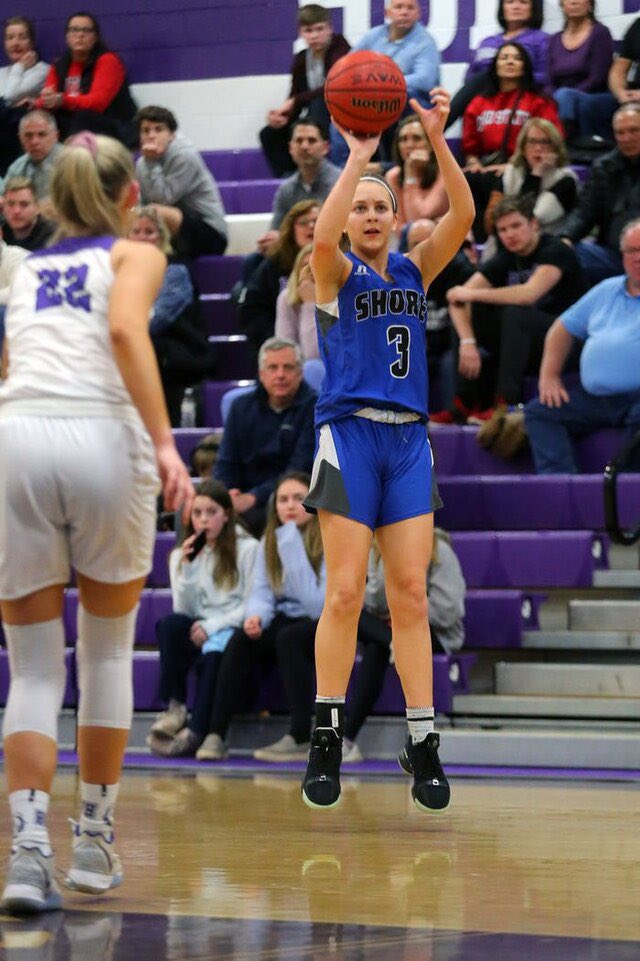 Shore Reg has a pretty good guard themselves in Rylee Drahos. Yesterday Trinity Hall double teamed and Harassed the talented Rylee Drahos all game. Yet somehow she managed 25 points, 10 rebounds and a boat load of assists. She was at times dominate and unstoppable. So dominate that in the middle of the game a D1 head coach texted me to ask if I was was watching Drahos. She said "let me know what you think "I looked at Rumson Coach Dave Calahan who was sitting next to me and said "she looks pretty damm good to me" he smiled and agreed. That's because Rylee Drahos at that very moment was on a one woman explosion and scored 8 straight points to give Shore Reg a 21-16 lead in the 2nd quarter. It seemed with 3 minutes left till half, Trinity had no answer for Rylee Drahos. It seemed Shore Reg and its star were getting ready to take off. But things are not what they always seem sometimes.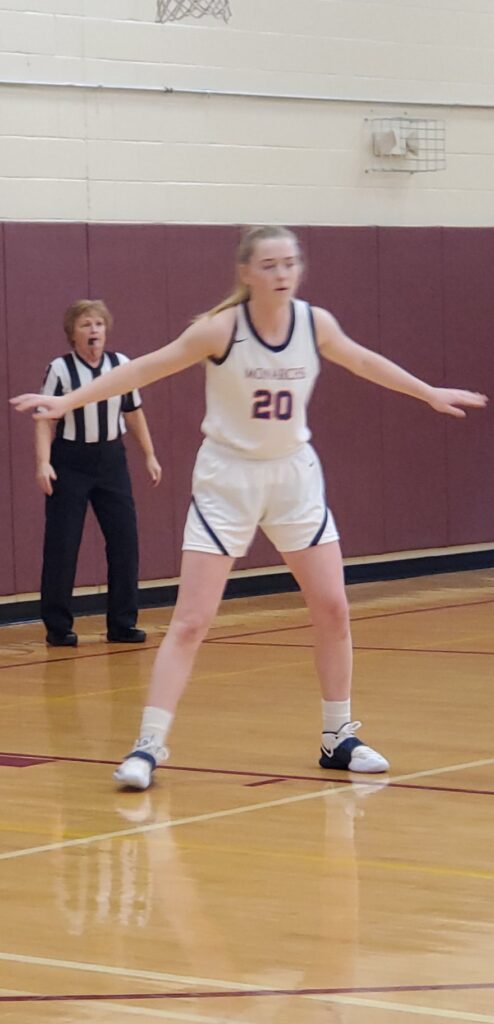 After Nina Emnace went boom on a dime from Haven Dora. Freshman Lilly Riggi started grinding in the lane. Looking like the ultimate warrior! Then PAGIE JAENICKE who played with the confidence of a season veteran tied the game at the free throw line. In less than a minute Trinity Hall had wiped out the entire masterful run by Drahos. It also was a sign of things to come. Because Haven Dora who was off the charts special and scored a career high 24 points started dancing to the rim at will and then she watched her backcourt mate Nina Emance who had 19 points, finish the half with a Delicious dime to Siobhan Stapleton who was a rebounding machine and who had 8 points. Trinity Hall led at half 29-25 at the half. Setting the stage for the 3rd quarter.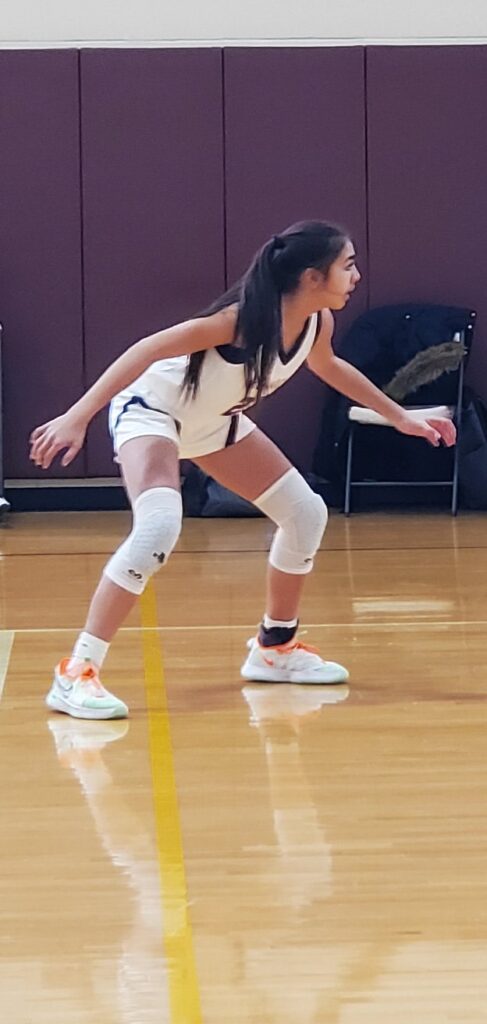 TRINITY HALL got its team back 2 days ago. They lost to Holmdel. It was clear they were rusty and couldn't make shots. Last night Nina Emnace and Haven Dora personally solved those problems. First Nina Emnace did her best version of anything you can do, I can do better. That's because she went on a personal 11 point run. She scored 9 points and found Stapleton on a sweet dime. Totally throwing Shore Reg on their heels. Meanwhile Trinity Coach McCarthy had enough of Rylee Drahos and threw her in the Ice box with his extended 1-3-1 and double teaming the star the moment the ball hit her hands. This all lead to a Trinity Hall 42-29 lead and Shore was on life support.
Shore Reg coach Wishart knew he had to slow Nina Emnace down. So he ordered his troops to go into a box in one on her. It was at this point Haven Dora's eyes lit up like the sky was on fire. She found new room in the lane for a drive to the rim. Then she hit Siobhan Stapleton with a dirty dime. It seemed Dora was sending Shore Reg night, night as the Trinity Hall lead ballooned to 13 points. But then Rylee Drahos woke up and went bang from the parking lot and gave Shore life. But there was Haven Dora again doing her Fred Astaire routine in the lane to keep Shore at bay.
The 4th quarter is when the stars come out. It's when reputations are made. It's when the great ones display that magical timing and do magical things. Rylee Drahos is a star and she had 10 points in the 4th quarter. But more importantly she elevated her teammates games with passes and big plays in the lane. She got rebounds for 2nd shots, she got steals. She blocked shots. She did everything human possible a star can do in 5 mins. So when CONLEY SMOLOKOFF who had 11 points and was sensational all night went boom to make the score 51-50. It looked as if Shore Reg had done the impossible and had come all the way back. It looked like they were ready to close the deal…. but looks can be Deceiving, that's because there are stars and then there are superstars… NINA EMNACE IS A SUPERSTAR!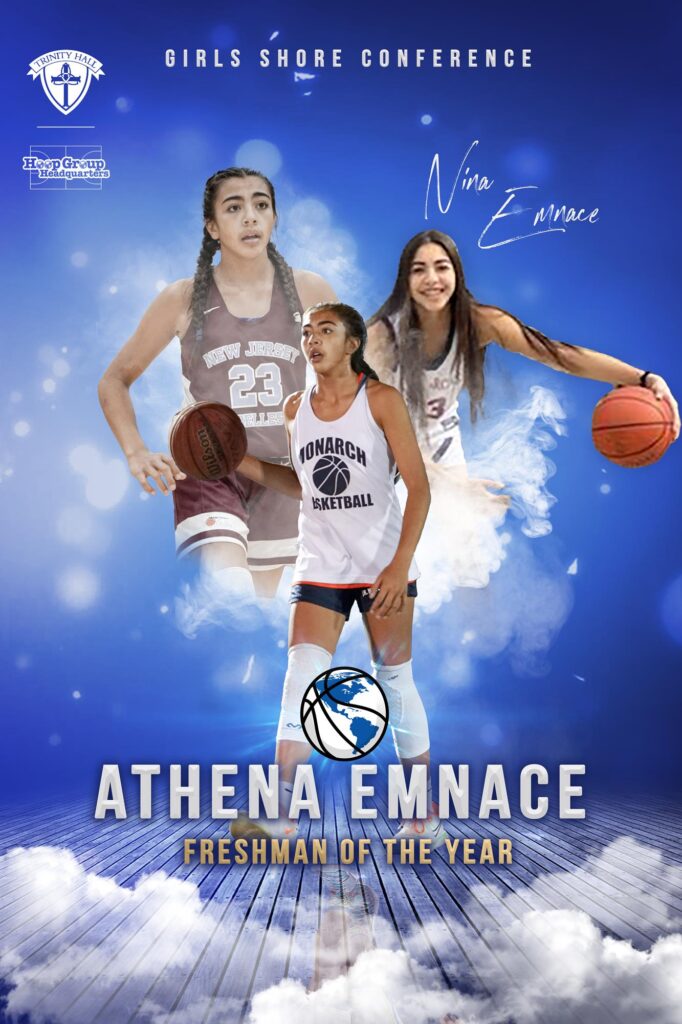 Last year Nina Emnace was the freshman of the year. There is a reason for that. She understands big moments. In her Brief career she has made too many big plays to count. Last year Trinty Hall won the POD C SCT CHIP. That's because Emnace went cookies late in the game to steal the win and the chip. Yesterday when Shore cut the Trinity lead to 51-50 with 2 mins left. You could cut the tension in the gym with a knife. But then Nina Emnace eased everyone's mind and went on another roll. Her final roll and most important one of the day. . First she went boom from three… then she got to the bucket for a duce and of course did her Cookie monster Impersonation. Giving Trinity Hall the breathing room. Making the final score nothing more than a Formality… TRINITY HALL 59-52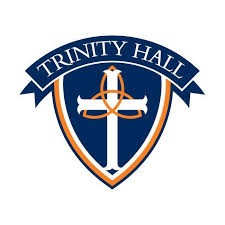 When it was over there were a few things that were very clear. Ryleee Drahos and her teammates put up the good fight and will be back, except next time fully healthy and with a impact transfer. Haven Dora better be on someone's All Shore team. Nina Emance is a superstar. What about Trinity Hall and Coach Matt McCarthy?… well there all smiles because they know their a Top 10 team in the Shore💪🏀