Tomorrow NBS will start its spring session and for many it will be the last session of NBS they will attend. Seeing the seniors who are graduating from high school and moving on to play in college brings a smile to my face. So often kids who finish their high school career play a lot of pick up and shoot around in a gym.  But NBS gives these kids a place to continue to work on their skills and play in competitive drills.  It's funny but over the years I have found the best players who have come out of NBS have one thing in common… the NBS spring session.  The spring NBS session is tough; kids have school, their playing AAU and also want to spend time with family and friends, so any kid that attends is really making a big sacrifice. When you talk about sacrifice and getting out of your comfort zone, I can tell you one kid in the past 2 years has separated herself from so many other kids. Union County will announce their All COUNTY TEAM at a Banquet this Wednesday and TORI POZSONYI of Roselle Catholic name will no doubt be called.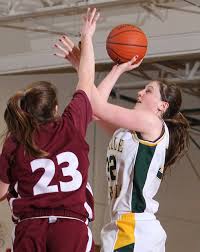 TORI SEPARATED HERSELF
The first time I met Tori Pozsonyi was at the NBS summer camp two years ago at Hoop Group Headquarters. Her father came into the gym and looked around and then approached Darren Cohen who ran hoop group. Darren then came walking over to me with that look that told me I wasn't going to be happy. Then he said, "don't get mad at me, but they want to know if older kids are coming to the camp?" Now DC as we call him knows one of my biggest pet peeves is  "NEVER ASK ME WHO IS IN THE GYM?" If you love basketball and just want to improve it shouldn't matter…Right there the end to a great relationship could have come to an end.  I told DC… "Tell them to go home if they don't like what they see", and I then walked over to Tori's dad and said, "look it's about your daughter not who is in the gym". He said OK, we will try it out and decide. I quickly reminded him NO REFUNDS…Yes I was being rude and if you know anything about the Pozsonyi family you know how dumb I look today. Tori did stay for camp that week and was easily the hardest worker if not the best player.
TORI vs ST. ROSE…
That fall Tori P came to NBS and played against some of the best post players in NEW JERSEY, 6 who are currently on D1 rosters and everyone right there knew she was special and loved her. Her friendship with Sam Sullivan is one of the best things that came out of NBS for me personally. Two kids, often forgotten, working together.  It doesn't get much better here folks. This is a kid, who drove from Union County every weekend to attend NBS, then she would attend Core Skills training two days a week at Hoop Group. People, NBS is 40 minutes from her home and hoop group is a hour away. But this was a kid who wanted to get better and nothing was going to stop this young lady.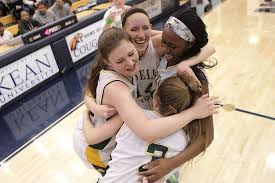 POZSONYI HAS MADE MANY FRIENDS ALONG THE WAY… ISN'T THAT WHAT ITS REALLY all ABOUT?
Going into the spring of her junior year Tori did not have a scholarship offer and the main reason why,  despite improving rapidly, is she had no name recognition or visibility. But all that changed in the spring.   She attended the spring session of NBS and worked like a demon and then she joined the Shore Shots AAU program. No question she was setting herself up to be seen by college coaches but, would she be ready was the real question.  That was answered quickly at NBS as she dominated everyone in front of her …Tori P folks was as legit as it gets.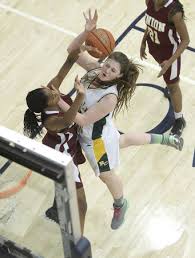 I got on the phone that spring and called coaches and said these words to them. "If you want to steal a kid, offer Tori Pozsonyi now. I called College coaches who used to work at NBS for me, but they all said "WHO"? Or send a tape and I will see her in April, except one school COLGATE. Colgate got out in front of everyone; they brought her on campus and told her if you get the grades we are interested.  The only thing left was getting the grades and balling. But I already knew Tori P was insanely ready for April and the summer. While most kids and their parents are locked into AAU and games, Tori was lighting people up in competitive 3 on 3,  2 on 2 and 1 on 1 drills at NBS,  which is the backbone of all improvement in players, while still playing AAU and getting it done in the classroom.  She won't admit this but, I know her playing against other kids who were moving on to D1 schools gave her great confidence.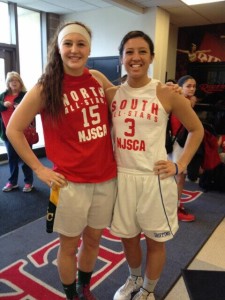 Two  great kids…SHORE ADOPTED TORI POZSONYI and DANA CARBONE Share a moment at State All Star Game
When the April recruiting period ended, one thing was clear.  Miss Pozsonyi was on everyone's wish list and I got to say…"I TOLD YOU SO" AGAIN.  She was a beast and the phone would not stop ringing FROM COLLEGE COACHES. Tori had made her mark. The only problem was, she could only pick one school and it was clear which school that would be…COLGATE! She put everyone on hold, until Colgate could give her an admissions answer.   She studied her butt off in the spring to lift her grades and SAT scores, she wanted to attend Colgate going through the front door and that's exactly what she did. She could have attended other schools that had offered her but Tori Pozsonyi wanted Colgate and they wanted her.  So she worked in the classroom and with tutors and got it done. Then she had to call other schools with the bad news that she was going to Colgate. A college coach who had worked for me at NBS called to say she was very disappointed but she wanted me to know "I respect Tori for what she accomplished."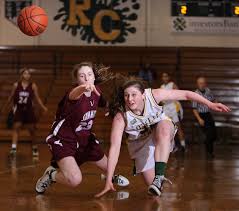 TORI HAD TO HUSTLE IF SHE WANTED TO JOIN THE COLGATE FAMILY
These days she drives 4 days a week to Hoop Group, she works out for 90 minutes, then GIVE' S BACK by training little kids and then jumps into Core Skills Training for another 90 min workout. You see nobody else is doing this folks….nobody!  This is the reason when I see her at NBS tomorrow, my heart will hurt a little because I know it's the final ride with a great kid…but Coach Nicci Hayes here is a message to you and the Colgate faithful…You are getting a young lady that has separated herself from everyone and will BUY into your program and be READY FROM DAY 1.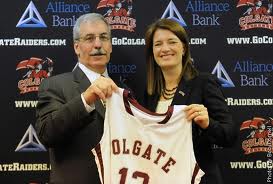 COACH HAYES WAS READY FROM DAY 1 AND SO WILL TORI POZSONYI
If you really what to know what type of kid TORI POZSONYI read this letter she wrote…it from an old blog    http://hoopgroup.com/headquarters-blog/a-thank-you-letter-from-tori-pozsonyi/