Posted on March 28, 2022 by Tiny Green



Today's SPOTLIGHT TEAM IS THE CENTRAL JERSEY HAWKS WESTROL U16. The CJ Hawks are still a brand name in AAU basketball, that means excellence. This team is a collection of 2025's and 2026's. This is a group full of potential. There are no big big names on this roster but plenty of exciting talent. They have a number of players coming off what can only be called banner high school seasons. This is a group in search of respect and that all important thing called name recognition. Its a group with a big upside because of the talent and the flexibility of the roster. The players on this roster all got valuable meaningful minutes at the high school level this past season. There coach Randy Westrol has made a reputation out of developing players who stick with his program.
The core of the group returns from a year ago. But the Central Jersey Hawks Fort also added some new exciting talent. Last summer as a group they had very productive season that clearly carried over into the high school season. Most if not all of their players made major impacts and played major roles on their high school teams. The CJ HAWKS have size, quickness, versatility and shooters throughout the roster. They play a independent schedule during the AAU season. They will play in a Nike, HGSL and Select events this summer. This group will no questioned be challenged the entire AAU season. The good news is that they appear to up to the task. That's because they are a group that has slipped quietly under the radar and should sneak up on everyone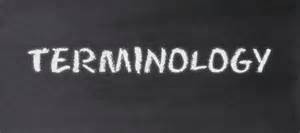 Before I start I would like to clear up a little terminology. When I say a player is a lock Division one player that means a player has a offer on the table or I believe will eventually have multiple D1 offers at some point…key word being "multiple" MY TRACK RECORD IN THIS AREA SPEAKS FOR ITSELF…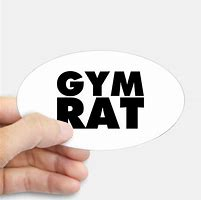 When I call a player a GYM RAT, that player is constantly in the gym, outside there team practices and comfort zone, seeks outside competition and there work ethic is bigger than their ability. GYM RATZ don't train alone, they train with killers. These players train against high level competition. I never call a player a Gym Rat, unless I have seen them against older elite competition and PERFORM at a high level while doing so. They are in the gym at every turn and seem to always be around. These players will be better in college than high school and can play a level HIGHER than there recruitment. I believe you build programs with gym rats…they have a added value recruiters do not get to see. Gym Rats are tough to find as all coaches know. There are hard workers and then there are GYM RATS…Learn the difference.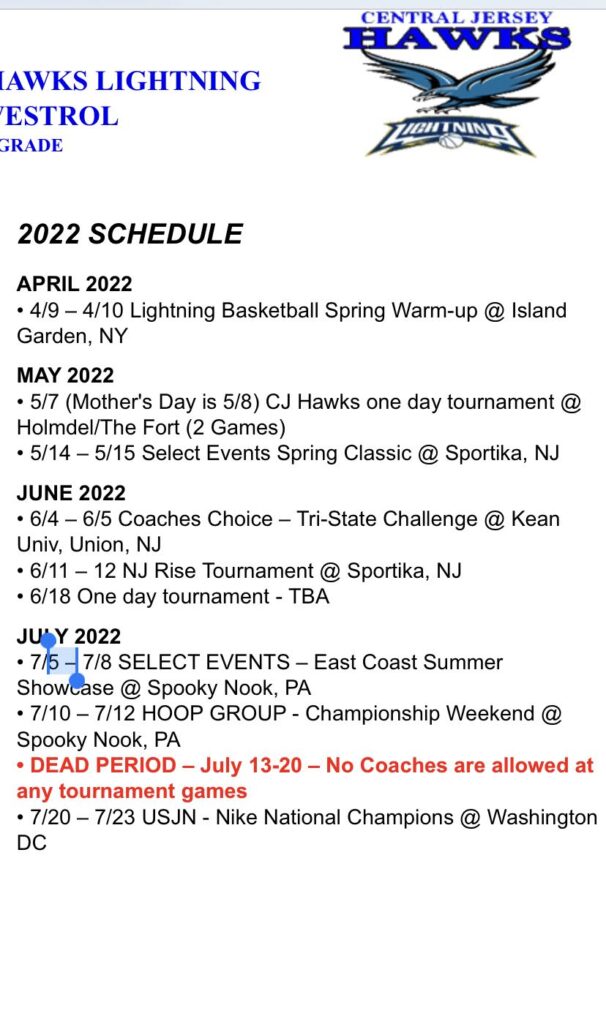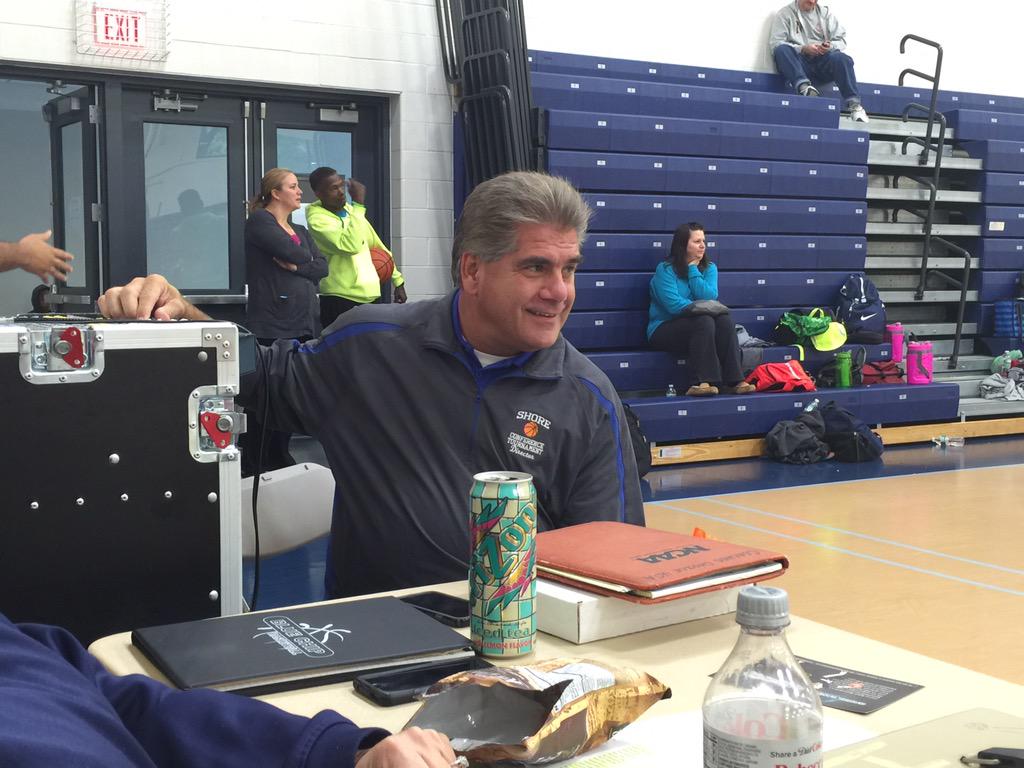 He has been a staple of New Jersey basketball on the high school and AAU level. He has been the driving force behind the insanely well run Central Jersey Hawks organization. The Elizabeth native has been a school administrator for years and recently retired. He runs which can only be called one of the classiest AAU programs in the state. He is loyal to his kids and parents. The list of players who have gone on to college at every possible level, who have a connection to Randy Westrol is long and everlasting. He son was a college ALL AMERICAN and currently plays professionally in Europe. He instills a work ethic, enforces the importance of education and preaches accountability into all his players. THIS IS A DRAMA FREE ZONE PROGRAM...something rarely seen in any AAU program these days. Randy Westrol is a throwback of years gone by. Nobody is bigger than the program and doing things right is the #1 priority. All his kids kids have a wonderful positive AAU experience..
CURRENT DIVISION ONE LOCK PLAYERS–(0)
Possible D1 players- (3)
Special note– this team has( 2) DIVISION 1 fence sitters
GYM RATS– (0)
POWER FIVE D1 PLAYERS– (0)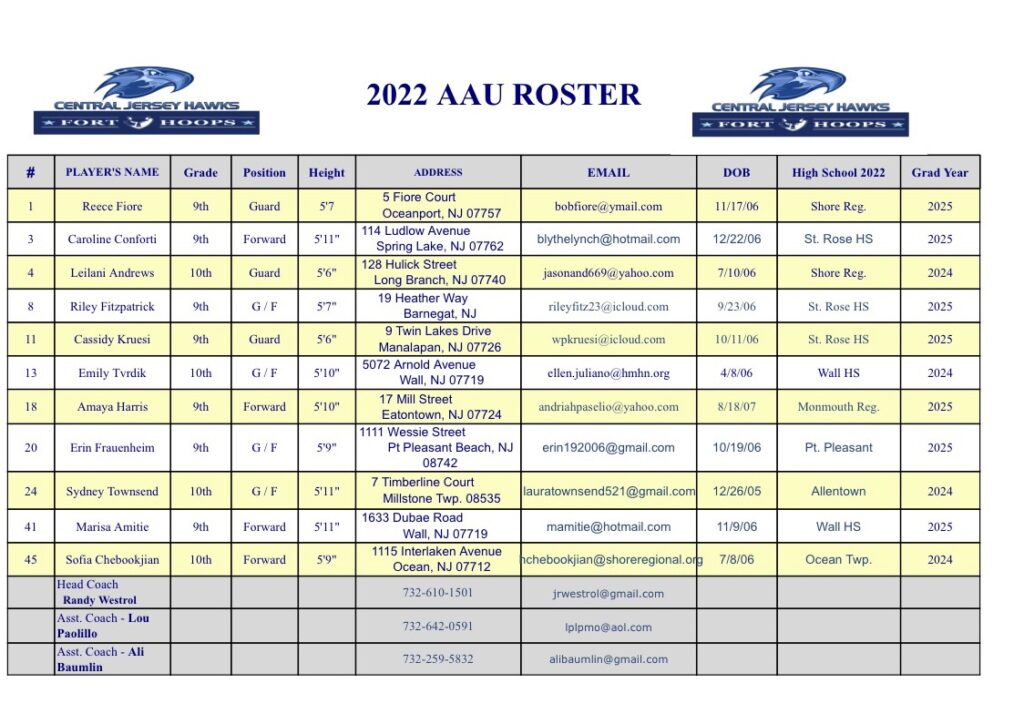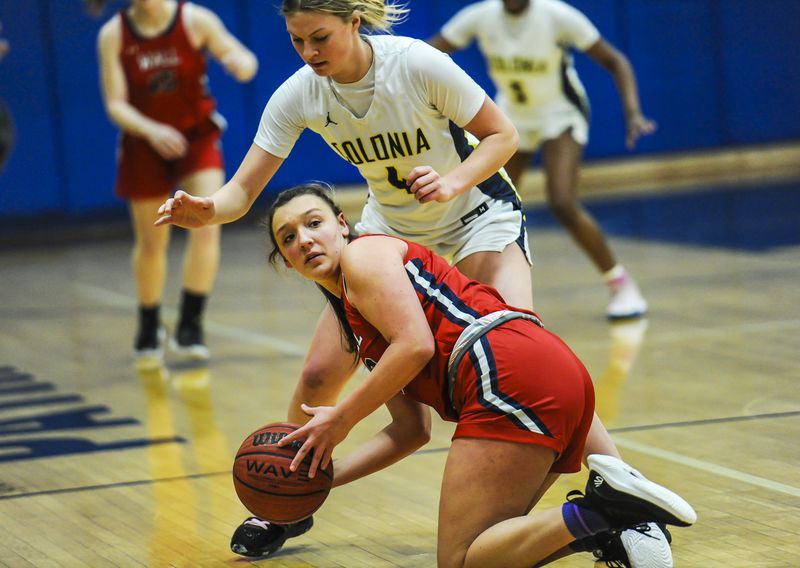 She just wrapped up a monster sophomore season. She firmly established herself as one of the best players in the 2024 class. She was named to THE HOOP GROUP ALL MOST IMPROVED TEAM for good reason, her numbers this past season were staggering. In so cases she simply was unstoppable. She scored well over 300 points and grabbed over 150 rebounds and had 70 assists. She has a college type body and is as versatile as it gets. She can post up smaller players, beat slow bigs off the dribble or knock down threes. But what makes her special is that she can move to a point forward because of ball handling and special passing skills. She is a elite rebounder in traffic and fills transition lane beautifully by running wide and her sensational hands that allow her to finish in traffic. She is a solid on ball defender and knowledgeable off ball defender. This spring and summer with added training and conditioning now on the table the sky's the limit for this young lady …look for her to move to D1 elite status.
**Coaches must read; copy and paste link ( https://nothingbutskills.com/emily-tvrdik-notoriety-is-knocking-on-her-door/ )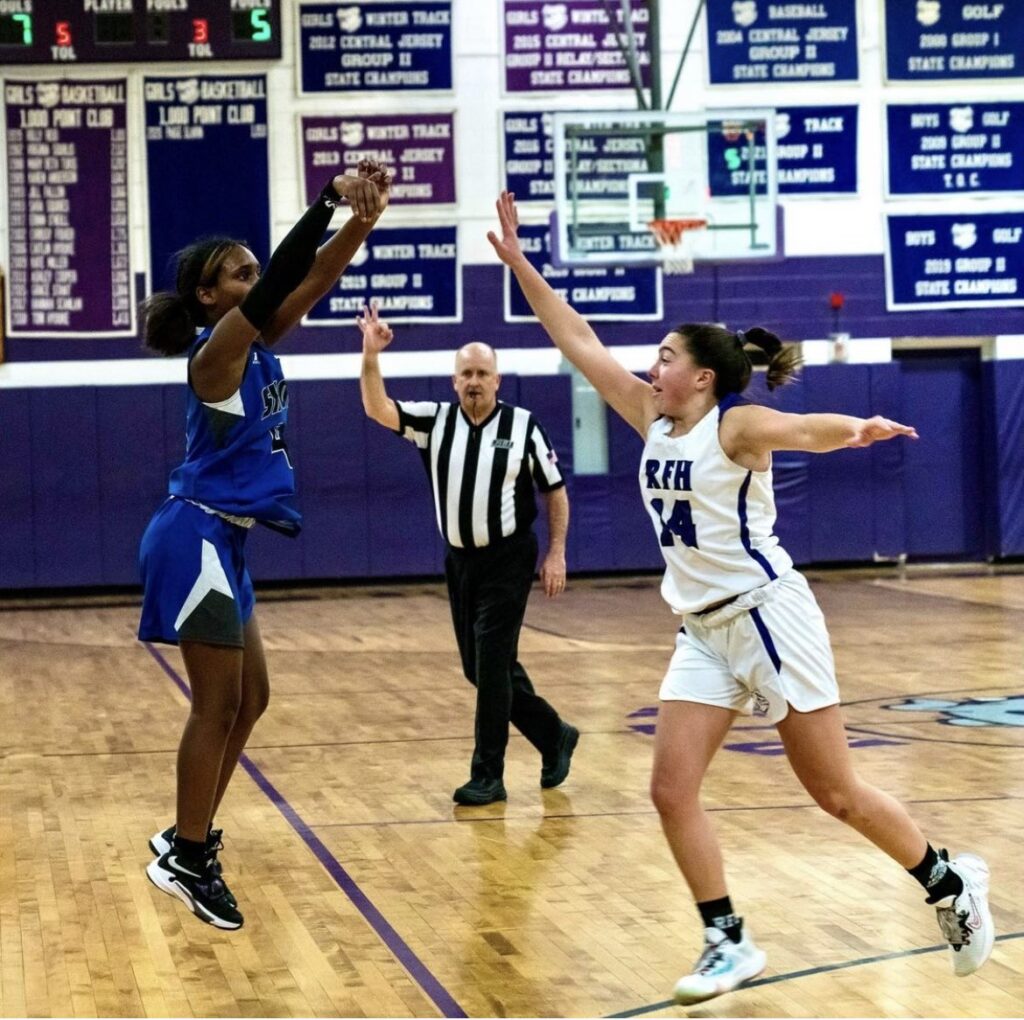 Start with this word "TALENTED" that's because she is has real quickness and speed. She also is very effective on the defensive side of the ball. She is excellent at pressuring ball handlers. She is has a real ability to break down defenders and get in the lane. She is a reliable three point shooter and excellent transition decision maker. She is vastly underrated as a player these days after a outstanding freshman season two years ago before transferring to shore a Group 1 State Finalist. She has a strong body and is in excellent shape. She runs down loose balls and is not afraid to be physical. She is a player that could surprise everyone this summer. No question a player that must be closely watched. Once again another player with a big upside.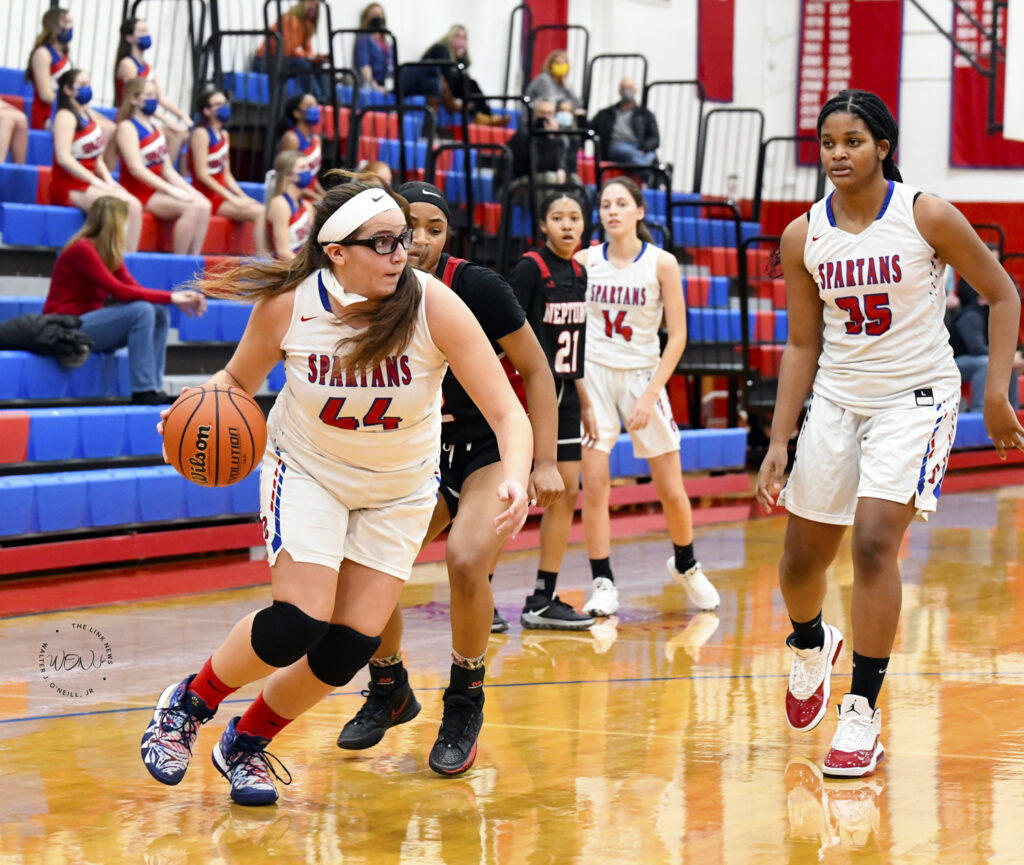 She is coming off a nice sophomore season at Ocean Township, when she had over 200 points and 130 rebounds. She is a excellent around the rim and is a wonderful offensive rebounder. She has nice size and is a underrated ball handler and passer. She started every game for her high school team and checked in with three double/doubles last season. She will be looking for a big summer this AAU season.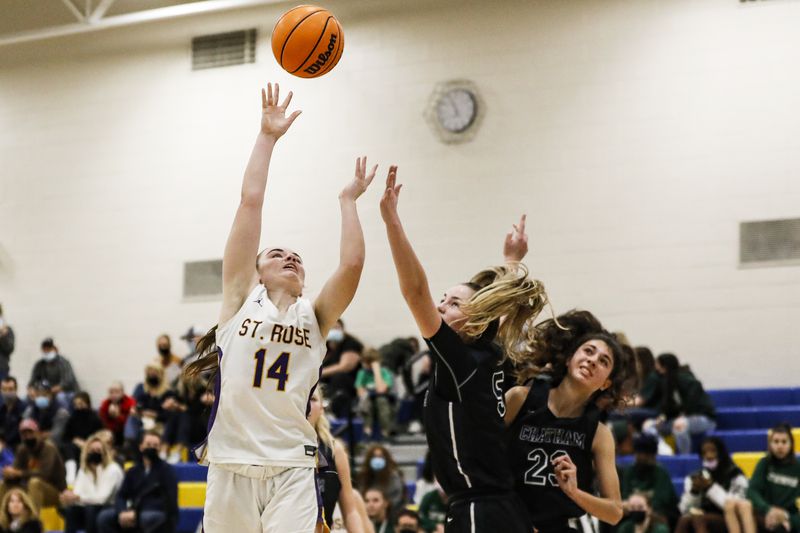 She was named Freshman of the week and started for Top 20 St Rose every game this past season. She is tough as nails and a hard worker. She is a tough physical defender both on and off the ball. She was that rare freshman who was asked to guard opposing players best offensive player. She is also a excellent rebounding guard. She can score in a multiple number of ways. She can knock down the three, get to the rim, create fouls and score though contact. She is a smart effective offensive player. Her rock solid handle allows her to play either guard spot equally well. Her quickness is vastly underrated as is her passing ability. She is a 50/50 ball superstar. This is a player coaches must learn more about. She is a hard worker and dedicated player with an elite attitude. Her upside is big, she is a scholarship type player.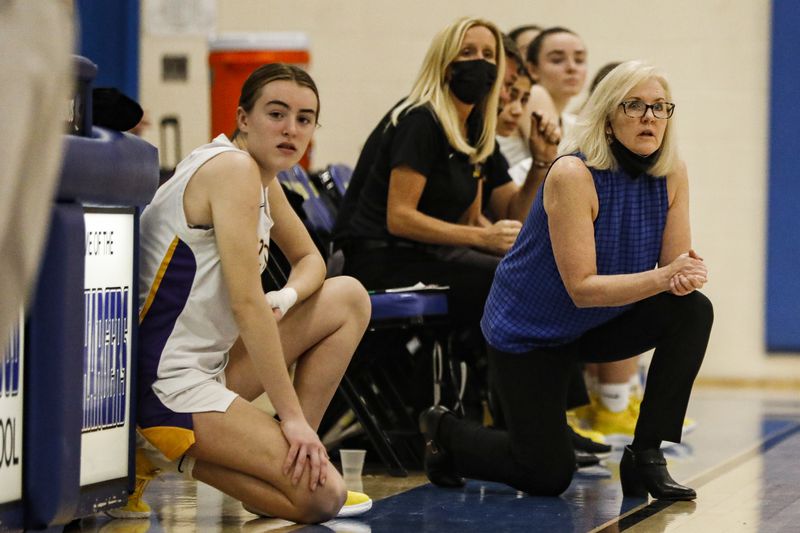 This could be the sleeper of the summer. Coaches understand….She is tough as tough get and when you talk about a young lady who is fearless… start right here. She started last season before a injured finger halted her season. She is athletic and plays in the air but always under control. She is a physical rebounder and defender. She understands how to guard pick and roll and to defend in the post without fouling. She is highly skilled, in that her passing, shooting, dribbling and basketball IQ are impressive to say the least. She has an ability to get to the rim off quick drives or knock down mid range jumpers. She will get out in transition and plays so hard it makes your teeth sweat. She certainly if not for injury would have been a serious candidate for ALL FRESHMAN. Her mobility to is a asset to any team she is part because she can guard every position. She is a reminder of former SJV great Arron Zimmerman. She has a chance to be a Division one player in time.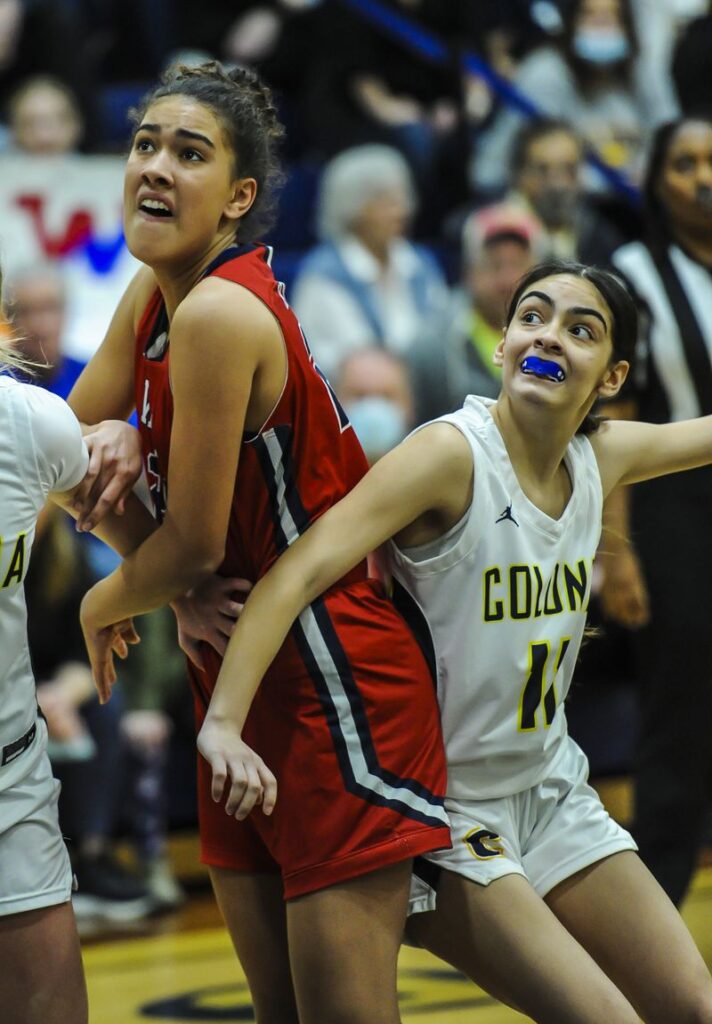 There is simply nobody on this roster with more of a upside. This folks outside of Tessa Carman of RBC is the most athletic and versatile freshman I saw in the Shore Conference this past season. She is 100% a DIVISION ONE ATHLETE. She has excellent lateral movement and reliable foot speed that allows her to guard multiple positions up front. Now throw in active hands and length that is high major like and you got something cooking. She has the potential to be a elite defensive stopper. That's because she embraces contact and a challenge. She has improved her basketball IQ and if she becomes more consistent and committed, she could a full blown star. How good you ask? How about a Top 5 player in the best conference in the country. I feel as if she get better each time I watch her play. She has a competitive nature that is special and a work ethic that is motivated by self pride. She has improved her shooting and balling handling. But she is already elite at moving without the ball. She also is a wonderful passer because she has nice vision and most importantly NO PANIC IN HER GAME. If Marisa Amitie commits to getting in the gym this spring and summer, coaches you are looking at something different than everyone else. This is a player every coach must pay close attention too because the upside is so dynamic.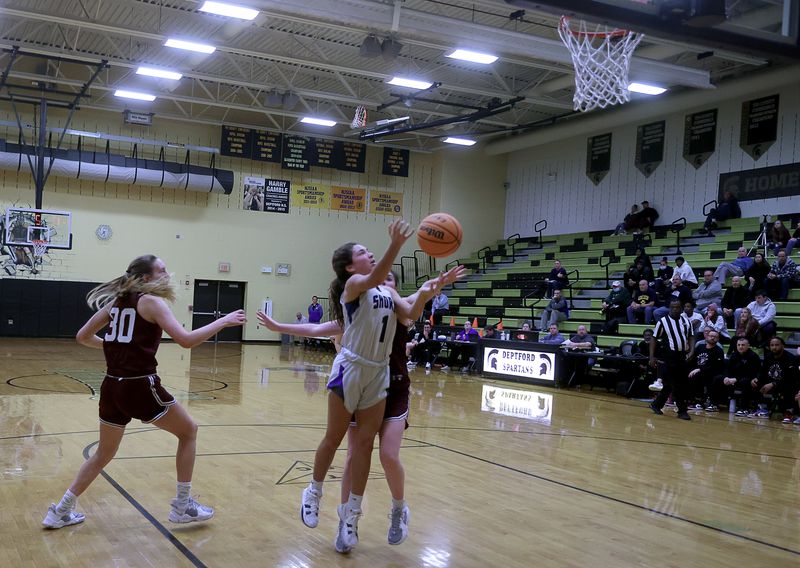 She started as a freshman for Group 1 finalist Shore Reg. She is totally under the radar and unappreciated. She showed major flashes this season. Like scoring 18 points vs the D1 loaded RBC team and 18 in the State tournament semi final game. She is an excellent shooter both from the three point line or mid range. Her ball hand skills are excellent and she has a nice ability to step in passing lanes for steals and force turnovers. While not physically imposing she is a lot stronger than she looks. She also has a nice feel for the game and is skilled up. She is smooth and always relaxed, she never loses her composure. She will most likely become a improved defender as she matures, which will elevate her status. A step up in competition will only benefit this young lady. She is a player that appears to be growing into a future college player. This summer she hopes to build on her terrific dream like freshman season.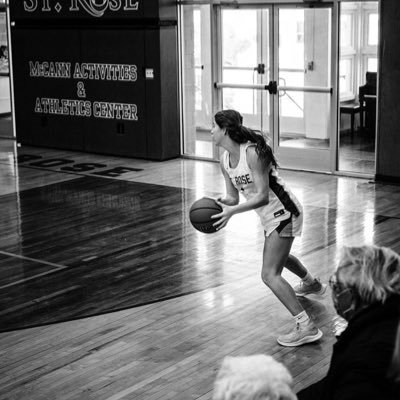 The first thing that jumps out at you is the elite body. Then the natural ability and pure athletic power. She is physically a Division one player. She jumps, runs, is long and has elite quickness. Her shooting range is to 25 feet and she lives in the gym. She was MVP OF THE SHORE JV TOURNAMENT. She also has played high level AAU basketball for the past three years as a member of the insanely D1 stacked Shoreshots Carman team. Now she moves over to the CJ Hawks in a effort to play a bigger role and embrace the coaching of Randy Westrol. She has a excellent handle and is a tough hard nosed defender. Her ability to score and become a playmaker in the open floor will be embraced by the CJ HAWKS. She may be there most gifted player. Look for a major upgrade in her basketball IQ and a breakout summer from the young lady under the watchful eye of Randy Westrol.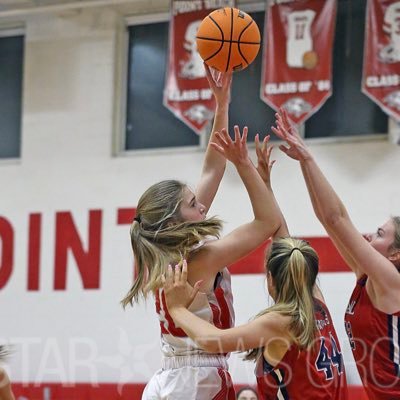 She had 9 double figure scoring games last season for Point Pleasant. Including a near double/double in the state tournament against Shore Reg with 11 points and 9 rebounds. She has the ability to finish in the paint and put work in below the foul line. But she is not afraid to break out her mid range game. She has nice size which allows her to play multiple positions. She is a tough hard nosed competitor. She plays bigger than her size and is full of intangibles. This is a old school yard type player. She is the type of player college coaches love, a blue collar no frills type kid ….program kid.