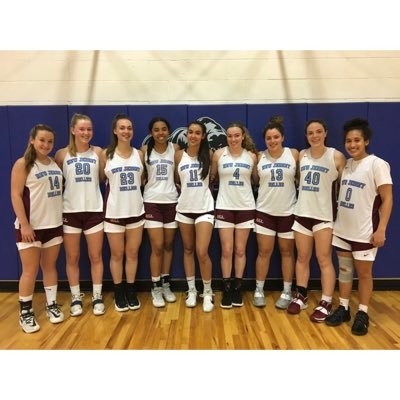 Today's Spotlight team should be dubbed the team with a little something for everyone. THE FAGAN BELLES are a blend of talented loyal players who all hope to have a breakout summer. They are a team that is loaded with high academic players. They have one of the best players in all of New Jersey. They have a player that has created more buzz recently in the recruiting world than any available 2022. Now throw in one of the best Freshman in New Jersey and the Belles are a team that is must see basketball. There coach is one of the best teachers in all of New Jersey. Joe Fagan has made a reputation for developing players and getting his teams to play far above their talent level. This team brings a lot to offer to the table. July could be a special time for this group if things break they way they expect them to.

The Group of this team returns and they have added a few new pieces this season. They opened the season against top flight competition. Last week they played in LIVE AT THE NOOK and finished 3-2 vs Top competition. The last 2 years this group has played in some top events. They do not duck quality competition. Brooke Hollowell is out for the summer so she will be missed. Mary Donnelly has moved on to play for TEAM RISE. This is a team that fully expects to get better each week and peak come July.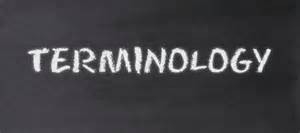 Before I start I would like to clear up a little terminology. When I say a player is a lock Division one player that means a player has a offer on the table or I believe will have multiple D1 offers at some point…key word being multiple. MY TRACK RECORD IN THIS AREA SPEAKS FOR ITSELF…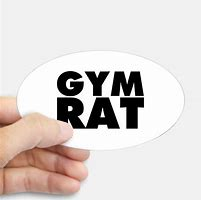 When I call a player a GYM RAT, that means a player is constantly in the gym, outside there team practices and comfort zone, seeks outside competition and there work ethic is bigger than their ability. These players train against high level competition. I never call a player a Gym Rat, unless I have seen them against older elite competition and PERFORM at a high level while doing so. They are in the gym at every turn and seem to always be around. These players will be better in college than high school and can play a level HIGHER than there recruitment. I believe you build programs with gym rats…they have a added value recruiters do not get to see. Gym Rats are tough to find as all coaches know. There are hard workers and then there are GYM RATS…Learn the difference.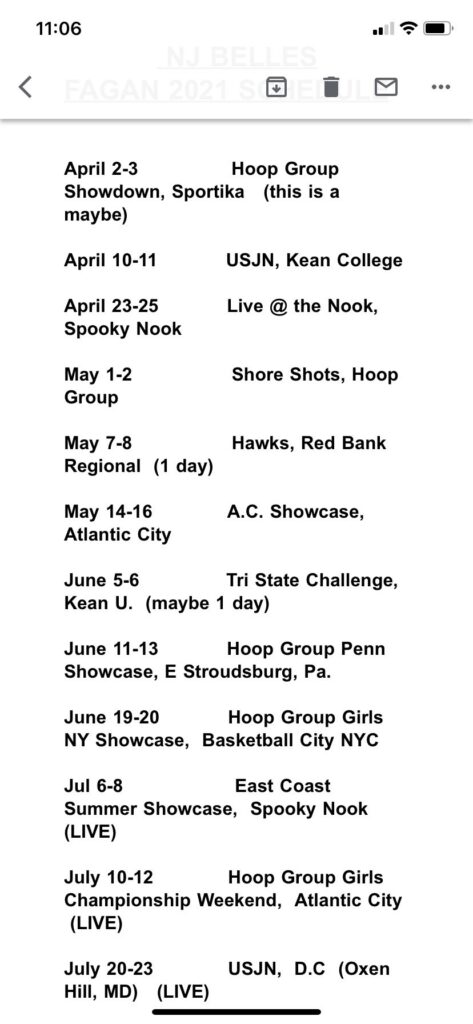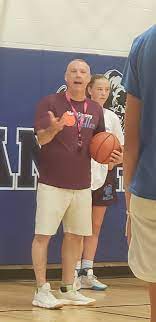 JOE FAGAN is one of the best coaches in the Shore Conference… on the boys side! His Neptune teams are known for their gritty, hard nose basketball approach. He stresses team basketball and above all defense. His teams always get better over the course of a season. His AAU teams in April look totally different by July during the live recruiting period. This has been seen just in the past two weekends. While he pays to win, he will use all his players in an effort to showcase his entire roster. Honest and straightforward, his players always know where he is coming from. He is a great teacher of the game. This summer Coach Fagan will try and work this group into a unselfish hard playing crew…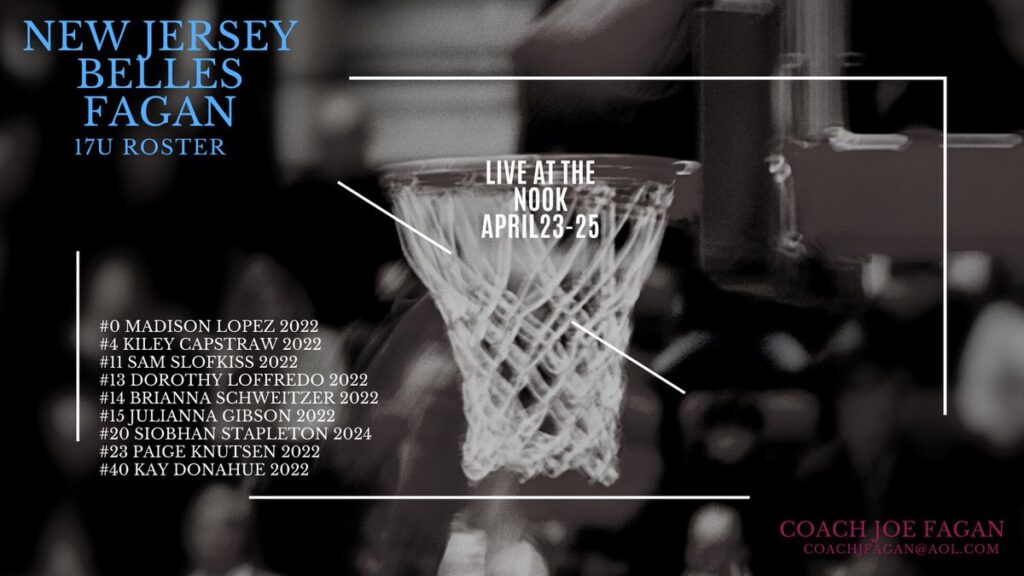 CURRENT DIVISION ONE LOCK PLAYERS–(3)
Possible D1 players- (4)
Special note– this team has( 1) DIVISION 1 fence sitters
GYM RATS– (1)
POWER FIVE D1 PLAYERS– (0)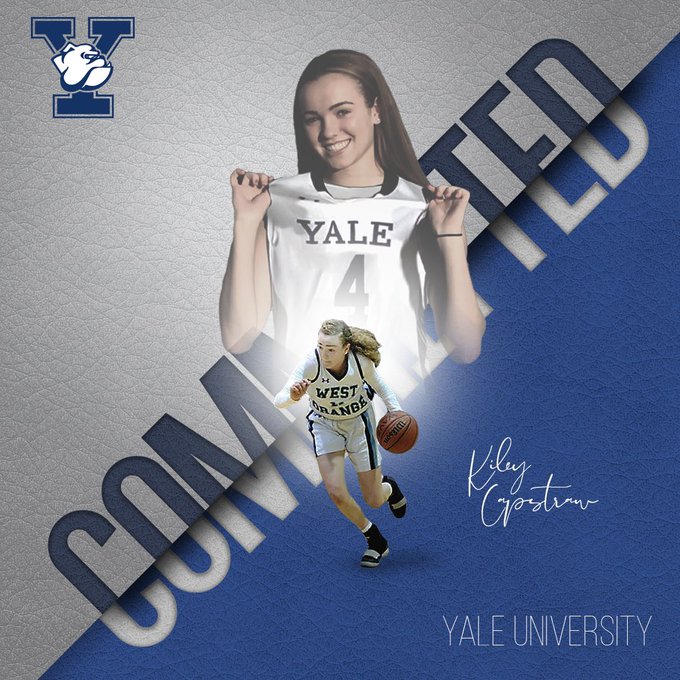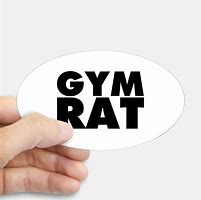 KYLIE CAPSTRAW- COMBO/WING– She has committed to Yale University. This past season was historic for Kylie and West Orange girls basketball. Capstraw scored her 1000th point in less than 3 full seasons. She was also named to 2nd Team All State. Her numbers this season were nothing short of mind blowing. She is a complete player. She can score inside or out, she defends 4 positions and is so unselfish at times you can only shake your kid. Her ball handling skills allow her to move easily to the point guard position. She certainly will be in the running for the NEW JERSEY PLAYER OF THE YEAR. Next season, for now she has done something few kids are willing to do this these days with her profile. Stay loyal to the organization the has done so much for her over the years. Look for her to do all she can to have a great summer while helping her teammates shine.
KAY DONAHUE- WING– This is a machine of a different kind. Her explosion in the last 3 months has been nothing short of dynamic. She has a college ready body right now and the game to match it. She can not only score at all three levels but can do it in such electrifying ways. This is the true definition of a walking bucket, she just she does it with such precision and efficiently that it reminds you of a machine. Her ability to knock down jumpers and use an array of head fakes, jabs and pass fakes are nothing short of breath taking at times. But it's her competitive nature that shakes up opponents because she is so relentless from start to finish. Her ball handling and passing skills are exceptional. Her strong hands and physical toughness cannot be matched by most high school and even some college players. This is a game changing player for many mid major programs.. the problem is that I believe she is a high major recruit. Kay Donahue is an entirely different animal.
DOROTHY LOFFREDO- WING– This is only one way to describe Dorothy Loffredo and that is underrated. Last season she was one of Manasquan's best players and got little recognition for it. She is the ultimate clue player that at times take over games in so many ways. She may be the best interior passer in the Shore Conference. She can guard 6'5″ post players because of her size and strength or close the door on high scoring wings. But lost in all of this is the fact that Loffredo is a offensive problem for every defense because of her ability to get to the rim or step away from the basketball. She is that rare program kid with a high level of talent. Coaches you be wise to listen to what I am about to say next. This is a kid who has been in all the wrong places at the wrong times. It has hurt her recruiting. She does not have a hype man working for her full time. These are the reasons so many schools have missed the boat to date. My guess is this summer she is will been given the appreciation that comes with being such a talented player for so long. She has always been under the radar… time for that to change!
SAM SLOFKISS- FORWARD– When talking about this young lady, start with these things. Elite as in elite student. She walks through the front door of any college in America. Making her a academic schools dream recruit. She is the answer to any powerhouse academic D2 or D3 program. But it's what she does on the floor that also makes her a prime recruit. She is every inch of 5'11" and is long for days, athletic with a quick jump. She masterful around the offensive and defensive of glass. She is a excellent ball handler and runs the floor. My guess is her best days are ahead of her. Spending another summer with Coach Fagan can also be considered a lucky break for this young lady. Her versatility on defense cannot go overlooked. She can guard post players and wings, not to mention give point guards a problem as well in the half court. This is a true sleeper if you are doing your homework.
PAIGE KNUTSEN- SHOOTING GUARD– There is always room for shooters on a roster, especially those who play at SJV. Paige Knutsen is a proven shooter with deep range. But what gets overlooked is her size and overall skill sets. AND WONDERFUL BASKETBALL MIND. Not to mention she has been in the most competitive basketball environment in girls basketball for the last 3 years. There is no question she could have started for many teams in the state of New Jersey but decided to challenge her game and herself at SJV…RARE STUFF THESE DAYS! This summer Paige could surprise everyone as she did in the Top 100 two years ago; when she stole the show. She is hoping for a breakout summer.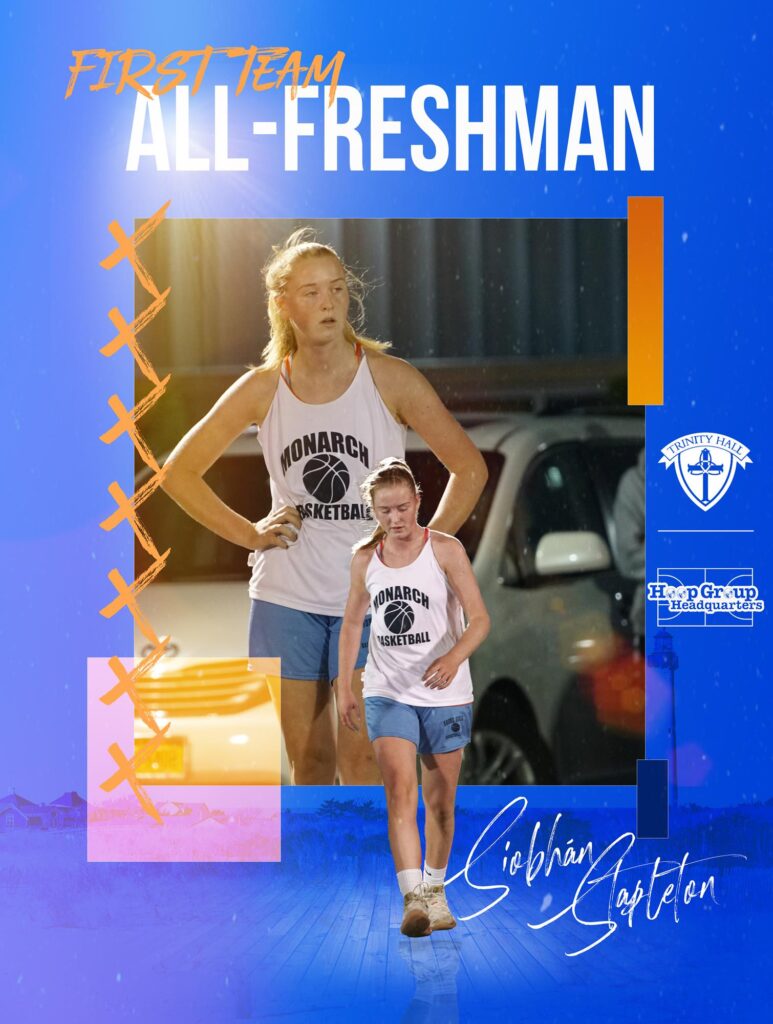 SIOBHAN STAPLETON- WING– I could be here all day writing about all this young lady has accomplished in just the past year. She was 1st TEAM ALL FRESHMAN and was one of the main reason Trinity Hall pulled off the impossible this year and won a SCT chip. If you wanted to build a young basketball player. She would something like Siobhan Stapleton, meaning long, athletic, tough as nails, insanely skilled and mentally tough. While it may surprise some that she is playing U17 …don't be. That's because she has a serious competitive nature to match her raw talent. She can handle the ball, post up or become an elite passer. These are all things she brings to the table RIGHT NOW. While here shooting will get better over the years. Right now she is a reliable shooter to 22 ft and is a deadly mid range shooter. But her real bread and butter is her ability to rebound IN TRAFFIC. It is a skill set you don't teach because it comes from the heart and this young lady has lots of that. She is not only dripping with potential she is developing that potential...this is a future D1 LOCK…HELLO IVY AND PATRIOT SCHOOL!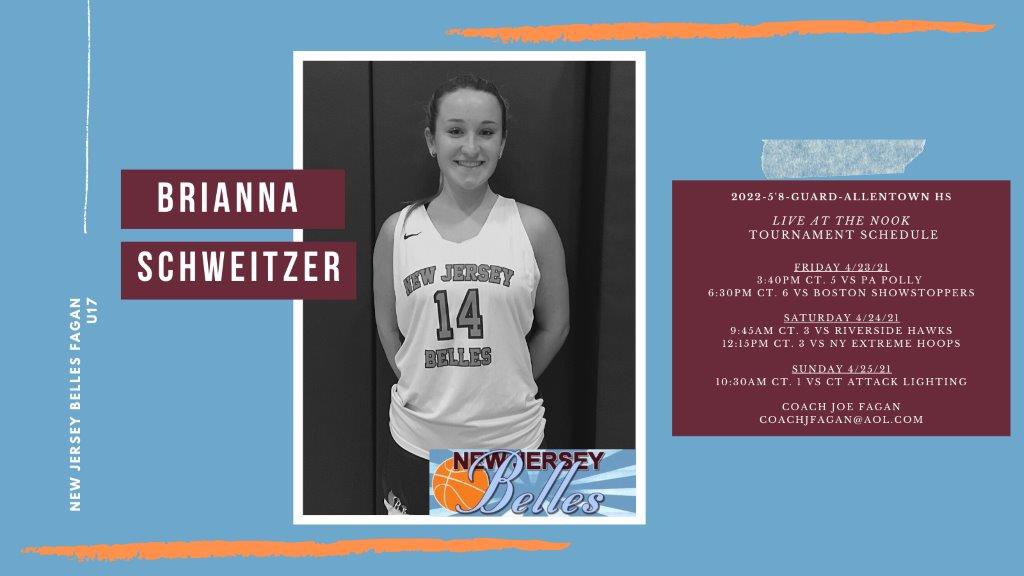 BRIANNA SCHWEITZER- COMBO– She has the ability to play either guard position. She was a double figure scorer last year at Allentown high school. She has a strong body and plays with energy. She is a great pickup with the lost of Brooke Hollowell this summer. Her ability to shoot the ball is a valuable asset as is her willingness to play defense. She is an excellent ball handler and has strong body. Look for this young lady to have a very productive summer.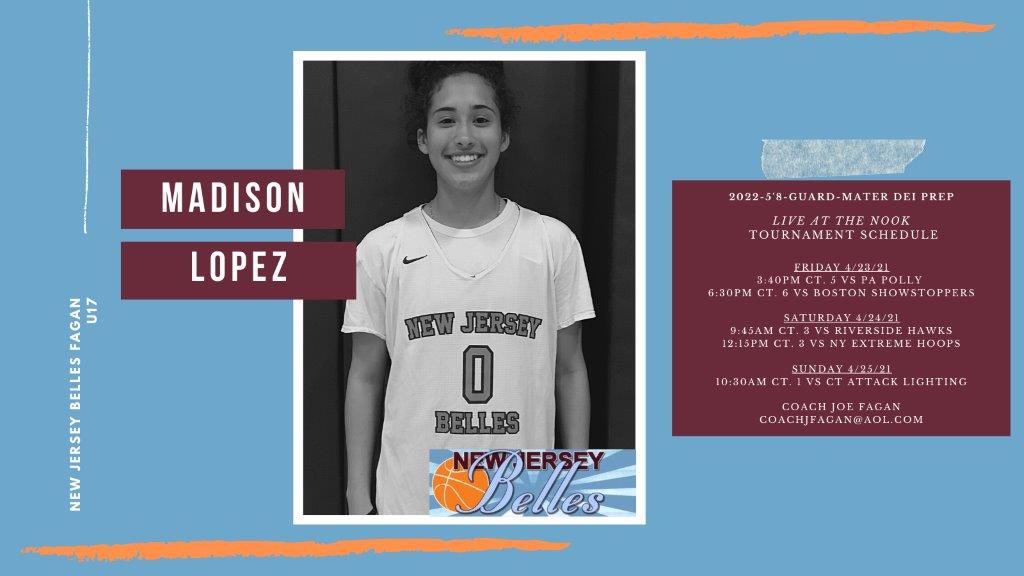 MADISON LOPEZ- COMBO– This could be the real surprise of this team this summer. She is quick and has next level ball handling skills. She had some big moments last season for Mater Dei high school. She is also someone that loves being in the gym. She is a reliable shooter and has excellent court vision. This summer could bring her lots of interest from college coaches…stay tuned!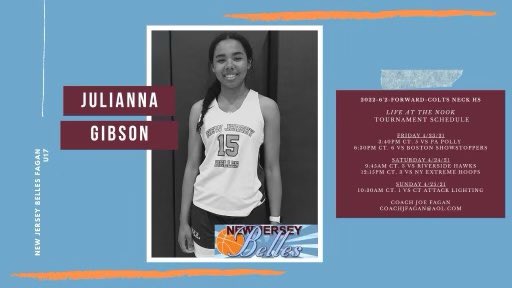 JULIANNA GIBSON- FORWARD– She has size and length and played lots of minutes for an outstanding Colts Neck High school team. I will update you on her progress after this weekend.