A number players will reach the thousand point mark this year. This is a benchmark, it's a way for a player to leave a lasting memory for fans, coaches, family and future generations. Stephanie Karcz scored her 1000 point last night and her journey to 1000 was much different than anyone COULD  EVER imagine.
While most star 8th graders were looking to see which high school  would maximize their exposure and playing time. Stephanie Karcz had long decided she was going to Middletown South. Now you must understand star freshman like Karcz rarely or ever have attended Middletown South. Those players have traditional gone to other schools. But Stephanie Karcz is not your traditional superstar. She happened to liked Tom Brennan and she liked her future teammates and that was enough for her. The other stuff  like media attention and awards which come form playing at some other schools….DIDN'T MATTER TO HER.
Tom Brennan, has had star players in the past. Megan McGuinness, Danielle Pankey and Jackie Dluhi all left high school as stars and D1 players.  But all those players all developed while in High School. None were considered stars entering high school but Tom Brennan turned them into studs.  Stephanie Karcz was a star entering high school and Tom Brennan turned her loose on the shore from day one. Her freshman year she was unstoppable and she made the Hoop Group All Freshman team. She also did not win the Freshman of the year and this may have been a blessing. Because last year as a SOPHOMORE she made First Team All Shore in every publication you can  think of…ASBURY PRESS, STAR LEDGER,  SHORE COACHES AND HOOP GROUP. She was not just one of the best  players in the Shore but in the entire state as well.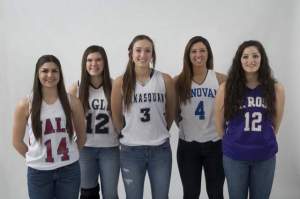 Karcz was on everyone's 1st Team All Shore List
Stephanie Karcz proved you can go to your local high school and have dreams come true. She is loyal to everyone around her and that's what separates her from some many other stars. When she was playing for a AAU team that did not gather much attention from coaches. She had to make a tough decision. leave and go play for the Central Jersey Hawks and get more exposure or stay with her coach James Young'. She wrestled with this decision for weeks, her respect and confidence in James Young is marrow deep. In what would have taken most kids 1o seconds, she decided that she would play for the hawks..she  also asked if could play for both teams. This is the type of person Stephanie Karcz is… she loves basketball but it just doesn't consume her life. This is why she is a little different than most star players.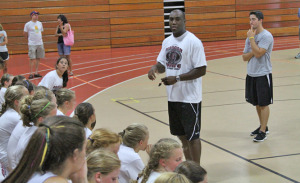 Her respect for James Young cannot be put in words
The past two years Stephine Karcz has had to grow up more than any kid I know. First her mother had a battle with breast cancer. I am not sure anything can be scarier for a teenage female.  She never told a sole this last year, while she was tearing the shore apart. I believe she wanted to honor her mother and let her mother know she was fine. It was last year that Middletown South did the impossible and won it's  first state title since 1979…She was great from day one last year, all the while knowing that her mother was sick. This is why Stephanie's Karcz is like no other star player.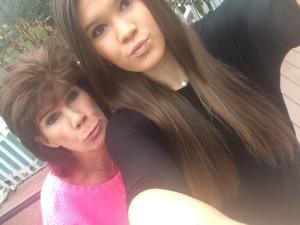 They are a team Stephanie and mom Virginia
Middletown South started the year off with a real chance to make some real noise in the Shore Conference. Tom Brennan knows he will never have the talent of other top teams. But  this year he had a real superstar, a division one post player and talented sophomores. Tom Brennan for the first time had a fighting chance against the big boys. He will not admit this but Brennan knew that he had shorten the talent gap and thats all he has been dreaming about. He finally knew his team did not have to play a perfect game to win. He had some wiggle room and was excited. But sadly it all started coming apart right in front of coach Brennan eyes. First his D1 forward Jill Favery torn her ACL and was out for the season. Then his stud Sophomore Haley Dalonzo was injured and finally his star player's aunt died. Tom Brennan folks has not had a easy go at it this year. He will be the first to tell you, it been a long year already. He has had to regroup and start over AGAIN!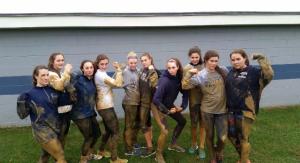 They have no choice but to get down and dirty NOW

When I heard the news that Stephanie Karcz's Aunt died I was in shock. I was not sure how much more this kid could take. I was truly concerned for her family…I mean she watched her mother battle cancer, now only to lose her mother's sister. What do you say to people in this situation? I knew one thing…I going to watch the RBC and Middletown South in the WOBM semi final. I really didn't give South much of a chance, Dalonzo was out, Jill Favery was gone for the year and Karcz I felt would be a mess. I just wanted to give Stephanie Karcz a hug after the game. But as I told you earlier she is a different player who does things differently. Stephanie Karcz put on a show against RBC, the Casey's never had a chance.  Stephanie Karcz was super woman on steroids….she had 27 points, 8 rebounds and 5 assists and the stats said 3 steals, I can tell you that stat was WAY OFF… Stephanie Karcz honored her Aunt and her Mother that night.  I gave her a big hug after the game and asked if she was OK…she said yes "did you see my dad". I asked her how her mother was doing, she said "don't worry everyone is OK we are figuring out the funeral " I was floored, I just could understand how anyone more or less a junior in high school could be this cool under these circumstances. But then I thought about a incident I had with Stephanie this summer.
It was working  out the powerhouse Mary Beth Chambers Hawks team this summer. This is a team where every player signed with a D1 school and are the stars of there high school team. If you have ever been to a NBS session the first thing every kid knows is this…NOBODY GETS SPECIAL TREATMENT AND WE DON'T CARE WHO YOU ARE…It's been that way at NBS for 15 years and its never changing. So when Stephanie Karcz showed up late for the workout, I jumped right on her with both feet in front of her teammates. I told her she was not bigger than the team and she was disrespectful to her teammates and me. I jumped her big time and all she did was say sorry and then worked her butt off  the remainder of the practice…with ZERO ATTITUDE.
Later I found out that not only did she tell her coach she was going to be late, she had a commitment that for the record was way more important than basketball. I was 100% wrong for a number of reasons. First I didn't ask her way she late. Next with all she was going though no kid deserved more of a pass than this kid. But Stephanie Karcz doesn't ask or look for passes, the next week I saw her she never said a word about the incident. She never tired to make an excuse or explain anything, this is why she is DIFFERENT. It also the reason when I changed the NBS gym location and she drove around for 2 hours and couldn't find the gym, she never said a word. When I finally called her mother and asked why she had missed a session, her mother said she couldn't find the gym…Stephanie Karcz to this day NEVER HAS SAID A WORD…now you understand why she is different. It comes from lack of ego and respect.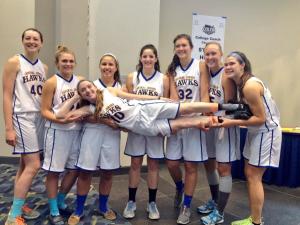 She make made a tough decision to join the Hawks (ALL DIVISION ONE PLAYERS)
Stephanie Karcz scored a 1000 points in less than 3 years. She has done with a big target on her back. She is every teams big challenge, she is a way for an opponent  to bolster their reputation. But she has got to 1000 in a most difficult way…with pain and heartbreak alone in the dark sometimes. Only those close know what she has been though and how hard life has been for such a young person understand. She has never asked or wanted a edge along the way, while some thought she took a risk going to Middletown South, she went there because she felt it was the right thing to do. Now Sam Kennan one of the best 8th graders in the Shore has done the same. I believe without Karcz being the first Kennan doesn't go to Middletown South. Tom Brennan daughter who is also one of the best 8th graders in the Shore will be playing at South next year too. Both know Stephanie Karcz will be there and that is a major comfort to any young kid, when the star player welcomes  you…Stephanie Karcz has showed everyone that tough times don't last…but tough people do…..congrats on 1000 Miss Karcz…. we are still counting, not the points but how you keep surprising us
UPDATES…
SOUTHERN GETS A BIG ROAD WIN OVER EAST BRUNSWICK, Gabbie Davis had 10 points and 18 rebounds the future D1 stud and her teammates are becoming very dangerous….NEPTUNE SNEAKS BY COLTS NECK 60-59… DES ALLEN HAD 26 POINTS and stud freshman Cara Volpe had 17 points, 7 rebounds and 2 steals against the #5/15 team ..RBC OVER LONG BRANCH as Caitlin Carroll tallied 15 points…..AND Che'kasha Andrews scored a game-high 19 points and had seven rebounds and five assists for Long Branch