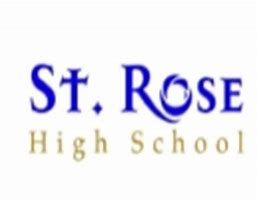 St. Rose won a big game yesterday. Many will  talk about the final score. Many will talk how St.Rose evened the score against SJV in another tough well fought victory. What few will talk about is something called  perseverance. Something St. Rose has needed all year and last night they showed us what the word really means.
When Joe Whalen resigned last year from St. Rose, quietly many players, parents and fans were relieved. The tough hard nosed talented coach had run his course. It was believed that St. Rose after winning the SCT needed a new voice and new direction. The Purple  Roses had lost there 3 senior D1 captains and the backbone of the team. St. Rose knew this year would be different, but they also knew  Coach Whalen had showed them how to win.  They also knew everyone would need to step up, including new Coach Mary Beth Chambers. But soon it was clear St. Rose needed to do more than step up. They needed to show real  perseverance.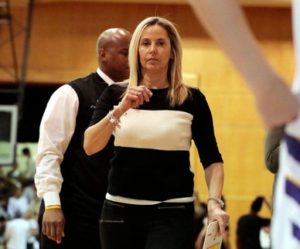 Janine Roth and Raheem Carter both are basketball junkies. They hoped to be asst coaches for Mary Beth Chambers this year. They both are very knowledgeable and along with Mary Beth Chambers experience, thought they made a good team. That was until Mary Beth Chambers was prevented from coaching. It was a real shock to the St. Rose players and community. But for Roth and Carter it meant a change in plans. They clearly did not sign up for the  responsibilities and time that goes along with coaching one of the best high school teams in the country. But that's exactly what they did and they showed they had the skills set to lead.
Raheem Carter was part of the SCT title team last year. He was smart enough to know he walked a fine line, when he took over the coaching duties. His mentor Joe Whalen taught him well. But his new boss Coach Chambers had a different idea how things should be done. So Raheem Carter did things his way and the players rewarded him last night. He showed real  perseverance and courage all year. It would have been easy to try and imitate others and be something he is not. Instead he created his own coach style , coaching  idenity and philosophy and the St. Rose team responded to it.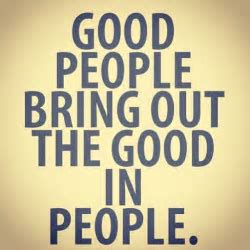 Janine Roth was named the Head Coach of St. Rose this year. All the wins will go under her belt. She will be in the record books when the season ends. What the record book won't show is that she DID WHAT WAS BEST FOR THE TEAM. She could have been the voice of the team. She could have gotten into a pissing match with Coach Carter over style and philosophy. She could have craved the spotlight.  Instead she was like the seasoned coach who walked quite with a big stick. She was the emotional measuring stick for St. Rose all year. She made sure the players knew winning was the only objective. Janine Roth was just what the doctor ordered and her perseverance you will never see in a record book. She and Raheem Carter have been the perfect team at the perfect time.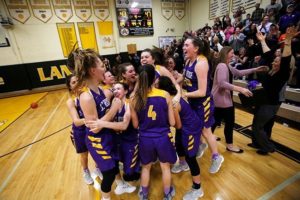 The St. Rose players had every excuse they needed to fail this year. They could of rolled over and blamed the world after losing a big lead in Deleware, against Long Island University and then the one that hurt most against SJV. But in each game win or lose St. Rose showed a perseverance that could not be denied. Last night what they did defyied  logic. Losing there SCT TITLE to SJV and then getting off the deck to beat SJV on the road in front of a packed SJV crowd last night. This showed a perseverance that is unheard of for any team. St. Rose could have packed it in after the SCT. They could have packed it in after giving up a 4th quarter big lead. But just like they have done all year they found a way to survive. Last night won't change want happen in the SCT, but it takes some of the sting out. THE PURPLE ROSES, found a a way to rise above all the  obstacles they have faced all year. ST. ROSE has shown despite all the bumps in the roads they had real perseverance and today ….NOBODY CAN DOUBT THIS.
St. Rose will now try and win a TOC title. They have been a true team all season. In a lot of ways the trails and  tribulations in the past 15 months has brought them together. There is a sisterly bond that they have. They play and cheer together as a group. There are the walking definition of next girl up. There on a mission right now. They tired of the doubters  and the pollesters. Now they  only  care about one thing….EACH OTHER! REAL PERSEVERANCE TEACHES YOU THIS
UPDATE…IF YOU SIGNED UP FOR NBS AND HAVE NOT RECEIVED A COMFIRMATION #… email tiny@hoopgroup.com and put in subject matter NBS REGISTRATION