10 THINGS TO HELP YOUR IN RECRUITING 
1. YOU MUST DEVELOP NAME RECOGNITION
2. Send a highlight tape with newspaper articles and any Post season Awards
3. Sign up for Academic Elite Camps at Colleges
4. Ask your high school coach to write or call coaches
5. Speak to acollege coaches directly
6. Take unofficial visits to colleges OF INTERESRT… be reasonable. Know your level
7. Be prepared attend programs such as NBS.
8. Know if a college is recruiting your position
9. Get your spring and summer schedule to college coaches as quickly as possible.
10. Know your level of play
7 MISTAKES MADE IN RECRUITING
1. Allowing an AAU COACH to speak for you
2. Playing on a weak AAU TEAM that does not have real visibility(biggest mistake)
3. Failure to train in the right setting
4. Talking  publicly(social media) about your recruiting to friends and teammates
5. Waiting to long to start the process
6. PLAYING ON AN AAU TEAM THAT NOT FEATURE  YOU
7. No personal relationship with colleges your interested in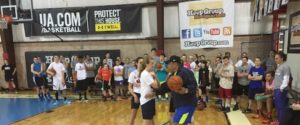 Next week Hoop Group Instructional starts…FULL LINE UP.