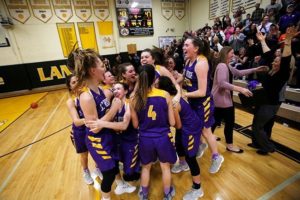 Yesterday Lucy Thomas, Loving Marciano and Mikayla Markham did what they been doing for 4 years. They made big plays and played with confidence. The St. Rose program is built around these three. Yesterday they were sensational. There were 3 other players that were sensational as well. Lauren Lithgow, Maggie Stapleton and Arianna Dalia.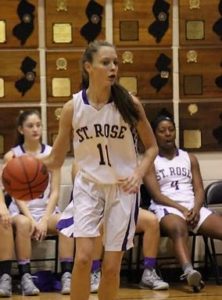 When LAUREN LITHGOW made the decision to attend St. Rose 3 years ago, she was considered one of the best players in the 2019 class. She was lighting quick off the dribble and unstoppable in transition. It was projected she was going to be a star. But for two years Lithgow was thrown in the ice box. She saw few meaningful minutes. To make matters worse she was pressured into playing on the St. Rose high school AAU team. So for two years Lithgow has been watching and hoping. But when Beth Chambers was named the new coach, Lauren Lithgow saw real hope. She immediately switched her AAU team. She showed up at Academic Elite and had coaches buzzing. Lithgow felt here career was about to change in the right direction. But when Coach Chambers was prevented from coaching, she knew trouble was ahead. So she reinvented her game in an effort to get the attention of her coaches. So Lauren Lithgow became a spot up shooter. She knew that she had to do something to get an opportunity to play. So she became the most dangerous player off the bench in the state. Lauren Lithgow in big games this year has ripped opponents hearts out with her shooting. Yesterday she broke RBC's heart in the first half. Her 4 three's seem to one bigger than the other. RBC had no answer for her all afternoon. Lithgow looked every bit the star we thought she would be. Here road to yesterday involded never giving up hope for an opportunity. Hope is something everyone needs and that hope is why Lithgow has been special all year.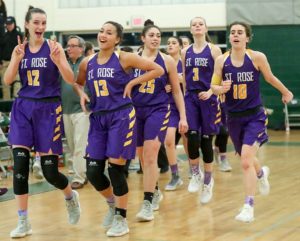 ARIANA DALIA just might be the bravest player in the state of New Jersey. She and her mother make a decision that surely could have ended her basketball career. She played little in first three years at St. Rose. She was a complete afterthought and in the summer not much changed playing for the St. Rose High School team. So last spring she and her mother decided to change AAU teams. The goal was to play well enough to find a college before the high school season. They were not sure if playing high school basketball would be realistic after switching AAU teams. So she decided to play for the best AAU coach around, MARY BETH CHAMBERS. It changed her life and she fell in love with basketball again. Then things got even better when Mary Beth Chambers was named the coach at St. Rose. Ari had a summer of development and caught the eyes of college coaches. More importantly she knew her high school experience was going to be full of possibilities again. So when Coach Chambers was prevented from coaching, she honored her with a monster season. Ariana Dalia has started every game this year. She is one of the best defenders in the Shore. Yesterday it was she that made the big plays on the big stage. Her two break away steals as RBC was streaking back were god sent to St. Rose. Ari also had ten points yesterday. She played bravely went to the free throw line and hit maybe the two most important free throws on the day. She threw ice water on RBC's comeback. She is officially a purple rose star. She was not afraid to take a risk and it has paid off big time.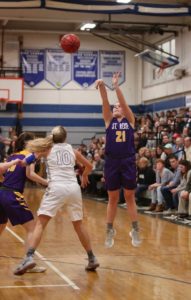 MAGGIE STAPLETON is one of the nicest kids you will ever meet. She also loves basketball and is a loyal teammate. The past two years all she ever wanted was just one chance. She just wanted people to know she has real talent. She lived in the gym day and night. She went to Mike Rice Post workouts and Joe Fagan workouts. She was dedicated and took no short cuts. But it did not open any doors, she was labeled as took slow and not creative enough. I always wondered why she didn't get a chance. But when Mary Beth Chambers was hired as the new coach, she told me "I love Maggie Stapleton and she is going to play for me." In the fall league it was clear Stapleton was going to have a great season. It was clear she would truly make a impact on her St. Rose team. But then Coach Chambers was prevented from coaching and worst she had a  concussion. Most kids would say enough is enough…NOT MAGGIE. You see good kids never stop being a teammate and yesterday Maggie was the ultimate teammate. When her number was called despite all that has taken place, she was ready..and she  delivered big time. In the first half her 5 points and dime off the bench cannot be measured. She showed her teammates they could trust her. She showed the coaching staff she can play when the game gets hot. Maggie Stapleton yesterday finally got what she has been asking for …A REAL OPPORTUNITY AND SHE DIDNT DISAPPOINT.
It would have been easy for these three to except there Faith. It would have been real easy to quit or accept things as they are. If they had done this, yesterday would never have happened. St Rose most likely would be packing up for vacation. Instead these  three players decided to be  survivors and not victims and ST. ROSE is moving on because of it.
CORE SKILLS TRAINING THIS SATURDAY AND SUNDAY….ALL NEW TRAINING SCHEDULE STARTS MONDAY@Hoopgroup in Neptune