When a player in the Shore Conference gives a college a verbal commitment, it's no surprise. When a player coached by Dawn Karpell at SJV announces they have given a commitment, there is even less of a surprise. So when Zoe Pero announced that she will attend ST. PETERS COLLEGE not many people blinked a eye…but Zoe Pero's road to St. Peters has not been without personal and athletic sacrifices.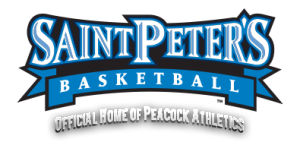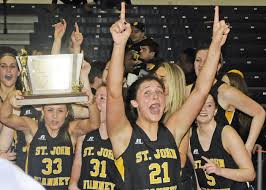 ZOE PERO IS WINNING AGAIN
ST.PETERS COLLEGE is not just out recruiting people right now, they are also just better at evaluating talent these days. In only her second year of recruiting Coach Coyle is putting together a serious crew and Zoe Pero folks will be BEASTING IN THE MAAC. By the way If you don't think experience matters in recruiting and coaching I give you THE ST. PETERS COACHING STAFF AS EXHIBIT A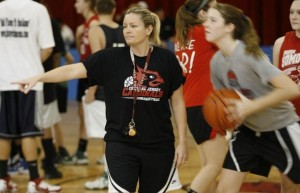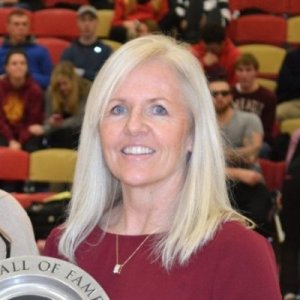 POWERFUL INFLUENCES ALONG THE WAY…SABINO..SOMOGYI…CHAMBERS
You have heard the term it takes a village to raise a child. Well the same can be said about a basketball player in the case of Zoe Pero. Mike Pero is the father of Zoe Pero and he is also a very smart man. He is a smart man because 6 years ago his daughter started traveling down to the shore to play basketball for the Shore Shots.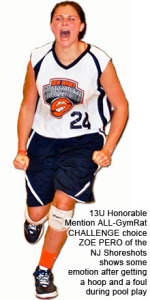 "It was Tracey Sabino who got the ball rolling" I really can't thank her enough says Mike Pero. It was Sabino who convinced him to join her program and exposure his daughter to a higher level of AAU basketball. He is a smart man because he knew; it was in his daughter's best interest to play for the Kristen Somogyi Central Jersey Cardinals organization, when it came time to find a new team. He is a a smart man because he wanted his daughter to play for one on the best teaches on the AAU circuit in Beth Chambers. The 3 also just happen to be the most powerful people in girls grass roots basketball in New Jersey. All you have to do is count the Division one players that have come out of their programs…these 3 are GIANTS IN GIRLS AAU BASKETBALL.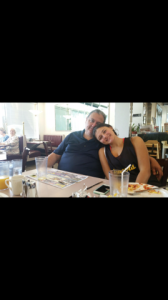 Mike Pero has guided his daughter's AAU career with the precision of a successful CEO, he coached her until she was in 6th grade, making sure she always did things the right way. But Mike Pero has done did one thing, the most parents fail to master…he did what was best for his daughter without burning bridges and that my friends makes him smarter than almost everyone. But what makes Mike Pero a mega genius is that he allowed his daughter to move to the Shore and play for the team, many consider the gold standard these days in high school basketball…ST. JOHN'S VIANNEY! and DAWN KARPELL.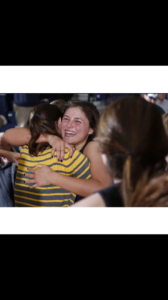 When Zoe Pero dedicated to leave Secaucus high school it was not a easy decision. As a freshman she had helped put the school on the basketball map. Secaucus went deep into the state tournament. Zoe Pero and her freshman teammates Kristina Ulrich, Andie Lennon along with sophomore Julie McClure (Wagner College) were the toast of the town. They were the high school version of the Fab Four as the team went 28-3. It appeared Secaucus was about to become the SJV of north Jersey. That was until Zoe Pero decided she wanted to play AGAINST AND WITH the best and there is only one place to play if you want to do this …the Shore Conference.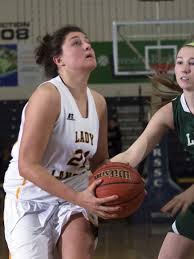 It meant leaving the girls she had played with her entire life. It meant leaving friends who she enjoyed not just playing basketball with but also spending time with. If she were to leave it was going to be tough on everyone. The school, Zoe Pero and of course her teammates. In the end the heart wants what the heart wants…Zoe Pero had begged her father to let her attend SJV as a freshman and now he had no choice but to give his daughter what she really wanted….the chance to play with the best.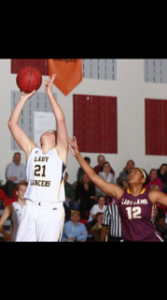 When Zoe Pero arrived at SJV she knew it was not going to be easy. She knew that she would have to sit 30 days. This was a major sacrifice for somebody who loves the game of basketball. She knew that most likely she would be coming off the bench for the first time in her life. This was a sacrifice I know few kids could make, when you consider just a year earlier she had been a star.  She knew that she was joining a team full of stars and she would not be the focal point of the office..FOLKS THIS WAS A BIG SACRIFICE.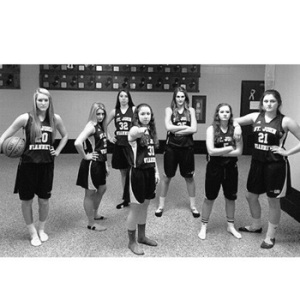 PERO REAL TEAMMATE
If you don't know Zoe Pero, you can't understand how easy all this was for Zoe Pero; she is the ULTIMATE TEAMMATE on and off the court. Zoe Pero is the kid that is always smiling and joking with EVERYONE. She is the kid that  opponents love and have a hard time disliking. She is the kid who runs in the gym and jumps and hugs teammates and friends. She is the kid that runs up to Teddy Sourlis the son of one its biggest rivals, RFH head coach George Sourlis and says to the freshman "oh your my boyfriend" You see Zoe Pero is the the one behind all the cool SJV pictures you see…Now you know why making sacrifices for Zoe Pero comes without pain or anger. She just happens to be a young lady who understands that world doesn't have to revolve around her to be happy…how many kids do you know like this these days? let me help  you…NOT MANY!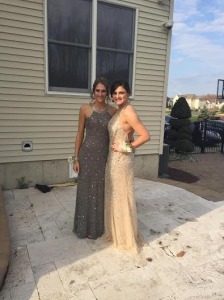 BEST FRIENDS…GIGI AND ZOE
The past two years have been a interesting journey for Zoe Pero. First she moved to Wall to live with her best friend, GigGi Caponergo's family. The Caponergo family are all givers and when I tell you fun I mean FUN people. They took Zoe in and treated her like a daughter. None of Zoe's dreams come true without the support and open arms of the Caponergo family. It was they who gave Zoe a bed and a place to call home. Both families were close before Zoe attended SJV… now they have a bond that can never be broken.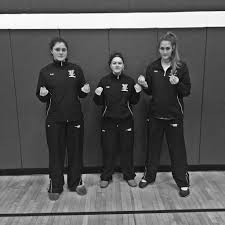 SJV WAS A MONEY MOVE
In her first year at SJV Zoe Pero sat 30 days and never fully got in basketball shape or fully understood the SJV system. But she had her moments. But what shocked me was that her spirit never seem to change. She was always the first one off the bench, smiling and cheering for her teammates with the same insane passion she plays the game with. I often tell people, Zoe Pero plays so hard it makes your  teeth sweat. She is relentless from the moment she hits the floor. But what really makes her special is her ability to turn it up when the game is most competitive. I love this trait in Zoe Pero, I think its her biggest strength. Some players get small in big moments unless they are the focal point. Zoe Pero plays harder in the big moments for a player that has no plays run for her than any player I know…PERIOD! This my friends is one of the hardest things to do in basketball…give 100% and everything you get comes from effort and you don't need a pat on the back…NOW THAT'S REAL NEXT LEVEL STUFF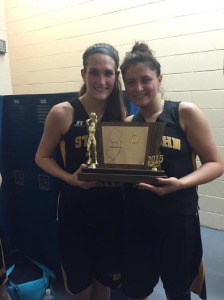 Recruiting can be a funny thing. Some schools try and pressure you, while other schools let you take your time. In the case of Zoe Pero she was not going to be pressured into anything. If you didn't want to wait..take your scholarship back was her attitude. Zoe Pero was looking for a home….the RIGHT HOME. She has done that every step of the way in her basketball career. When AAU teams fell apart she always took her time before making her next move. When she decided to attend SJV she took her time getting there. Now when picking a college, Zoe Pero again took her time and she made sure it was the right place.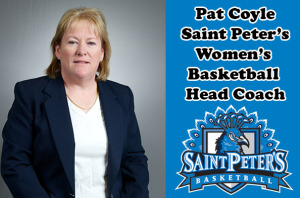 ST. PETERS COACH COYLE IS GETTING IT DONE
St. Peters is the right place for ZOE PERO for many reasons. She has a long standing relationship with Coach Coyle, she knows, played and trained with future teammate Janae Mayfield since she became Shore adopted. She knows and has trained with future teammate Sam Meir. It's close to her home, so her family and yes FRIENDS, can now see her play though out her entire college career. Zoe Pero has found a match made in heaven. While other schools recruiting her made offers…ST. PETERS offered the most important thing of all..Loyalty as ST. PETERS was the first school to offer her and had a REAL KNOWLEDGE OF WHO SHE IS REALLY IS.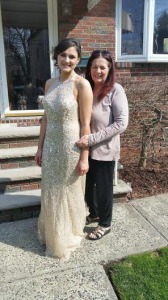 MOMMY KNOWS BEST…SO DOES ST. PETERS

This is a story about a young lady working hard and challenging herself. This is a story about real sacrifices. But more importantly this is a story of a young lady doing what best for herself without burning bridges and still getting what she wants… A chance to continue!e playing with the best…WELCOME TO DIVISION ONE BASKETBALL ZOE PERO….YOU HAVE EARNED IT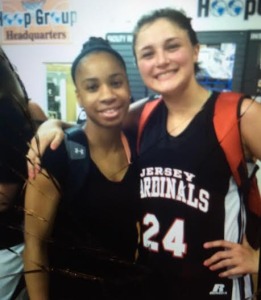 "HEY ZOE WELCOME TO PEACOCK NATION" JANAE MAYFIELD


UPCOMING EVENTS-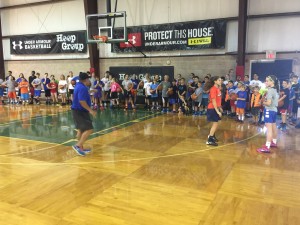 http://hoopgroup.com/headquarters/summer-basketball-
NBS CAMP II