The start of a NEW recruiting season is in the books and many are asking what now? Well the first the message that must be sent to every child is this; if you can play Sunday you can go to school on Monday. This message makes it clear to every player; your academic integrity can never be compromised due to basketball.  Now from a basketball stand point, one thing was very clear, many kids and parents had a great experience.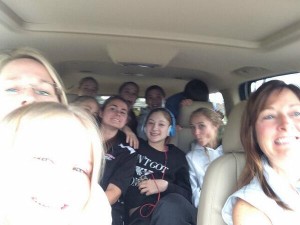 What makes it  fun?…the friendships and memories being made
The first thing every kid who took part of the spring recruiting session this weekend needs to know is this…. two days will not define who you are as a basketball player to a college coach. If you did not play your best it's not the end of the world. If you played great don't assume every coach in America will be calling. There is still the summer recruiting session left and in many cases way more important to both players and college coaches. Players should work on weakness and get outside their comfort zone and go challenge themselves. AAU coaches let other coaches and trainers give your kids new thoughts and ideas…it's not a sign of weakness.  But the spring recruiting session does so much good that it can't be ignored and so many good stories came out of this weekend.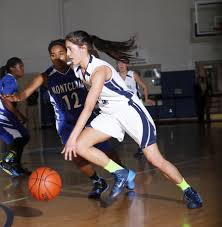 A new star in the shore!
"First thing am doing when I get home is offering Kuster"…D1 Head Coach
Katelyn Kuster, of Central Regional left New Jersey as an unknown player. Kuster who plays at Central Regional High School for John Truhan  broke her schools record for "3" point shots made, this after never making a 3 point shoot until her freshman year. Coach Truhan has been telling anyone that would listen that this young lady was a D1 player. I got my first look at her this spring at Core Skills and was very impressed and had a feeling that she could be special. But even I was not ready for avalanche of coaches asking about this young lady all weekend after her performance with the ShoresShots. Katelyn Kuster has gone from an unknown to a player in demand. No she didn't make All Shore, she was written about in a blog and nobody gave her much attention. She did it the old fashion way…she earned it and now she will have a number of college choices to choose from. This is more proof that the shore is an insanely deeply talented conference.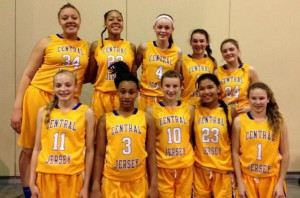 The Martorelli CJ Hawks made the most of 1st trip
I really like the idea of the 8th grade teams going to these spring events for the first time. They have nothing to lose and everything to gain. They get a chance to see what it's like to play under pressure in front of college coaches; this prepares them for when their time comes next year. When I woke up Sunday morning the first thing I saw was a text from an Atlantic -10 coach (recruiting coordinator). The text simply said "CJ Hawks Martorelli has some nice young players." The coaching world got its first real look at Tori Hyduke who will be on everyone's wish list one day and Holmdel's Sydney Coffaro who was on the Hoop Group All Freshman Team. The girls are clearly are in the bulls'eye of college coaches and the rest of the Martorelli team caught the eye of the coaches and that's never a bad thing even for young players.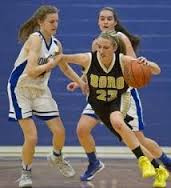 Megan Hughes caught the eyes of college coaches
Speaking of great young players, Megan Hughes of Pt Boro had coaches smiling. Hughes another member of the First Team Shore's  ALL FRESHMAN TEAM, according to college coaches was so impressive many thought she was a relative of Shore great Kelly Hughes. They are not related but like Kelly, Megan has a gift for scoring the ball.
Here are some quotes from this weekend from college coaches–
"yep they all play super hard that's why we like shore kids!" …D1 A-10 asst coach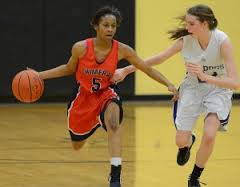 Morris "D's" up and coaches are lining up
" I need to get Morris and Crouch on campus ASAP"…. D1 asst coach American East
"We are going to hang in there with Morris no matter what anyone says or does…D1 asst coach Patriot School
"Did Morris grow? She is really, really good."…D1 Big East asst Coach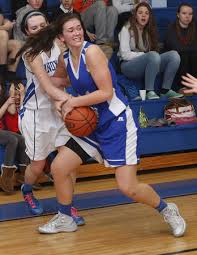 Graziano is going to a tough matchup at the college level; I will take her over a 6'3" girl any day of the week" NEC D1 Head coach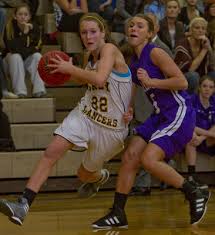 "Kelly Campbell is as smart and poised as it gets. Doesn't make mistakes"… A-10 asst coach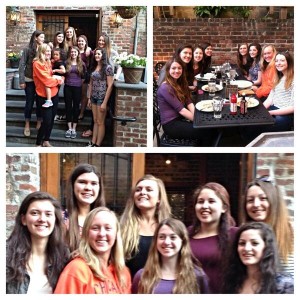 "The Chambers team is just so well coached; the other teams don't have a chance" …D1 Head Coach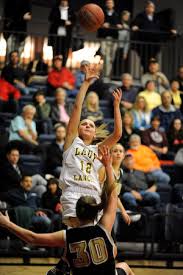 "You don't give Uribe enough credit Tiny, she is going to be really good at the next level…NEC asst Coach
"I love Faith Masonius, but no way she coming here one day" …MAAC asst Coach…..SHE'S RIGHT…LOL
"Wildcats may be young but everyone knows they got great young kids…Ivy asst Coach
BEST STORY OF THE WEEKEND?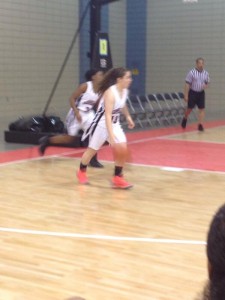 LOOK WHO'S BACK…TINA LEBRON OF SJV AND THE CJ CARDINALS
CORE SKILLS TRAINING AT HOOP GROUP HAS SPOTS AVAILABLE RIGHT NOW   https://hoopgroup.com/headquarters/weekly-instruction-programs/
WEEEKEND HIGHLIGHTS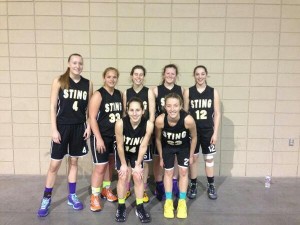 You be smiling too, if  you just went 5-0
The Roth New Jersey Sting 9th grade and Chambers Hawks both went undefeated at 5-0
In a matchup of Big Time Babies…The Team Miller 8th grade team beat the Klinger 8th grade team by TWO POINTS…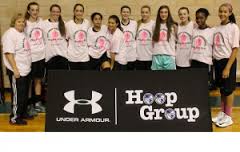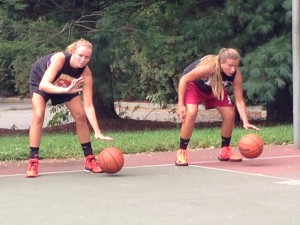 Best shooting performance of the weekend? SID SABINO(on the right) KNOCKED DOWN 6 THREE'S IN ONE GAME
The best young post in Central Jersey right now is 6'3" Chrissy DiCindio the freshman stud was great all weekend and had a 22 point 12 rebound game in a 4 point win…props to the Dipillo CJ Hawk team that is becoming one of the best young groups around. Chrissy and Jasmine Watson both made All Tourney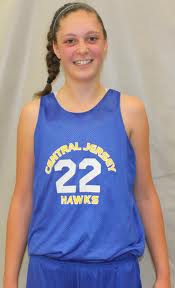 Chrissy Dicidino
The Jersey Cardinals Baffa team won its bracket and advanced all the way to the semi-finals before losing.
Now here is something for everyone to think about…6' 3" Gabby Davis of the Shoreshots Bonner team, stats for Richmond…55 rebounds…20 blocks…29 points AND 5 STEALS….
The Coyle Cardinals proved again they duck no talent as they went and played with the big girls at Boo Williams.
NEXT UP– TIME FOR AAU COACHES AND HIGH SCHOOL COACHES TO REWARD THE COLLEGES THAT ARE LOYAL TO THIS AREA