So what does one have to do in order to gain the attention of college coaches? It's simple preform and preform well on big stages against the best competition. That doesn't mean trying to as we use to say in the park "GET YOURS"…It means playing the game with purpose and understanding. One player did that all last season and it was  almost forgotten at times. COURTNEY DOBRYZNSKI of St. John Vianney…she may not be a household name to local shore fans but college coaches are buzzing about the chance to watch the 5'10" starting guard for SJV this summer and there smart. Nothing makes me smile more than when I get a call asking about one of the nicest kids I know….funny how the words come up so often when talking about SJV kids….
Courtney Dobryzski is a player that gets things done on the court. While others may get more attention and media coverage. There are few that are willing to play their role to perfection like  COURTNEY DOBRYZNSKI.  It was Courtney Dobryzski who started for one of the best high school teams in the country last year as a sophomore. It was Courtney Dobryzski who came up with big play after big play in big games for SJV last season. It was Courtney Dobryzski who last year proved she was a jock of all trades against the best girls competition in the country. In most cases it went unnoticed but the real knowledgeable fan like her Coach Dawn Karpell knew the value of of Miss Dobryzski.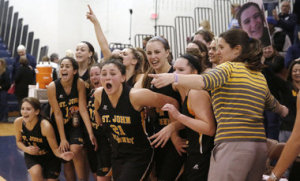 It's funny how she was barely a topic of conversation when SJV beat Manasquan last year . Courtney  had a big jumper jumper to stop Manasquan dead in their tracks in one of the biggest games of the year. It did not matter that she had 7 big points that were HUGE or that it was her defense that turned the lights out on the great Manasquan guards, in the big victory. Nobody talks about how she was the one player who was willing to sacrifice her game each and every night of the season. She didn't attempt a 3 point shot the entire season folks….how many kids in her spot would make such a sacrifice…FEW IF ANY. She found so many ways to beat opponents it was pure old school. No fancy or crowd pleasing plays. Just the simple stuff like a great pass on a out of bounds play or maybe a no frills post pass. How about her sneaky quickness  which created soooo many turnovers…these are things coaches paying attention will fall in love  with this summer. The bottom line is COURTNEY DOBRYZNSKI is a winning player and if you think players like her are easy to find….your NUTS!
Well things are changing for COURTNEY DOBRYZNSKI and college coaches are calling and are interested in the talented combo guard with nice size and a beautiful feel for the game. Her underrated passing skills and rebounding ability will be on stage all summer for the Laux lighting a team that is loaded with young and veteran talent. Like her SJV team she will do all the dirty work and be a total team player. When the game is over just like with her high school team, unless you are paying real attention you can't understand her impact….Courtney is not a box score junkie….she about winning and that means doing whatever it takes.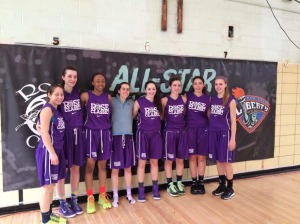 When the July period is over her stock will be rise and not because of points, but rather because of the little things. Like defense, rebounding, the hockey assist and her near perfect shot section. Most kids don't understand these are the things that catch coaches eyes. Hell everyone on the AAU circuit can score if given the opportunity. But its the players that do the dirty work that are hard to find. Basketball IQ and unselfishness is something no team ever has enough of during the course of a season. COURTNEY DOBRYZNSKI is a rock and you get the same player every night and that my friends is not easy to find these days. In a time of the moody player who is not happy unless they ARE the spotlight….Courtney is a pleasant surprise.
COACHES HERE IS  COURTNEY'S JULY SCHEDULE….you can thank me later
July 10-12

( Chicago Nike Invitational NCAA Certified  Showcase)
July 22-25

( USJN Nike Championship Washington DC)
I am very excited for COURTNEY DOBRYZNSKI this summer because a number of coaches will be coming to watch her play this summer. She  will not turn her into a ball hog or shoot the ball every-time she touches the ball.  She is going to open a lot of eyes with all the winning basketball skill sets she brings to the table …COURTNEY DOBRYZNSKI IS GOING TO BRING A SMILE TO A LOT OF FACES.