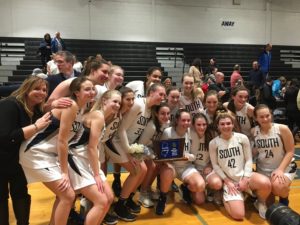 Last night was an exciting evening of basketball. The great preformances by Lauren Lithgow and Kayla Richardson. Manchester and Manasquan both winning another Sectional title for the 3rd and 4th times. TOM BRENNAN winning his 400th game in grand style. But there was one story everyone may have missed. The story of Sam Keenan may have been the best of the evening.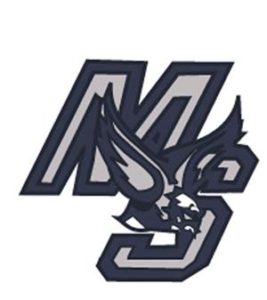 Four  years ago Sam Keenan arrived at Middletown South as one of the best Freshman in the Shore. She was a gym rat, who loved basketball. She was a kid everyone liked and got along with. Sam Keenan was a true teammate and somebody with a big future. She played AAU with one of the best AAU teams of all time the Tom River Starz. It was clear Sam Keenan had star written all over her. It was expected after having a great high school career, she would be off to college basketball. But things have not gone the way she or anyone else expected. That's why last night, what Sam Keenan did was right out of a movie script. She helped Middletown South win a Sectional Title.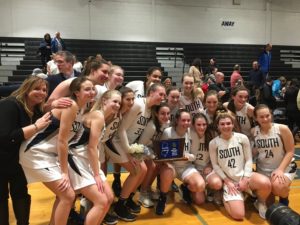 Sam Keenan is no longer a gym rat these days. In fact Sam Keenan doesn't spend hours in the gym in the off season anymore. The goal for Sam Keenan now is to just play. The goal now is to just stay healthy. You see Sam Keenan knees are on burrowed time. There are those who can't nderstand how or why she still plays. Well I have the answer to that. She loves her school, her teammates and coaches. Last night Sam Keenan gave them all something they will never forget. She gave them the gift of life. She gave them a chance to dream. Because last night Middletown South looked to be riding off into the sunset. When Sam Keenan refuse to let them do so. It was she that showed her team…SENIORS don't die easily. It was she more than any other player who refused to lose. Maybe it was because of all the knee  surgeries and injuries. Maybe it was because she has had to fight so long, just to continue wearing a uniform. May it was just because she loves her coaches and teammates.  Maybe she looked into her fellow seniors eyes and best friend ISA BRENNAN who had fouled out and knew she didn't want to go home.  Sam Keenan needed to save MIDDLETOWN SOUTH last night. But maybe Sam Keenan needed yesterday for herself. Maybe Sam Keenan needed something to remind herself….it's been all worth it.
400th win for Coach B last night! SAM KEENAN was outstanding, she stepped up hit to Giant threes to cut Marlboro lead to 3 she was our heart and soul. She has to work so hard, she deserved it..

QUOTE KAYLA RICHARDSON pic.twitter.com/VqNkwYtTJw

— ellonya Tiny Green (@CoachTinyGreen) March 6, 2019

With under 3 minutes left and down 63-54. It appeared Middletown South season was a wrap. It seemed the party was over, it would be time for  reminiscing. But seniors sometimes don't want the party end. Sam Keenan is a senior who is lucky to even be at the party. So we she booked the two biggest shots of the night, she inspired a team, its coaches and fans. Sam Keenan back to back three's will never be forgotten by the Middletown South faithful. It was those three's that set in motion what would beccome of the sweetest wins in Middletown South history. A come back win for the ages and Coach Tom Brennan's 400th win….and SAM KEENAN WAS THE REASON WHY!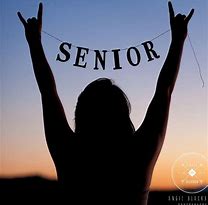 Sam Keenan played the game of her life yesterday. Maybe it was because she had given so much to herself over the past 4 years. That made it so hard to surrender last night.  Sam's  20 points in the biggest game of the year on the biggest stage, was just a reminder. She reminded us of how special she really is. Sam Keenan could have taken the easy road and quit years ago. Instead she just wanted to finish what she started. Well she is going to have to wait a little longer before she is done. I call Middletown South the come back kids…but that doesn't apply to Sam Keenan because she NEVER LEFT IN THE FIRST PLACE!