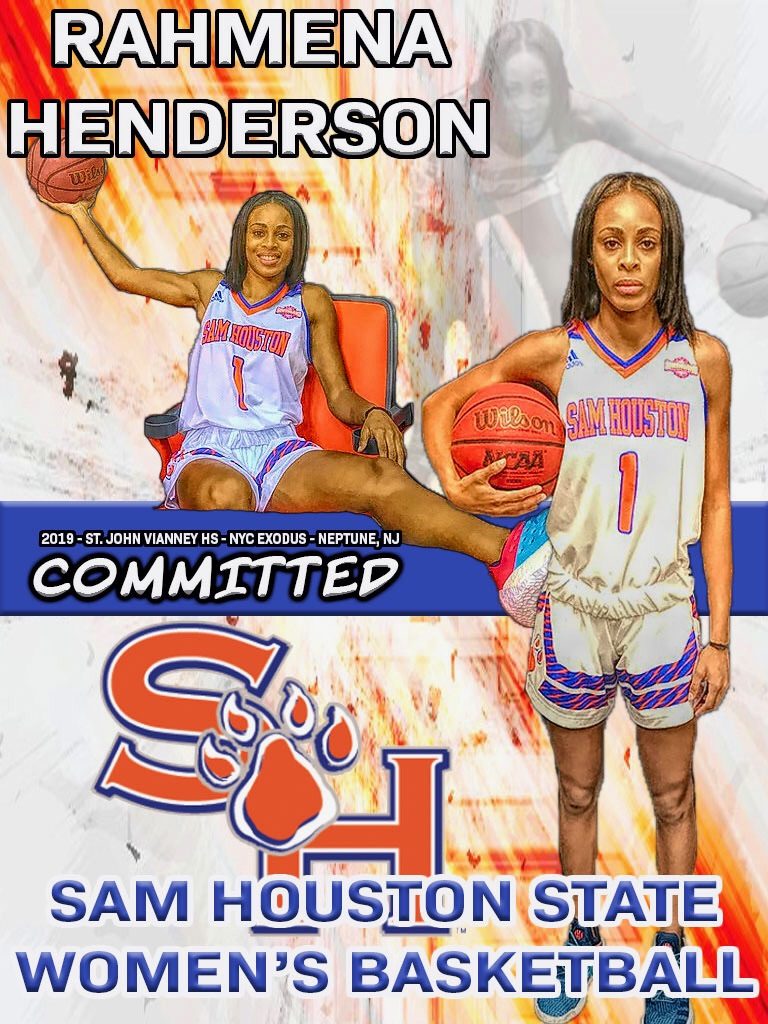 They say if your good enough, the coaches will find you. It just takes a little longer in some cases. In the case of RAHMENA HENDERSON, it was clearly just a matter of time. The wildly talented combo guard became the final senior on the SJV roster to verbal commit to a Division 1 school, when she announced that she would be attending SAM HOUSTON STATE UNIVERSITY.
https://twitter.com/Coach_TonyBrown/status/1044002029998403584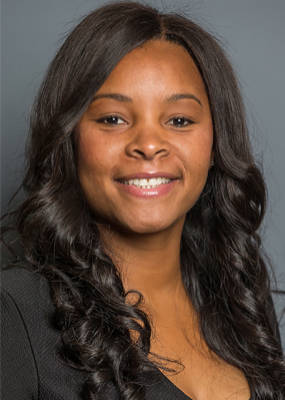 The  mystery of why more Division 1 schools in the metro area did not beg  for RAHMENA HENDERSON'S services are over. She got tired of waiting and just packed her bags and headed South to HUNTSVILLE TEXAS. She will leave the east coast to go play in the rough and tumble Southland Conference. She will attend a school with  top notch facilities and a drop dead  gorgeous campus. She will be was glad her big moment wast the last of the SJV seniors. She will be glad she didn't panic and settle during the recruiting process. Because Sam Houston gives her more than she could have dreamed of, than any of the schools who passed on her? The chance to play in a highly competitive Division 1 conference in beautiful weather and most importantly with a new coach bringing in her  own players. RAHMENA HENDERSON gives her maybe the biggest steal Coach Ravon Justice could have ever  imagined. It's she and Rahmena who are getting the last laugh …and oh what a laugh they must having together.
Rahmena Henderson's mom sent me a text last week with these words "with god on her side, all things are possible and she has a praying mother" Well she must have a direct pipe line, because her prayers have led to her daughter going to a place any mother would smile about. Her daughter will be right outside Houston, Texas and will and take in all those things that makes Texas bigger.  She will travel the country and be part of Saturday football games. We're talking real football, the tailgate parties and packed stadiums. You know all the things that make the college experience so special. Rahmena is about to make 20,000 new friends.  HELL SAM HOUSTON  even has a famous mascot!  HENDERSON's mom never once ..not once …questioned where her daughter would end up at the conclusion of this recruiting process. But even she never saw this coming. When at a time of the year when many kids give up on there dreams. Stop working on their games. Feel sorry for themselves. RAHMENA HENDERSON never stopped working, never stopped believing. There she was in the gym EVERYDAY. There she was making game winning shots in the fall. RAHMENA HENDERSON knew a player of her talents would find a home…she just never thought, she'd find one this sweet!
Rahmena watched as her other senior teammates made verbal commitments. She must of wondered, why not me? Her ego…self esteem had to be bruised. She had done all she could on and off the court. She was an excellent student, but never got credit for this. She had made the great pass in the SCT but never got credit for doing so….she transferred to SJV knowing there were no  guarantees, because she wanted to challenge herself….she got no credit. She went a played for a top AAU team…and got no credit. Now she was not getting the credit from the recruiters… the decision makers of a kids future. Yet not once did she ever get down herself or resent others for there moment in the sun…but now she is having her long awaited moment of GLORY. It had to come at some point. You can't play at SJV and not get a free education . All SJV players go to college and oh yeah..in case I didn't tell you …KICK ASS…RAHMENA HENDERSON is going to kick a whole like of butt along the way to TEXAS. She is a total warrior. She has one of the most competitive nature's on planet earth. She has size, strength and length for her college point guard position. She has improved every year, why is that important? Because players like this always get better at the next level. She is an ELITE DEFENDER and rebounding guard. She has willed herself into a big time shooter. Did I mention all Kids who play for SJV kick butt in college? They say things are bigger in Texas….we'll wait till they get a hold on RAHMENA HENDERSON….She just big the biggest thing to join the SAM HOUSTON program in YEARS..Sam Houston State University just pulled a brinks job with everyone watching.
I watched Rahmena go from a virtual unknown entering high school to a 1st Team All Freshman member. That award almost guaranteed, she'd be wearing a D1 uniform. Everyone except 2 have gone on to play D1 or turned down D1 offers. But Rahmena Henderson's road to D1 really has been nothing like I HAVE EVER SEEN. Recruiting is not an exact science. Everyone see's something different. But I have watched kids in my program receive offers, verbal or sign at D1 schools who are not in the same world as Rahmena. I watched local colleges signs players she would and has destroyed. I just couldn't understand it. She is one of the most complete and competitive point guards in the State.

I ask you one question about RAHMENA, what is her weakness? Let that rattle around head for a few minutes. That's right, you can't think of any. She is a total unselfish teammate. Has never ever played for personal glory. Has been a major winner her entire life. She has played with and against the best. So in some ways it was only right, she would end up at better place than even she could have  imagined. Four years from now, a  awful lot of schools will be sorry they let her slip away…one of those schools is not going to be SAM HOUSTON  STATE UNIVERSITY. It's funny RAHMENA HENDERSON'S mother told me this summer.."Tiny, I got to put it in god's hands" well those are the best hands possibly and certainly didn't disappoint…..CONGRATS RAHMENA and may I say AMEN!

TINY GREEN