THE CROWD WAS QUITE
The Shore Conference quarter-finals did not have a lot of buzz going into yesterday's games. The Top 4 seeds where HEAVY Favorites. So when you walked in the gym, and could not hear a pin drop, you may have thought you were in the wrong place.  THE THREE "E"S WERE MISSING ALL AFTERNOON.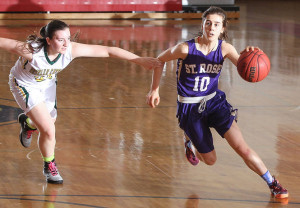 Markham and ST. ROSE took all the excitement out of the day EARLY
The SCT started the day with all the EXCITMENT taken away, because Stephanie Karcz came out limping and her knee heavy bandaged. It was clear to anyone that Karcz was not going to be herself on this day There were questions the night before if Karcz would play. But Karcz on one leg is better than most on two. She wanted to be there for her young team and All Shore lock teammate Alex Balsamo, who capped off her breakout shore season with 17 points. Karcz who had to be helped to the locker-room at half time..had 9 points and 16 rebounds on ONE LEG….That was the most excitement of the day. St. Rose led by Mikayla Markham's great shooting performance ran away from the crippled Middletown South team in the 2nd half.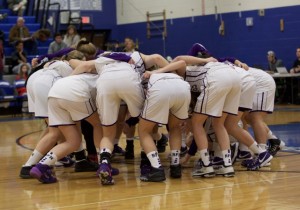 RFH KILLED ANY EXCITEMENT RIGHT OFF OUT THE GATE
If the first game of the day was lacking in excitement, the 2nd game of the day was lacking in  ENERGY. When junior Dezzy Allen got her 1000th point, you thought Neptune and RFH would be fired up. But Neptune missed open shot, after open shot on Dezzy Allen drives and kicks. When Neptune could not buy a shot,  RFH put four players in the lane, to meet Allen every time she drove. By halftime it was a it was a wrap. Coach Sourlis ran players in and out all day. It was a day for RFH to showcase case their many weapons. Tori Hyduke continues to move closer to superstar status. Nicole Morris moves closer to locking up a First Team All Shore spot. Hannah Scanlon, Megan Volker and Steph Lesko's chemistry was off the charts. Sid Sabino and Katie Foos continue to cause panic the moment they hit the floor. Antonakakis again was great at the buzzer and RFH appears ready for Monday.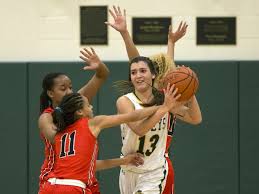 Katie Rice and teammates have run out of chances this season.
Outside of the move of the year by Amanda Hart, the final game lacked the ENTHUSIASM the usually follows two powerhouse programs . RBC vs. Manasquan was a test of will's  most of the evening. Led by Amanda Hart, Catlin Carroll, Katie Rice and Rose Caverly. RBC refused to go away and knocked on the door of victory, but nobody answered. RBC had  there chances over and over and over.  But a lack of concentration and pace of play did them in. Late in the 4th quarter, down five with ball,  Hayley Moore's, sweet pass to the always reliable Maureen Coakley  resulted in a missed  wide open layup. The chance to cut the Manasquan lead to 3  with 2 minutes left disappeared. You short arm shots when the pace of play, catches up with you sometimes. Then a second chance, down 5 with the ball,  RBC simply dropped a in bound pass, the pace of play, clouds your mind sometimes. They a third time down 5 on a miss free throw, RBC lost all concentration and forgot to box out little 5'3″ Addie Masonious, who rebounded the ball and scored.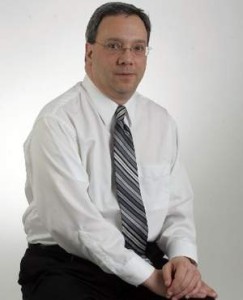 Joe Montano thought he had seen it all…WRONG!
If Joe Montano was pulling his hair out, then he may not want to hear these numbers. There is a ole saying in coaching  "The coach can't shoot for you"  well RBC proved that saying to be true. They MADE ONE THREE POINT SHOT  all afternoon. They missed open three after open three. Which led to the funniest line of the night. "DON'T SHOOT IF YOUR OPEN" that could be the line of the century. But the guy was dead serious and in all fairness was saying, go to the rim out of frustration. If Joe Montano has been around and probably thought he has seen it all, he was wrong…Because are you READY for this? RBC shot 12-23 from the foul line. The fact that this was a five point game, when they missed there final UNCONTESTED WIDE OPEN LAYUP with under a minute left to cut the lead to  three…was amazing. How RBC was even still in the game at that point was anyone's guess…BABIES THEY SURE KNOW HOW TO BREAK YOUR HEART….well  about Manasquan, Carly Geissler  showed she loves big games and  showed she could handle the big moments. Geissler created the most enthusiasm of the day,  and in large part thanks to her….we  get Manasquan vs. RFH… ROUND III….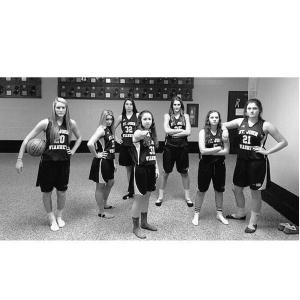 The SJV SENIOR'S ARE CHASING GREATNESS
Maybe the reason there was no EXCITMENT, ENERGY OR ETHUSIAM at Brookdale was because the best team in New Jersey was not there. SJV took care of the young Colts Neck team in a game played at SJV. In a great move to allow kids to take the SAT's, the Shore Conference officials changed this game time. Kimi Evans will now have a real chance to steal the Player Of The Year Award. The SJV seniors continue to chase a date with history. Dawn Karpell and her team will try and make history as one of the best ever….but first they play a man they have never beaten…JOE WHALEN.
UP NEXT…
FINAL FOUR MATCH UPS AND PREDICTIONS…