Have you ever had everything taken  away from you before you had it? OCEAN TWP had done all they could do to get ready for the 2022-23 season. They were a group that spent the summer going to camp. They hit the AAU circuit. They did the daily shooting everyday. They played in the summer and fall leagues. They beat the rock stars of Shore basketball, RBC, RFH, MANASQUAN and up and coming rock star team Trinity  HALL. All they got for there efforts were a big nothing burger. A big  "who cares", its not the real season. Then they went 10-0 to start the season, blowing the doors off of opponents. Yet it seemed nobody wanted to give them credit. And when they lost to SHORE REG many gleefully said , "see, I told you they haven't played anyone".  It seems everything  Ocean had worked towards the last 9 months had went up on smoke in just one evening. They were back to being just plain ole Ocean Twp. But on that night I spoke to there team leader Eli Clark and in the most relaxed mature voice she said
"

IT'S  JUST ONE GAME, LET'S  SEE WHAT'S HAPPENS

"
Well what happen is, yesterday Ocean Twp defeated the #10 team in the state CHEROKEE, 32-31. They did by doing what they have done the past 9 months. They stayed committed. In 32 minutes  of basketball Ocean Twp was faced with every challenge  a team can face in a season; all in one game. They had to overcome coming back from 10 points at halftime.  They had to overcome a poor shooting night and heart breaking calls on the road.  They had to watch easy layups roll out of the rim. They had to overcome what appeared to be game ending big shots late by Cherokee and heart breaking misses by themselves that seemed to signal the end. It just seemed it was not going to be Ocean's night. But Ocean did what most good teams do when faced with adversity. They never gave up, they never quit. They fought, got there grind on and put themselves in postion to win the biggest game in school history. By beating Cherokee at their own  game on the road.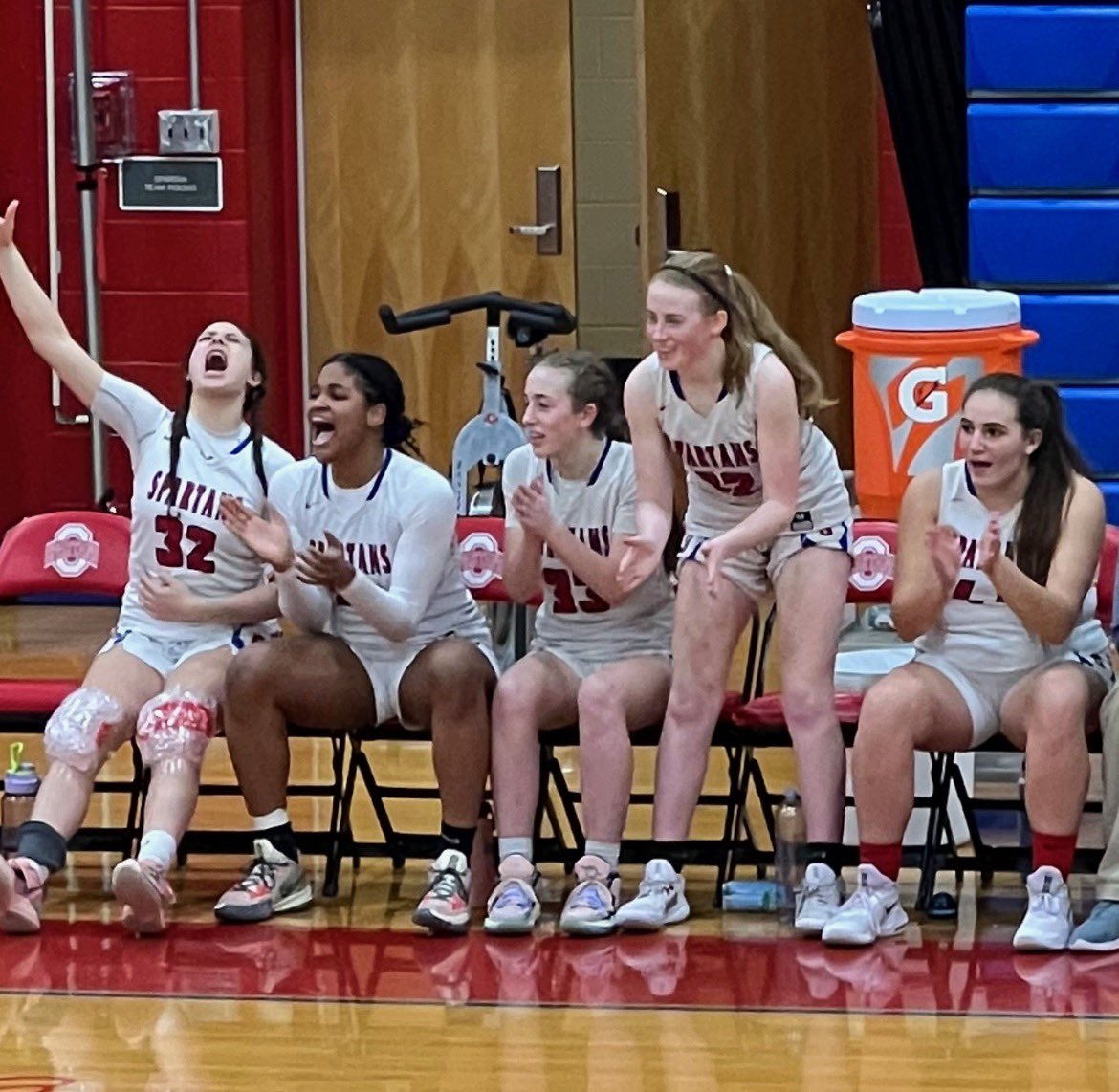 The Four Horse Woman Jineen  Ayyash,  Eli Clark, Gamila Betton and Kayden Clark, all at some point needed to do something big yesterday at big moments.  But it was Sofia Chebookjian's layup to cut the Cherokee  lead to two that may have been the catalyst to yesterday's  big win. All afternoon Chebookjian did the little things. She boxed out, refused to turn the ball over, played lights out defense  and never stopped believing. She was the unsung star in yesterday's win. She was the one player for Ocean that never blinked all night.
Imagine working all summer, beating the best teams in Shore, showing up every day at camp, at afternoon shooting. Then going undefeated and having it all taken away in one night. Called overrated and kicked aside…how would your respond? COULD YOU BE

OCEAN pic.twitter.com/lJiRwgrqEK

— Coach Tiny Green (@TinyGreenNBS) January 22, 2023
Yesterday Ocean Twp got all the respect they should have received long  before yesterday with one shot, one big shot. They needed to play defense like they have never played in their lives to have a chance at that shot. When Cherokee tired to hold the ball late with the lead. Kayden Clark made them pay with a big steal and bucket.  When they missed free throws late, Camila Betton  cleaned up on the boards. When they needed a great pass or reliable rebounding late, Jineen Ayyash  delivered. When the offense went ice cold, Eli Clark put the team on her back with tough drives to the rim and sweet dimes to Betton. In other words Ocean REFUSED TO LOSE!
LETS GO EAT!!! https://t.co/Xs2AAnAM1e

— Coach Tiny Green (@TinyGreenNBS) January 22, 2023
When Shore Reg  shocked the  "over hyped by Tiny Green"  OCEAN team two weeks ago. Social media blew up. Twitter proudly gave love to Shore, the media wrote big articles. The bloggers tweeted and then  wrote long recap  blogs. They rightfully showered the media darling of the past 2 years with love.  Last night you couldn't  find one blogger or media types with a Ocean final  score…NOWHERE. They will be no special stories written about Ocean today. The tyipcal roundup scores will be the  most love they  will get, if that.   OCEAN was  the team that was not  ranked to start the season.  Then after the lost to SHORE they were hanging on to a Top 10 ranking for dear life. The Top 20 was a pipe dream. That's because one slip up caused many to believe OCEAN was just Ocean. It gave them a chance to dismiss them, minimize there accomplishments. But the Ocean kids and coaches believe in themselves  and yesterday they needed to believe more than ever and when Kayden "KABOOM" Clark sent #10 Cherokee  packing the Four Horse Women and there teammates rode off into the sunlight.
COMMITTED
.