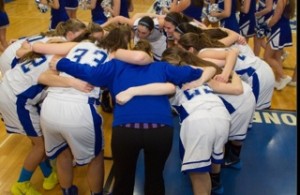 MANHATTAN PICKED UP A REAL TEAMMATE!
Last year Manhattan College offered Morgan Graziano a full scholarship. This was a brilliant move by Head coach John Olenowski, because the more exposure Graziano received the harder his job would be getting her to JOIN his Manhattan team. Then when Graziano decided she would play AAU with the Central Jersey Chambers Hawks, Manhattan College knew one thing for sure, Graziano was going to get mega exposure. But what Manhattan didn't know was that Morgan Graziano waited for one reason before giving a verbal to Manhattan College. She needed to be sure and Friday night Morgan Graziano was sure and that's why Manhattan College got its girl….The most athletic post player in the Shore is going to Manhattan College.
THE MORGAN FILES– http://www.centraljerseyhawks.org/teams/graziano/Graziano%20Central%20Jersey%20Hawks%20Profile.pdf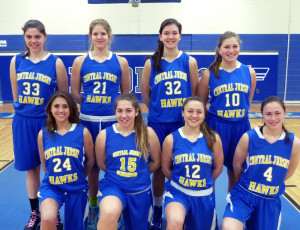 Morgan in her early Hawk days..smiles everywhere!
Morgan Graziano is one of the real feel good stories of the Shore Conference. When I tell you Manhattan College got a steal…. this is an understatement. Morgan Graziano is so athletic and quick for her size its mind blowing. But what really separates her from every other post player in the shore is this; Morgan Graziano is nowhere close to the player she will be by the time she enters college. She has spent the past 3 years at Holmdel High School getting better each year. Now how do you get better when you are basically the only post player in practice every day? Easy, you make sure you surround yourself with people that believe in your talent. Morgan had a boat load of people who believed in her talent.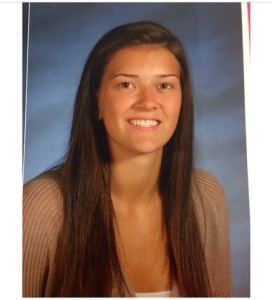 Morgan Graziano and Manhattan College are all smiles
Morgan Graziano didn't start out playing for the powerhouse Central Jersey Hawks (Chambers) loaded with D1 players. She has had a number of talented coaches in her life. Joe Stein Sr. is a name that may not jump out at you, unless you know him. Stein is a task master who teaches kids how to play the game the right way but more importantly gives them confidence and teaches them to enjoy the game. He is one of the best teachers a young kid can come across….lucky for Morgan. The Stein family are basketball junkies and Joe Stein Sr, is the reason why. Morgan also got a dose of Randy Westrol another basketball lifer who is gritty and has seen it all and knows what it takes for a kid to develop….lucky for Morgan.  Randy is an Elizabeth guy and knows all about developing kids and making sure they are put in the right place to be successful. Let's be honest look at what his son did in college and now in Europe. Morgan didn't play or have any interest in playing for SJV, RBC, RFH or any other powerhouse High School team. All she wanted to do, is what all Graziano's do… play at Holmdel. But she also wanted a great coach and Don Hampton can flat out coach is ass off folks….lucky for Morgan.  He featured Morgan Graziano in his offense and turned her loose on the Shore Conference this year. You see people like these and Doug Shaw has made Morgan Graziano special and they helped her bring her talent to the surface.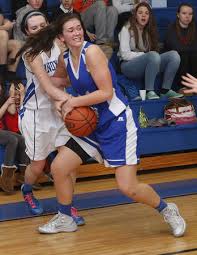 Morgan had coaches that loved her and taught the right way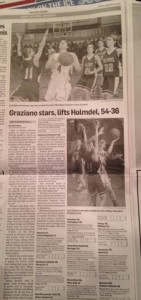 Doing things the right way is not always easy, being loyal and sticking things out is not always easy. But Morgan Graziano has no problems with either. She has been a Central Jersey Hawk her entire life. In a time when kids jump from team to team and turn their back on teammates, friends and parents, this is rare. Graziano takes great pride in starting and finishing her career as a Hawk. In fact I believe if the Chambers coached Hawks still had the name Wildcats. Morgan Graziano would not be playing for Chambers right now…The GRAZIANO FAMILY ARE LOYAL PEOPLE FIRST. But the Central Jersey Hawks have been just as Loyal to Morgan, because unlike most AAU coaches, all her coaches in the organization have allowed her to move on when the time was right. It's like the poem says "If you love something let it go" and her coaches have proved to Morgan, they loved her. This should bold well for Manhattan because if things get tough, Morgan Graziano will stick in there and be that teammate and program kid all coaches DIE FOR….
"I am very lucky to say I have played for the Central Jersey Hawks my whole life! I have met so many great girls along the way"  Morgan Graziano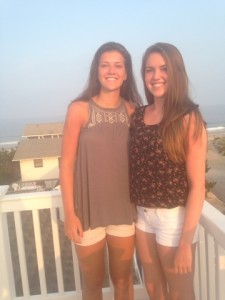 Morgan and Ashley have been friends since Kindergarten "FRIENDSHIP AND SUPPORT"
You don't become one of the leading scorers and re-bounders in the best Conference in America… just because you have talent. You don't make GROUP 2 ALL STATE… just because you have talent. You don't make the HOOP GROUP ALL SHORE TEAM… just because you have talent. You do these things because you have people in your life that support you. Morgan Graziano has played with the same group of girls in high school since they were in elementary school and it's no surprise they all love and support each other to this day. Now this is a fact, every kid on the Holmdel basketball team is flat out a GREAT KID. I have seen this group off the court and these kids get what it's about. Take Morgan's best friend Ashley for instance, she is still one of her biggest supporters to this day  and basketball has ZERO to do with it. People a kid need friends to be successful, they must have teammates and friends who what to see them reach the top. Graziano has all of this and more. She knows she blessed just by this statement.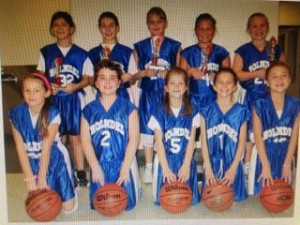 "I have played basketball for Holmdel with the same group of girls since elementary school. I am going to miss the seniors so much next year!" Morgan Graziano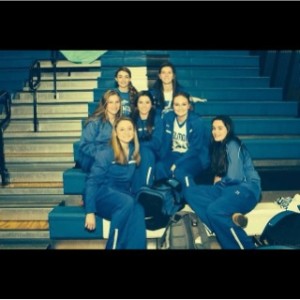 Hey look they grew up!
So how important is family and sibling in a young lady's life? Well think about this for a second. Morgan older brother Chris played for Holmdel High School and the Central Jersey Hawks. This is the same brother getting married next year and Morgan will be a bridesmaid. Her older sister Dana who lives in the city and makes the ride often to watch Morgan; played for Holmdel and the Central Jersey Hawks….do you get the picture? Morgan is simply following in her siblings footsteps. But if you really what to get down to the nuts and bolts of how Morgan got to where she is today; You must start with her parents and their approach.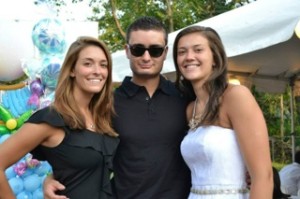 Morgan followed in the footstep of big sister Dana and Chris
So let me tell you about John and Dawn Graziano and I hope every parent is listening. They do not live their life though their daughter. They do not believe everything starts and finishes with their daughter. They realize that other kid's have emotions, hopes and dreams that are no different than Morgan's. Watch them at a game, they cheer and are POSITIVE ALWAYS. These are parents who have it in perspective. They are not running their daughter all over the country trying to promote her at every turn. When Manhattan offered Morgan last year, John Graziano told me he was very happy, but it was his daughter's choice and he was leaving it up to her. When Morgan gave her verbal Friday Mr. and Mrs. Graziano were happy but  were most concerned with covering all the bases and calling all the people that have helped Morgan along the way. They have done an amazing job of teaching their daughter about loyalty, friendship and staying the course. John and Dawn understand tradition and values…now that is something we see very little of these days from parents of athletes.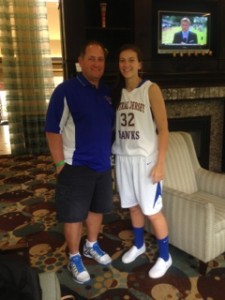 Morgan and her dad John wanted her to be a Hawk always "LOYALTY"
This is a special time for Morgan Graziano and her family because it proves you don't have to self-promote and go over the top to be successful. Maybe it's really about being surrounded by good people that love you and want you to be successful but not at the expense of others. Morgan Graziano has proved that success comes to those that wait…..SHE WAITED A YEAR AND MANHATTAN IS VERY HAPPY SHE DID!
 John and Dawn Graziano always kept things in perspective 
MY THOUGHTS ON MANHATTAN AND GRAZIANO
Graziano is a major steal
HEY MORGAN WE CAN'T WAIT FOR YOU TO JUMP IN!
People when I tell you this is the steal of steals …it's just that simple. The last school to pull of a heist this big was Quinnipiac College, when they stole Sam Guastella right under the nose of some big time schools. I hope I don't have to tell you what Quinnipiac and Guastella have done over the last few years. I will tell you a little story. Last year when John Olenowki told me he had offered Graziano, I said great because you will not get her if she plays next summer. He said "Tiny I know that for sure". Morgan Graziano for my money has more upside than any post player I've known in recent years. This kid jumps out of the gym and runs the floor like a guard. Now throw in the strength and her work ethic and you got something special. This kid is not afraid of hard work and has something I love in all great players. I think she just loves basketball and getting the chance to play D1 is a bonus. Morgan Graziano has no agenda when playing and I believe just loves laughing and being part of something…Manhattan College is getting a kid that I believe after a summer with the Chambers Hawks is going to be maybe the best post player in the Shore. This kid is going to be a real special player before she is done at Manhattan College. Congrats to MANHATTAN AND MORGAN!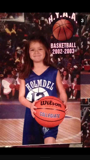 A little girl's dream just came true