Three years ago current Seton Hall assistant coach Nick DePillo asked me if I had heard of Megan Volker? I told him "no" and he said "she is going to be a very good player for Rumson" It's no secret that people know who the best players are entering a high school. So hearing her name was a surprise. So I went to watch Megan Volker play and to this day; she does not know I sneaked into a gym …JUST TO WATCH HER PLAY.

Coach Depillo on Volker… "SHE IS GOING TO PASS A LOT OF KIDS YOU THINK ARE BETTER THAN HER NOW"
Now you have to understand I get people telling me about kids all the time. But it's rare that I either believe them or take the time to go watch a kid play. I always prefer to see a kid outside of there environment. But Nick Depillo played for me in college and is a former WNBA coach so his word carry's great weight with me. So I took the time to go watch Megan Volker play and if the truth be told I felt she was a good athlete. She had a great body and was tough as nails. I felt her skill sets where a bit behind. I told Nick she was "interesting" then Nick said something to me I will never forget. "SHE IS GOING TO PASS A LOT OF KIDS YOU THINK ARE BETTER THAN HER NOW"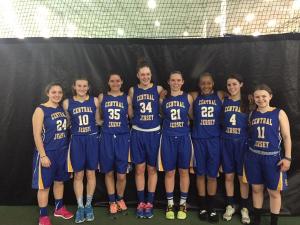 #21 in your program and soon to be #1 on your recruiting list
Megan Volker's freshman year was uneventful. When she arrived at RFH there were 7 D1 LOCK PLAYERS already on the roster and Tori Hyduke made it 8 in her sophomore year. It was not exactly the perfect place for a young player to try and break into a lineup. But it is the perfect place if you want spirited practices against talented players. Megan Volker played JV and sat the bench her freshman year. It was a learning season but every time I spoke to Coach Sourlis he said two things about Megan Volker…I like her work ethic and her versatility. When the season ended he had high hopes for Megan Volker in her sophomore season.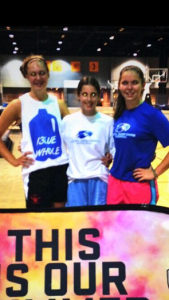 Megan Volker hanging with gym rats Christina Dicindio and Molly Weiss
This year Nick Depillo called me and said Megan Volker would be coming to NBS full time. If I had a penny for every time somebody told me they were coming to NBS I be rich. I thought to myself …believe it when I see it. You see I learn so much about a kid at NBS. First you see how competitive a kid is, next you see how a kid handles disappointment when you don't put them in a group they feel they deserve to be with. You learn if a kid can handle the pressure of being called out in front of a group.  You get to see which kids know how to relate to there peers. Finally you get to see which kids can do the hardest thing of all…SHOW UP week after week….and gain the respect of not just me but the other players in the gym as well. Megan Volker showed me all this and more.
Before this season started I had a conversation with Coach George Sourlis and I asked him which player in the fall looks like they made the biggest jump in terms of development. He said Megan Volker looks great , he felt she could really fill a lot roles. He then asked me who was the most surprising player at NBS …my answer MEGAN VOLKER. Many times when I don't see a kid for a while I will ask a kid what have they been doing. I am not the only person who trains players, often they say I been working out with such and such or on my own. But then when I see them play I think "shouldn't I be seeing the improvement in their game". Its hard to duck the truth and more importantly the grind that goes with improving. Megan Volker has been on a serious grind. That versatility in her game was on full display last fall. How do I know? Because I saw her guard D1 guards, forwards and even centers…now think about that for a second.
There was zero doubt in my mind that Megan Volker was going to play a huge role for Rumson this past season. I thought she might be the player that could get them over the top. That jock of all trades, that player that can give you QUALITY minutes at every position and the ability to get RFH tough points…offensive rebounds, charges, steals and hustle points. Volker, I believed was going to be real factor in Rumson's success especially in BIG GAMES. But none of this happened because Megan Volker turned her ankle the week before the first practice and never fully recovered or cracked the rotation. It was a bitter blow for a kid who had done it the right way…no crying..begging ..fussing…just showing up and getting in the gym and working hard.
Rumson is a deep talented program, when one player goes down there is another one right there to replace them. Like most high school teams they rarely play more than 7 players in those all important games that matter most. The problem is at RFH players 6th-8th are all D1 lock players. So when Megan Volker was injured getting into the lineup was no cake walk; it was a simple case of get to the back of the line. RFH already had a number of super talented kids watching from the bench. This pass season became another year of watching and learning for Megan Volker.
Princeton bound football star Charlie soon will not be the only star in the VOLKER HOUSEHOLD
This spring Megan Volker attend the spring NBS session. It's the hardest session to attend because most kids have AAU practice and the academics begin to pile up. I was shocked that this young lady not only showed up but had amazingly added a few new touches to her game. First her spins moves off the dribble made my jaw drop, then the improved shooting had to shock everyone who had seen her 6 months ago. It was clear that Charlie Volker soon would not be the only star in the Volker family. This young lady was clearly looking to be coached hard and find competition outside of her AAU family…SHE GETS ITS..
This spring me and Nick Depillo had a conversation and it went like this…"do you remember that you said Volker would pass a lot of kids I thought was better than  her one day? Well guess what you were right!" Nick laughed and said "I told you the same thing about Christina Dicindio"  Nick Depillo is batting 100% folks because he saw all the things I have just noticed in the last two years. He saw it all coming because he had a front row seat from the start. There is something special about seeing a kid reach their potential…and Coach Depillo got this one  right.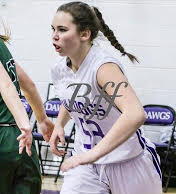 So here is my message to college coaches regarding Megan Volker. Talk is cheap and we all know a number of talented kids who talk but don't back it up.  The work ethic changes with lack of success and opportunities or the road blocks stop them right in their tracks. Megan Volker is a doer not a talker, she has a sneaky smile and looks you in the eye when she does talk….it tells me she is a person to be taken serious.  She is a serious young lady when it comes to putting in work. Everything about her is screams 100% commitment. Coaches this is a young lady that is going to to jump off the page at you in July. You may be asking where did she come from?…DON'T! Because she has been there everyday and the real question is where has everyone else been? Her moment in the sun is two weeks away and if you don't listen to me your going to be sorry …Nick Depillo threw my own famous words in my face, except….  "HE TOLD ME SO"…AND HE WAS RIGHT ON THE MONEY!

PARENTS PAY ATTENTION..."I just had a meeting with my staff and told them. I want to know everything we can about the parents of any kid we are recruiting. They are a package deal weather they or we like it or not…I AM NOT SIGNING ANY KID IN THIS PROGRAM WHOSE PARENTS ARE A RED FLAG AND I DON'T CARE HOW GOOD THE KID IS"….. Head Coach of Patriot School
RECRUITING ADVICE 101
*HANDLE YOUR OWN RECRUITING…anything you hear from a 3rd party means nothing unless
* DON'T ATTEND ELITE CAMPS UNPREPARED OR LISTEN TO ANYONE WHO TELL YOU HOW YOU PLAYED…IF YOU WANT TO KNOW HOW YOU PLAYED… CALL THE STAFF
* UNDERSTAND IF THEY DON'T OFFER YOU …IT'S NOT THE END OF THE WORLD
* ANY COACH THAT DOESN'T TELL YOU… YOUR ONE OF THEIR TOP RECRUITS…CAN'T RECRUIT A DROP….JUST DON'T TAKE IT TO HEART WHEN COACHES USE RECRUITING SPEAK…YOUR A TOP RECRUIT WHEN THEY OFFER YOU
* IF YOU WANT TO GIVE A SCHOOL A RED FLAG….HAVE A BAD ATTITUDE
5 HOTTEST PLAYERS RIGHT NOW…. WHOSE STOCK IS RISING BIG TIME
JOSIE LARKINS...RED BANK CATHOLIC- GREAT SHOWING AT ELITE CAMP
KATIE RICE ….RED BANK CATHOLIC- LIGHTS OUT RIGHT NOW
GIGI CAPONERGO– ST. JOHNS VIANNEY…MOVING TO BCS STATUS
LUCIANA THOMAS – ST. ROSE- A SUPERSTAR IN THE MAKING
MOLLY COLLINS– MONSIGNOR DONAVON- 52 POINTS IN A GAME LAST WEEK
CORE SKILLS CAMP STARTS TOMORROW 9AM- 2PM