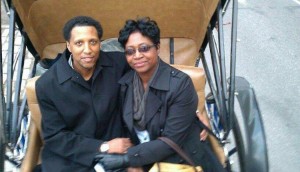 The Crawford Parents made the Tough Decisions
There are always decisions that must be made when you throw a sport into a youngsters education. It gets even tougher when the youngster is talented and it gets even more complicated when they are talented and future D1 players. This is why Eve Crawford and Maryam Crawford are such a unique pair of kids. Both are sophomores at Notre Dame Prep, one of the best girls basketball programs in the state of New Jersey….and twin sisters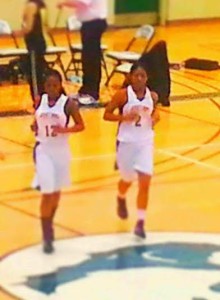 The Crawford Twins are a special pair!
It hard enough trying to navigate the world of high school and AAU basketball with one child. In the case of the Crawford family they have twice the problems that go along with such navigations. But it gets a little easier from the basketball side when both kids are special talents. In many cases one twin may be more talented or play a different sport. When this happens the parents job gets real tricky. But the Crawford have no such worries as both young ladies will one day wear D1 uniforms. It all the things which come before that day that they have to deal with …Like where to attend High School after transferring from East Brunswick High School.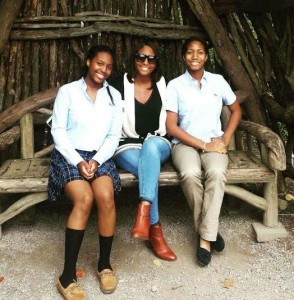 The Crawford twins, don't have to look very far for a role model…sister Gina is a Producer for ESPN
When the Crawford twins decided to attend Notre Dame Prep it was more than just a basketball decision. First Norte Dame's reputation as a school speaks for itself. It offers one of the best education's a young person can get these days. It's a school that 99% of its students go on to college, many go to Ivy and Patriot schools including this years star player Sam Widmann for example (Cornell). But there was also another consideration when it came to attending Notre Dame,  like the 50 min commute the girls take every day to school from East Brunswick. You see this family takes education very serious. Maybe its the reason their older sister is a producer for ESPN and the ride is worth it.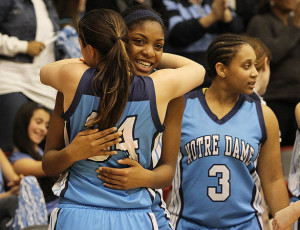 D1 players Sam Widmann and Nneka Ezeigbo hugging.. will teach the Crawford's the ND way!
When the family decided to change schools they didn't look for a school where the girls would be basketball stars. They wanted a program that would give them a chance to grow on the basketball court and off. Notre Dame Prep this season will be a top 10 team in the state to start the season. They have two seniors who have vebaled to D1 schools. There sophomore class is loaded with talent, just ask anyone at the Hoop Group league. The babies for Notre Dame are ALL  the real deal and would be star babies in Shore. The Crawford's are lucky as they will play 3 years with these talented players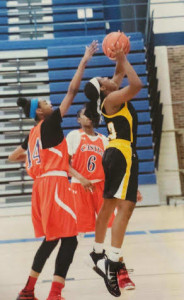 Eve Crawford is one of the most explosive young players I know. She looks like she was shot out of a cannon with her first step. But it's her competitiveness nature that makes her special.  Her desire to improve on any weakness will elevate her to the next level. Eve could be the most underrated high percentage shooter I know. I know of few players that take advantage of open shots the way she does. But what's even more impressive is that Eve Crawford can guard ANYONE. She has that rare blend of speed and strength that you don't see in young players. Notre Dame is the perfect place for her skills set because they play fast and as a group are highly competitive players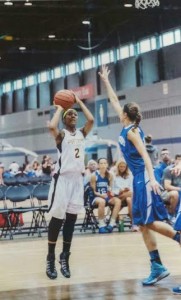 I call Maryan Crawford  the "big cool" because nothing rattles this young lady. She more than any player in the sophomore class has moved up on the food chain. In a recent AAU game she stole the show with her 3 point shooting. But like her sister Eve she is a lock down defender and more importantly takes care of the ball. This is where her cool clam approach comes into play so much because she is always under control. Like her sister she is very competitive and has a sick basketball IQ Notre Dame is the perfect landing spot for the big cool. Her ability to play under pressure no question will be a welcome addition to the team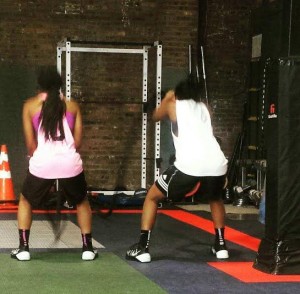 The Crawford girls have learned how to do it the right way
The Crawford's are a tight knit family, and they are a family of high achiever's. The girls live in the gym and are all about working hard and developing their game. But they are also about life experiences, this is why they went to the North Carolina and Maryland basketball camp. Their parents wanted the girls to see what big time basketball looks like and more importantly learn the lessons of hard work and what it takes to be successful. The girls have no question being learning their lessons because both are A students and among the best sophomores in the entire state of New Jersey.
Eve and Marin Crawford have walked into Notre Dame and seems to be working; if the Hoop Group fall league is an example of what to expect. Both girls have been accepted with open arms by their mega talented teammates. The style of play no doubt will make the transition a little easier. What's even better is that Notre Dame has senior leadership and superstar young players to help the Crawford's journey a little easier. I personally believe Eve and Miriam Crawford are going to be just what the doctor ordered to help keep Notre Dame great for years to come…. TALENT, with an insane work ethic…it's the reason one day they will be the apple of so many D1  coaches….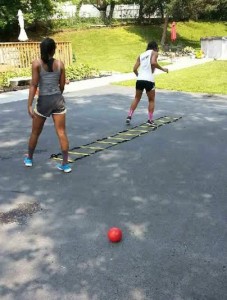 WHEN TALENT MEETS WORK ETHIC…YOU GET THE CRAWFORD TWINS!…COLLEGE COACHES ENJOY… AND YOUR WELCOME!


FIRDAY THE TOP 100…I HOPE EVERYONE WILL GET OUT AND SUPPORT THIS EVENT!