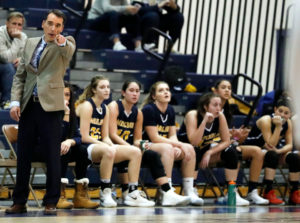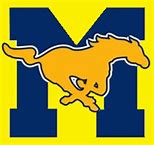 Brad Hagensen must be a friend of Vince Lombardi. The Hall of Fame coach used to say "fatigue makes cowards of us all". When teams play Marlboro High School they should always remember this quote by the great Lombardi. Yesterday Marlboro High School got into transition early. They pressed  full-court, they double-teamed the ball, they beat South up physically, they drove on loose balls. Then they ran, ran and ran some more…oh yeah they also shot three's..alot of them. Middletown South found out running a marathon at full speed is not good for your health. Marlboro yesterday introduced Middletown South to something called warp speed.
In the first quarter of yesterday's battle Stephanie Mayerhofer  looked exhausted. So exhausted at times you thought she may be under the weather. In fact, she was under the weather, it was a storm called Marlboro. In the first quarter Marlboro forced seven consecutive turnovers in their press against Middletown South. But more importantly they were running the air out of the Middletown South team. Coach Brad Hagensen played his entire bench, it was even a rumor that he played the  score keepers and cheerleaders. There was simply no way to keep count of the substitutions that Marlboro ran in and out of the game, in an effort to wear Middletown South down.  Jess RIEPE closed the first quarter with a bucket  to give Marlboro a 12-10 lead.
But what happened to end the first quarter went mostly unnoticed by those in the stands. The clock was  winding down and Middletown South with a chance to get a final shot,  did not notice the clock or time, they were too tired to look, fatigue was already setting in. The second-quarter quarter started with Middletown South Star Stephanie Mayerhofer sitting on the bench. She was watching as her teammates tried to hold the fort down while she got rest. They did a good job thanks to the heroics of Kayla Richardson who was sensationnel all afternoon with 15 points. Richardson put Middletown South on her back.  She dropped dimes, rebounded,  scored and even took time to force a five-second count on defense. Kayla Richardson put in an All-Star preformance yesterday. Meanwhile Marlboro simply continued to press, run, harass and play at a  feverish pace in an effort to fatigue the Middletown South roster. They simply refused to let South breathe. Nobody was more happy to hear the horn blow for halftime more than the South kids.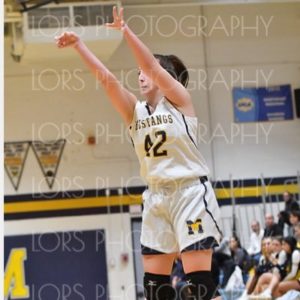 When the 3rd quarter started, a fresh Middletown South team appeared to come out of the lockerroom. The score was 27- 25, Marlboro was leading by a thread. But looks can be very deceiving. On the first  possession of the third-quarter, Middletown South missed to wide open uncontested layups. Coach Brennan and his staff had looks  of  disbelief on there faces. Remember what Vince Lombardi said about  that fatigue thing. It had already set in for Middletown South. The wide open missed layups and unexplained turnovers would continue right up to the final whistle. But what really put Middletown South on a death walk was Sophomore JESS RIEPE better known as the " big sister" or "the recipe" or whatever your calling her these days, it really doesn't really matter. What does matter is in a 5 minute  stretch. RIEPE went OFF…AS IN OFF THE CHARTS. She scored 11 points, that included 3 bombs from the parking lot. She jumped on the offense boards. She got loose balls and had  those all important  deflections. Jess RIEPE did everything except change little sisters diaper. By the time she was done, it was Middletown South that needed a diaper change. She was one woman  wrecking crew. She took away the life and any energy or hope that South had left.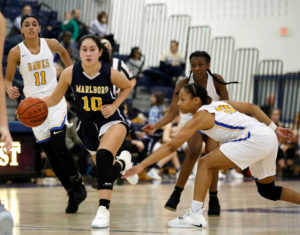 When the 4th quarter started it was clear Middletown South had nothing in the tank. Marlboro had run them into total  submission. Isla Brennan and Kayla Richards tired to will there teammates but it was not to be, there teammates simply had nothing to give. Marlboro took shot after shot. If they missed they merely ran the ball down for another shot. Then with 4 minutes left and South down 12, ISA Brennan had nothing left and went to the bench with hopes of resting up for one more possible final run. That run never happened because the MARLBORO MANIACS  also know  as there bench. Put the final touches on Middletown South. Then ran and ran and ran. They trapped and trapped and trapped. Then became "the bomb squad" and hit three's and got buckets.  Brianna Diaz, Sam SSolfkiss, Alexandria O'Hare, Laura Morehead and Ashley Horowitz are a nightmare. There like creatures in the night who come from nowhere. They chase you all around town, never allowing you to stop and and maybe get a little rest to get a drink of water or get comfortable. Middletown South found out the  maniacs are downright crazy .  The maniacs  made them tired and lifeless. South missed layup after layup and finally  simply at one point threw the ball into the stands. A cross court pass sailed ten feet out of bounds. It was a sign to everyone, Middletown South wanted this death march to end.. GISELLA ROMEO finished them off with free throws and wide open uncontested layups on her way to a  22 point and dominating performance. South had no answer for the senior the entire night as she put on a show in front of her future college coaches.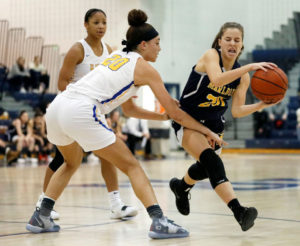 Ten years from now, somebody will look up at a banner in the Marlboro gym.  It will say A North Co -Champions. But  Sammy Ja, Theresa Besso, Sam Nocco will all know better. They will know what they accomplished. They will all know that this Marlboro has completed a mission that few thought was possible. They were considered a possible spoiler team. Now they are a championship team. They will have to most likely beat Middletown South a 3rd time on the road in the states. Middletown  South has more power points and is the #1 seed, in their sectional. …But why do I get the feeling MARLBORO DOESNT CARE WERE THEY RUN TOO?