Folks this big today. Marlboro and Middletown South are going to play a game that has implications for everyone involved. Today one of these teams is going check off, one of their to do things, before the season started. Today one of these teams is going to most likely earn a  CHIP. Today one of these teams are going to feel there have come full circle. Today  somebody is going to hop into the drivers seat come state tourney time.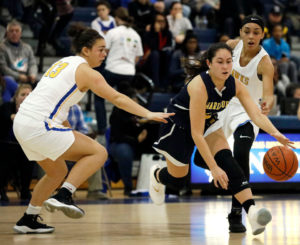 Marlboro started this season under the radar for most. Most didn't understand Gisella   Romeo would be turning down D1 offers. Most didn't know Sammy Jay out played what many considered one of the best point guards in the state this summer. Most didn't know that Teresa Besso, was a walking three point bucket. Most didn't know Jess RIEPE was one of the most improved players in the state or Sam Nocco was a do it all gift from heaven Most didn't know that Marlboro had one of the best babies in the state in Danielle Schlesinger.
Nobody knew about "the Marlboro's Maniacs" coming off the bench. Sam Slofkiss, Brianna Diaz, Ashley Horowitz, Laura Morehead, Alex O'Hare, would make teams beg for mercy and oxygen during the season with their kamikaze act. Few knew that Marlboro was a deeply talented and deadly crew.  But more than anything else, most forgot there coach is a TOC CHAMPION and a mad scientist. Brad Hagensen shook  up the entire state with his wild, wild, west run and gun style. Marlboro  came into the conscience of shore the basketball community, when they beat Middletown South and then advanced to the WOBM final. Now there are in the spotlight and this afternoon will be playing perhaps this biggest game, with more at stake,. than any game they have played in years.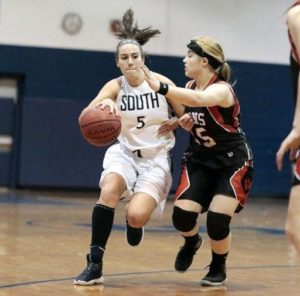 Middletown South started the year hoping to erase the nightmares from a season ago. They were hoping to finally fulfill the promise many predicted 4 years ago. When they lost to the unknown future upstart Marlboro in the WOBM many believed SOUTH would pack it in. Isla Brennan has seen it all and been thought it all, it's why she is working on her best season of her career. It's why she in there rematch against Marlboro put on what is currently still the best performance, we have seen to date in the Shore Conference this season. Eve Pirie has been waiting to show she can be a difference maker. It's why in the rematch vs Marlboro she refused to let her team die. It was she that seemed to make all the right plays at the right time and grabbed 14 rebounds. It was her energy that set the tone. Sam Kennan is a walking miracle and been and has been more reliable than any time in her career. She has shown more heart maybe than any player on this team, she has been inspiration all season.
Stephanie Mayerhofer has become a star and possible D1 player. It's been the extra work and attention to detail. It was her belief in a player who was once much like herself, a nobody that was the biggest play of the day. It was her pass to baby Rene Wells who buried the go ahead basket against Marlboro . Kayla Richardson has been searching for greatest. It was her  magnificent tip, late that gave Marlboro life in game one against Marlboro . She has played like a all star since that day. Now she is the star of the Middletown South team. She is the backbone of Middletown South. This year Middletown South looks like Middletown South again. That's because the Professor Tom Brenan has been masterful from day one.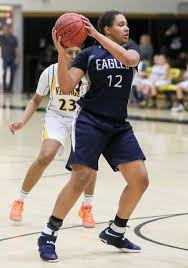 Marlboro, couldn't make a shot against RFH and lost to the Bulldogs on the road. Then 5 nights later made 17 three's,  in a incredible shooting display. They showed they could bounce back and put a bad shooting night behind them. The RFH lost cost them their Top 20 state ranking. Middletown South was the hottest team in the Shore Conference. Everything was running like a well oiled machine. Then Emily McCartney got hurt. Then Middletown South played RFH on the road and lost. Then found out what Emily McCartney truly means to there team. Last year South would have went into a tailspin. This year they learned to move on after such a disappointing. They know the sky is not falling. Both teams know tonight means the winner will most likely end the season in the Top 20 and loser will not. Both teams has showed real backbone and mental toughness all year. Both teams will need all of that tonight.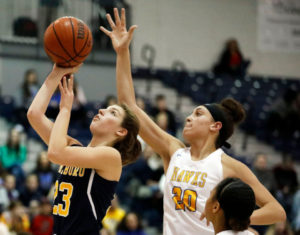 This may not be the last time these two teams meet this year. Middletown South sits a top the power points in Central Group 3. Right behind them is Marlboro, and the winner of tonight's game is going to get a home game, if they meet in the championship game. Tonight is going to determine who get the #6 seed most likely in the Shore Conference Tournament. This is the year you want to be on the correct side of the bracket. Every spot you can move up is important.
It's going to all hand on deck for both teams tonight. Sadie Fahey and Grace Meehan will need to ready.  Marlboro is going to run every player on their roster out their tonight. Both coaches are two of the best in the entire state. They both will be searching for a edge. More than anything else tonight is for all the chips.
Tonight somebody is going to claim the A NORTH CHAMPIONSHIP. Each team started the season with the goal of winning the Divisional Title. The winning teams gets all the post season awards. They get the Player of the Year, the Coach of the Year, All Division players, the Freshman of the year and a BIG BANNER to hang in the gym forever. Both teams have done just about everything they set out to do this season. Tonight they are going to try to just do a little be more.  This afternoon, one of those teams is going finish the job…today somebody is going to most likely win a Champion and compete what they started, months ago….MIDDDLETOWN SOUTH VS MARLBORO like it or not are playing for all the marbles this afternoon.
CORE SKILLS THIS SATUDAY AND SUNDAY…