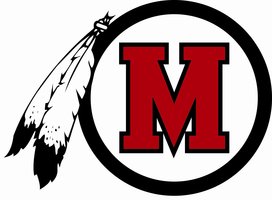 Last night Donovan Catholic took on Manchester in a game to decide who would control B SOUTH. It was also game a game where we saw Ocean County basketball arrive. We also saw the greatest freshman debut in recent Shore history. Last night we saw basketball at its highest level.
Donovan Catholic

went toe to toe last night for 32 minutes with Manchester. In the end the game was decided the same way it started. The first points of yesterday game started with a offensive rebound by Destiny Adams. She then walked to the free throw  line and made the first free throw  and when she missed the 2nd one, her sister gobbled up the rebound and scored. It was 4-0 in a blink of a eye. But Melissa Buxton came right back with a three point jumper. It would be like this all night. Manchester trying to shake loose from Donovan Catholic , but DONOVAN refused to say no mas…and threw Hay makers at Manchester all night. But Manchester showed why they could be gearing up for a great season, with a 67-63 win

Whenever  Donovan Catholic knocked on the door last night, freshman

Destiny Adams

answered  rude fashion. The freshman either made a big shot, got a big rebound or made a big play. Her 28 points will be the headlines, but it won't show how she got those points. It won't show her basket at the buzzer to end the third quarter to give Manchester its biggest lead of the night 6 points. It won't show her 3 deflection on inbound passes that lead to baskets and her final deflection on a inbound pass decided the game. Destiny Adams arrived with a loud bang and was brilliant last night in the greatest debut by a baby these eyes has ever seen.
Kermari Reynolds

is the ultimate leader. She is the voice of the Manchester team. She sets the tone and she never panics. The Freshman of the year last season seemed to make every right play yesterday. Her 25 points were just a side note. When she walked to the free throw line late and made free throw after free throw, it appeared she had ice in her veins. When Donovan Catholic tried to pressure and rattle Manchester, she became a one women press breaker. But more than anything else, Kamari Reynolds defense decided this game. Molly Collins was off the charts in the first half with 14 points. In the 2nd half she had two points…that's because Karmeri Reynolds could be the best defender in all of New Jersey.

Sernity Anderson,

is  quiet and unassuming. But she is a play maker, a big game play maker. It was she that drove to the lane late in the 4th quarter and got a old fashion three. The basket gave Manchester a three point lead when Donovan Catholic was throwing everything but the kitchen sink at Manchester. She is Robin to Reynolds Batman and last night Robin was playing a star role. Her 6 points, 4 assists and 4 rebounds were a thing of beauty
Asha Harper

does little things, like play defense, rebound and make 2nd efforts like the one she made late in the game. It was she the rebounded Destiny Adams missed free throw to seal the win for Manchester . It was she that took Donovan Catholic last breath of air away. Asha Harper was good last night as in real good. Stats could never tell her story or impact.

Nankaleigh Jones

did the hardest thing a player could do, who is a shooter. She refused to force anything last night. She refused to be a box score junkie. She played the role needed last night. She grabbed rebounds and played sticky defense. Miss Jones will have some big scoring nights this year. Last night winning was more important that reading her name in the  paper.
Dakota Adams

is part of the best sister act playing in the Shore these days. She does the dirty work. Like grab 11 rebounds and score 8 points in a big game. She rotated on defense so man times to save buckets it was amazing. She made the paint a bad place for Donovan Catholic to visit. Without Dakota Manchester is in serious trouble. There was very little she didn't do last night. There were no fancy plays, just old school basketball. She was so efficient it was breath taking and a sight to see…just ask DONOVAN.

Dave Beauchemin

knows he has a special group. He also knows  Donovan Catholic will not be the only team to throw their "A" game at Manchester. Manchester is going to see a lot of "A" games thrown they way. Coach Beauchemin will need his "A" game as well if he hopes to get Manchester to the next level. Yesterday day he was wonderful on the sideline. He made the gusty call to but his star guard on Collins, when his star freshman picked her 1 first foul in the 2nd quarter with 1.23 left, he sat her down. So she could play freely in the 2nd half. He sat his All Shore forward Dakota Adams and went small late to  neutralize the Donovan Catholic shooters. But what he did late was down right mean sprites. Donovan Catholic had the ball on the side with under 30 ticks left. They called timeout, there last time out to set up a game trying or shot to win it…that never happen.  But coach Beauchemin put 6'3″ Destiny Adams on the ball against 5'5″

Paige Slaven( who was sensational ALL NIGHT) 

and the rest is history. Coach Beauchemin won a chess match and MANCHESTER CONTROLS B SOUTH
STARTS NEXT TUESDAY…DEC 26TH… coop@hoopgroup.com
DON'T FORGET DEC 26TH-29