There is game taking place  tonight at the Rutgers Athletic Center.  The Greater Middlesex County TITLE will be on the line. Monroe High  School beat East Brunswick High School in the semi-final. The win earned them the right to meet 2 time defending champ P-Way. East Brunswick had maybe the BEST freshman class in the state. If those kids can be convinced to stick around and develop they too may play for a GMC TITLE one day. But for now its Erica Junquet and her Monroe teammates who have a chance at history.
Most people outside Middlesex County don't know Erica Junquet ( https://nothingbutskills.com/eric-junquet-and-trinity-college-a-perfect-fit/). But anyone whose been to NBS knows exactly who she is. Erica has lit up some very talented players moving on to the D1 level in her time at NBS. She is quite and has very little to say; it took me 3 years just to get a word out of her. She was a kid who liked to have her playing do the talking. She was one of the quickest and most talented guards we had in a gym STUFFED WITH D1 players. Her speed and strength gave everyone fits. Yet she never went out of her way to prove anything…she let the chips fall where they may every weekend. I often wonder if Erica knew the reputations of he kids she was playing against. I wondered if she read their names in he paper…she just never seemed concerned with whoever we matched up with.
Monroe High school had been a basketball grave yard for years. There was not much to talk about when it came to basketball. But when Erica Junquet arrived 4 years ago; that all  changed. She has made Monroe basketball matter and tonight Monroe has a chance to matter more than it could ever have dreamed. They have a chance to win the GMC TITLE. Those words alone are shocking, because nobody has ever taken this school seriously when it comes to basketball. Its real easy to understand how that has all changed.  Erica Junquet has passed her work ethic and commitment along to her teammates…. and tonight it could all pay off for them and her.
 Eric Junquet is one of best PERIOD
Erica Junquet is one of the best players in Middlesex County, but here is a little secret…She is one of  the best for any county! You can ask any current or future bound D1 guard at NBS. When Erica Junquet announced she was going to TRINITY COLLEGE everyone was shocked. It was just assumed she would play D1 basketball. But when I asked her why she choose Trinity she said " "I'm not making a living playing basketball after college, so I picked a school with my long term future in mind"  I can tell you I have never seen a kid answer that question with that answer. But here is what you may not know about Eric…she has zero ego and has no interest in impressing other people.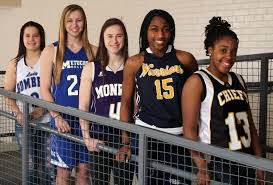 Erica has all the personal awards..she wants something bigger tonight
Tonight Erica Junquet will try to put the icing on the cake. Tonight she and her teammates get a chance to be the first at doing something special. There may be others after them, but being the first at anything is never forgotten. They will have to truly earn their first title, because the two time defending champ P-Way has all the history on their side.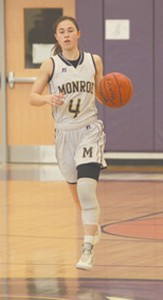 #4 in your program and #1 in the hearts of Monroe
To make history Monroe will need to beat a historically successful program…something they have not been until Erica and her teammates showed up.  Erica  has all the personal awards a player can ask for. She has the 1000 points, she has the PLAYER OF THE YEAR AWARD, she has been ALL CONFERENCE, she has the GREAT COLLEGE all set for next year. Erica has done just about everything there is to do in a Monroe uniform, that one day should be retired. Winning a GMC TITLE would mean she has done the impossible when nobody thought it was possible four years ago …She will get that chance tonight and I wouldn't bet against her…DOING JUST THAT!