There are always kids who enter the Shore with big expectations. Some fulfill there promise and become full blown stars. Sometimes they do it right out the gate. Sometimes they show flashes along the way. Somethings it just takes a little longer. In the case of Kayla Richardson, she has experienced all this along the way. Right now she is playing at a level that would rival any player in the 2020 class. Right now Kayla Richardson is looking like a full blow star!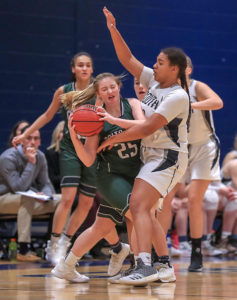 Last night Kayla Richardson had 28 points, 13 rebounds, 3 blocks, 3 steals and 4 assists in Middletown South's  win in the 2nd round of the states. It was just another example of what Kayla Richardson has become in the last month. One of the best players in the Shore Conference …period! Her performances these days have been off the charts. Her versatile game has been on full display and in full force. Kayla Richardson has become everything we though she would be when she entered Middletown South three years ago. She has become the dominate force that college coaches have been waiting on. In her first round game of the states she had 21 points, 10 rebounds, 4 steals and 4 assists. It become the norm around Middletown South these days.
When Kayla Richardson decided to attend Middletown South, she became one of the few star 8th graders to enter South with a D1 reputation. Tom Brennan has had D1 players in the past. But they have been players he has developed. They didn't come in with the reputation of a Kayla Richardson. Richardson freshman year, when as expected, she was All Freshman 1st team. She showed right out the gate, she was talented with special skills sets, size and talent. It was her  games against Top 5 teams that made people perk up. She had 11 points and 3 rebounds against the State Champ Manasquan and Top 5 RBC. It was clear she had the ability in time be one of the best in the Shore Conference. Last season as a sophomore, Middletown South had a disappointing season. So much was expected, from Kayla Richardson and her teammates. She personally played well at times, she showed flashes of greatness. They were times she was dominate. But it was a up and down affair for most of the season. Some were questioning she and her teammates.
This person right now is as good as they come pic.twitter.com/gsYFQHtBwr

— ellonya Tiny Green (@CoachTinyGreen) February 28, 2019
This season  Middletown South and Kayla Richardson wanted to prove last year was just a strange ride. Both were trying to regain their reputations. Both had a lot to prove to the basketball community and that's exactly what they have done this season. Middletown has found consistency this season. But more importantly they have gotten better as the season has progressed. Kayla Richardson and has found consistency and most importantly has gotten better…as in much better in every area of the game. She has become a big time defender, has always been a great passer. But it's the rebounding and ability to play effective inside of out, that has made her a nightmare matchup for opponents everywhere. In her last 3 games she has had 21/7 rebs/ 3 asst/ 3 blocks…10/7/4/4…21/10/4/4 and then of course last night. People have been waiting on this from Kayla Richardson for two years. But nobody was expecting what she is doing these days.
If you want to know when Kayla Richardson turned it all around, look no further than Middletown's South's win over  Marlboro. It was a rematch of a earlier lost to Marlboro in the WOBM semi finals. It was a game that South appeared to have lost. Then  Kayla Richardson some how tipped a ball in the basket, though 3 defenders while in the air, late in the game. It brought the crowd alive and energized her team.  It was this play that turned Middletown South season into what it has become. It was her double/double on this night that really made us realize,Middletown South was truly …THE COME BACK KIDS. It was after this game Kayla Richardson went on a double figure scoring run of 11 straight games. She has scored in double figures in 15 of the last 18 games. The three games she did not…she had at least 8 points. Kayla Richardson has become a model of consistency. She has 20 three's on the season. She is averaging 14 points…6 rebounds, 3 dimes and over a block a game. She has doubled her stats from a year ago. She is now a walking bucket who is a big time defender.
Two weeks ago  Middletown South beat TRN in the Shore Conference Tournament. It was one of the few games that Kayla Richardson did not score in double figures. But she stuffed the box score. She had 8 points, 7 rebounds, 4 assists and  2 blocks. One of those blocks was on Colgate commit Jenna Paul. That block saved the day for Middletown South. It was another example of the evolution of Kayla Richardson.  Right now  Kayla Richardson is  playing at a level we all expected. It's just taken her a little longer to get their…. somethings are worth waiting for, like a star to arrive. KAYLA RICHARDSON IS NOT JUST A STAR…SHE IS NOW ONE OF THE BEST!….
THIS WEEKEND….