https://twitter.com/kristina_donza/status/1146520964903120898
They said if your good enough they will find you. It's an old saying when it comes to recruiting. There is a lot of truth in those words and this week Kristina Donza proved those words to be 100% true. She gave the United States Naval Academy a verbal commitment. It is a great example of a young lady believing in herself and making her dreams come true.
Kristina Donza has been doing big things at Jackson Memorial the last 3 years. She has improved her stats every year. She has had monster nights over the years. She has had games with over 30 points and has posted multiple double/doubles and triple doubles. She has been an offensive force since joining the Shore Conference. She helped return Jackson Memorial into a Top program. She has won just about every personal honor a player can earn. She was been 1st team ALL DIVISION AND HAS ALREADY SCORED HER 1000th point.  But over the years very little has been mentioned about Kristina Donza. When you talk about the great players in the Shore, her name rarely came up. She did not have the hype machine working for her. Yet some how she has found herself at one of the best schools in the country the UNITED STATES NAVY ACADEMY. I should not have to tell you, this is one of the most prestigious educations in the world. Kristina Donza is now on the fast track of a great life.  How does somebody with such little recognition accomplish such a feat? It simple… a self belief and real support…THATS HOW!
Spend the day at the beach or get better. Guess which one she chose. Thanks @BballWarehous for opening the doors today and giving these girls a chance to get better! pic.twitter.com/vMQ164G3QI

— Haydee Donza (@hdonza) July 4, 2019
This spring, I had lots of D2 schools calling and asking me about Kristina Donza. In fact a few of these D2 schools offered her.  Late in the spring more and more D1 schools started asking me about Kristina Donza. They asked me what I thought about her. I told them, I really didn't know much about her. I didn't train Kristina and had only seen her play twice in career. Kristina, had her own army of supporters.  She had Garry Linton of See the Rim, and the Basketball Warehouse, helping give her the tools to become the best player she could be. It seemed every time I saw a basketball Warehouse video or Gary Linton video, there was Kristina Donza. It was clear that she had a real work ethic and a desire. The type of commitment that is needed to play and attend the Naval Academy. There are few kids who can get accepted into the Navy Academy. They are even fewer kids who are willing to take on the challenges that Naval Academy poses, along with playing Division one basketball. The NAVAL ACADEMY IS FOR SPECIAL PEOPLE. The very best people who make up this country. Kristina Donza now joins that small, rare group of people. She just happens to be a special basketball player as well.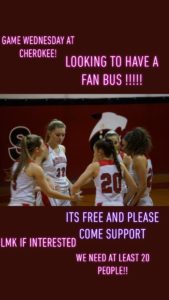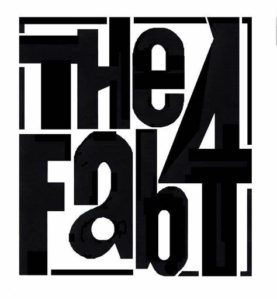 Kristina Donza, has had the deck stacked against her since she started playing at Jackson Memorial. When she arrived at Jackson, the team was in rebuilding mode. They were no longer a powerhouse program. There were no longer a Top 20 team loaded with All Shore type players. But Donza along with her teammates, Bianca Giordano, Kimi Evans, Rachel Capua, also known as the Fab 4  made Jackson Memorial a force again, even knocking off  Top 15 in state  and rival TOM RIVER NORTH.  It was a signal of the return of  Jackson Memorial to the elite status in the Shore Conference. But Jackson Memorial plays in Ocean County and doesn't get the love other top teams get. They didn't play brand name teams, so their accomplishments were often dismissed. Just like the accomplishments of Kristina Donza, Jackson never got their due. You see Kristina Donza was doing speical things in the darkness of Ocean County. She never had the spotlight shine on her…that is until this week, when she gave Navy a verbal commitment. She did what few have been able to do…in fact in all my years, I only know of one other player to attend NAVY…. Kristina Donza is in rarified air!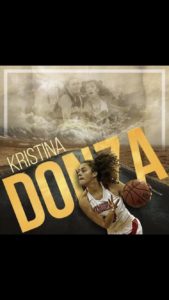 Last season, I finally got a chance to see Kristina Donza play against Top 20 Toms River North. North had the two best players in the league on their roster. 1st Team All Shore Jenna Paul and D1, Monmouth bound Brielle Bisogno. It was a rematch of a earlier contest Jackson had lost. It was also a chance of Kristina Donza to prove she is one of the best players in the Shore Conference. It was a shocking performance by the junior. She was unstoppable. Scoring 19 points in the first half and finishing the game with 28 points of Jackson's 44 points. She displayed everything, jumpers, lighting quick drives and deep three's. She was the best player on the court that day and proved she was a special talent. It's just that few, like myself, knew about her accomplishments. She was doing big things in a big way and has continued doing big things…like going to NAVY.  Just without the hype surrounding….KRISTINA DONZA, HAS BEEN GAME OVER HYPE!
Her Coach, Rachel Goodale calls her the ultimate warrior. Her mother's  faith and belief in her is never bending. They make a powerful team. Her basketball family Gary Linton and Basketball Warehouse, convinced her. If your good enough they will find you. The convince her to worry about one thing and one thing only….GETTING BETTER! Kristina Donza, made sure she rewarded them with,  a real work ethic, commitment and determination. All the things the Naval Academy look for in a student athlete.  Kristina Donza, was loyal to her Franklin Defenders AAU team. It was a team that didn't play on the so called elite circuit. But rather than run from what she started for self serving reasons. Kristina Donza and her family stayed loyal to Coach Stone. They knew that in the in end somebody would find them….THAT SOMEONE WAS THE NAVAL ACADEMY!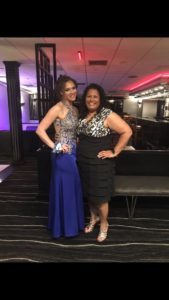 " I don't know Kristina Donza, I just know everyone says she is a great kid. I think she can serve as a role model for making your dreams come true, your own way. Kristina proved surrounding  yourself with the right people is all you need. It's not always were you train but how you train. It's not were you play, but how you. Then most importantly its staying focused and never allowing others to control your destiny. Lets all salute Kristina Donza, because now every kid in the shadows knows ANYTHING CAN HAPPEN, congrats and to THE NAVAL ACADEMY AND TEAM DONZA"
TINY GREEN
SPOTS AVAILABLE….STARTS MONDAY!