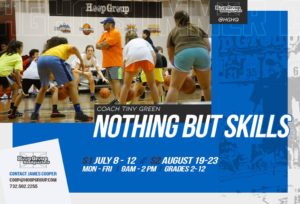 In 24 hours the most competitive basketball camp in New Jersey will take place. NOTHING BUT SKILLS aka NBS will take over Hoop Group Headquarters in Neptune. While NBS is open to all, it's a camp best suited for kids who hope to excel at basketball. It's a place where a player will be tested. More than anything else, NBS is a place where a player will find truth.
This years NBS is during the live recruiting period, so many of the top players in New Jersey will not be in attendance. This year we wanted to give some young players a chance to steal the spotlight. In the past the NBS MVP's have a who's who of girls basketball. This year that award will be up for grabs. There is one thing you can count on, like every year somebody will show up out of the blue and become a star. It happens every year and this year will be no different….trust me on that. This week a few kids lives are going to change.
I often say NBS is not for everyone. NBS is not the place of milk and cookies. It's not a place where kids are showered with phony praise in order to make them feel better. NBS believes a kid getting better and learning how to compete is far more  beneficial to a child's confidence and self esteem. Tomorrow every kid regardless of ability or reputation is going to be challenged. There will be many kids who will duck NBS, they will have many excuses as to why they will not attend. But the real reason weather they know it or not, will be simple…NBS IS JUST NOT FOR THEM. They will not be treated special, they will not be grouped with the players, they feel they are as good as, they may feel slighted at times, they may know at NBS the attention that others get. They may feel unappreciated, it will be easier to move on to Greener  pastures. The beauty of the NBS CAMP is a kid can work themselves up the ladder thoughout the week. They can have all those things, they hope wish for. They just have to work for it…like the NBS motto says " A DREAM IS WORK" and at NBS that's exactly what a kid will be forced to do.  Many kids will not want this challenge. It goes to the competitive nature, one needs to be part of the NBS program. NBS has always been about LONG TERM DEVELOPMENT. But a player must be willing to put the work in…TOMORROW MANY KIDS WILL DO EXACTLY THAT.
It's going to be fun watching kids get after it this week. It's going to be fun watching kids get better each day. But more than anything else, it going to be fun watching kids compete. Because I believe more than any other skill set….learning how to compete is the most important thing a player can learn. Some kids will be part of the NBS for years to come after this week's camp ends. There is also going to be some, who will move on. They will go find other places to help them fulfill there dreams. They will say, " there are 100 ways to skin a cat" ..but at NBS they will know, were not in the cat skinning business. But rather the business of developing the most competitive, most recruited and best people we can…tomorrow truth and competition will come knocking at the door…and a few kids are going to answer the door!
TINY GREEN!!